In Cambodia, it's anything else but cool. Rather the opposite is the case: In April it's really really hot and in the rainy season from July to October you will feel it additionally very humid. Everything that has to do in any form with clothes tourists from cooler areas prefer to leave them all in the cabinet. But for a visit to Angkor Wat, the most sacred temple in the complex of Angkor, no resistance of annoying clothes will help.
At the whole complex of Angkor, it is actually quite normal to have free shoulders, shorts and skirts – no problem. But if you want to climb the stairs to the holiest part of Angkor Wat you will be forced to cover your body properly. We think this is actually understandable. For all sorts of occasions we are used to dress ourselves appropriately. It seems that many of us have forgotten this custom in the temple visit wobble.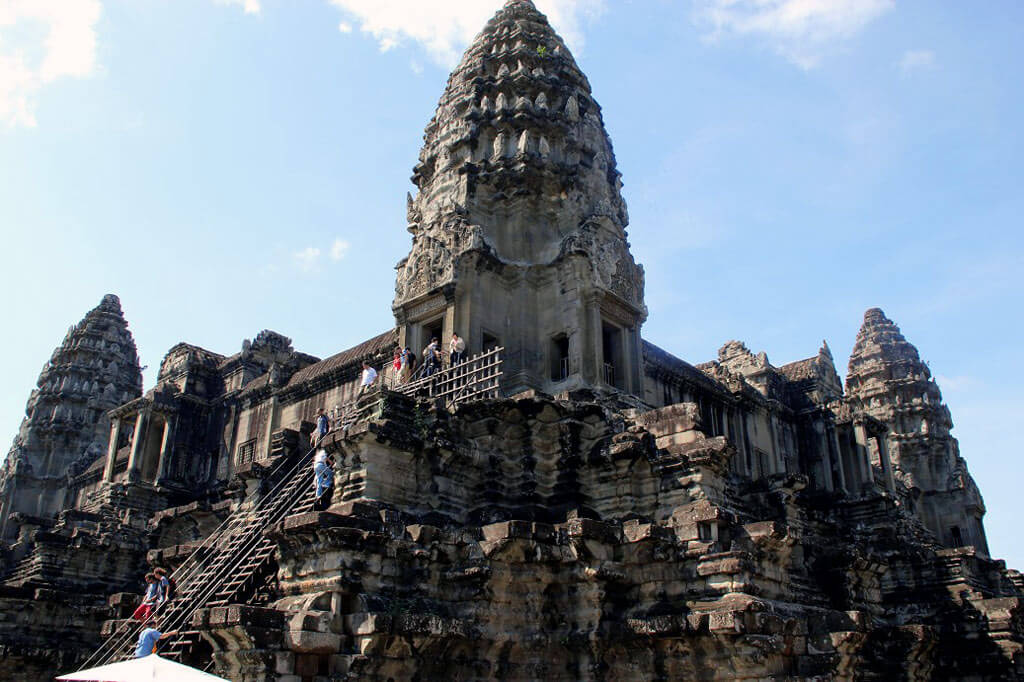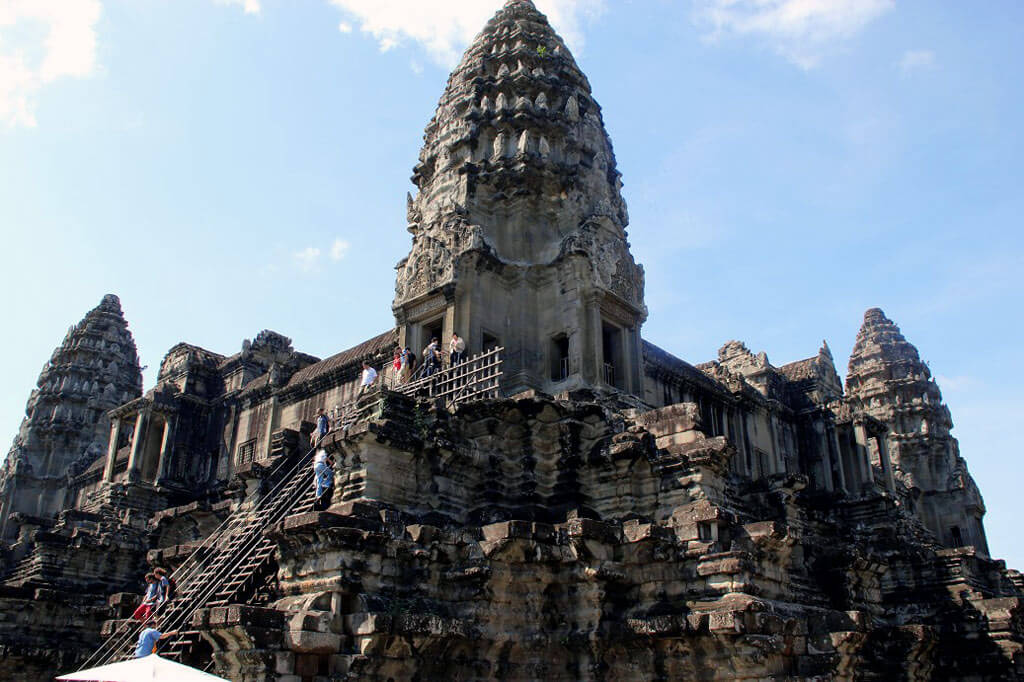 Which of course in itself is not bad, especially if remedial action is taken. The Cambodian guards offer cloth, which you can put on yourself to cover your body. And that is not self-evident, but must be considered as an additional service. There are not always enough cloth available and therefore it can happen, that you have to wait until the previous visitors have them delivered again. Which in itself is not bad and works fine.
Some not understandable scenarios at the stairway to the most sacred temple of Angkor Wat
What we have seen at the entrance to the truly sacred temples of Angkor Wat is difficult to describe. Instead of waiting in silence, there are always tourists who try to go around the guards to avoid the dress code. Within an hour, we saw two women trying to cheat the guards. There were caught, but the women reacted aggressively with yelling and even beating.
And this only because the guards simply doing their job and follow their instructions to stop people who are not proper dressed to climb up to the sacred temple.
There is another way: With the right clothes, and with calmness
Remember:  Anyone who doesn't want to feel the shame of being rejected at the sacred temple, should follow the dress code and be covered. Even good footwear is recommended. Also seen: Persons who think to climb the steep steps to the top – with 100% sunshine without any shade – with a fear of heights and flip-flops is at risk not only for themselves but also for other people. And also nobody needs sprained ankles. And honestly: Such a view of Angkor Wat compensates the frustration of covered clothes more than one time.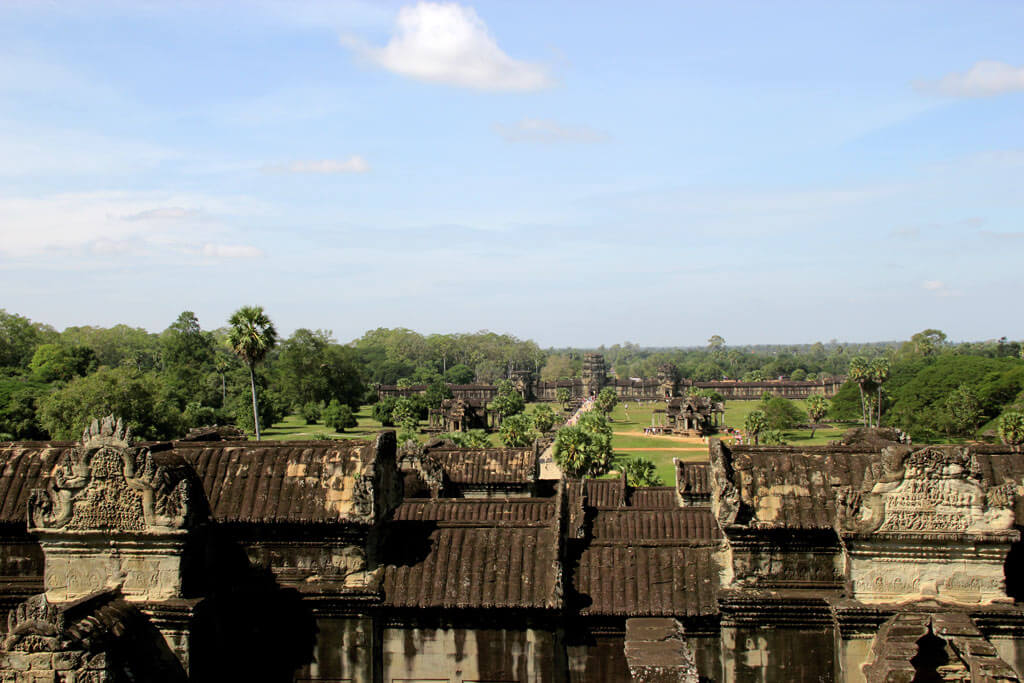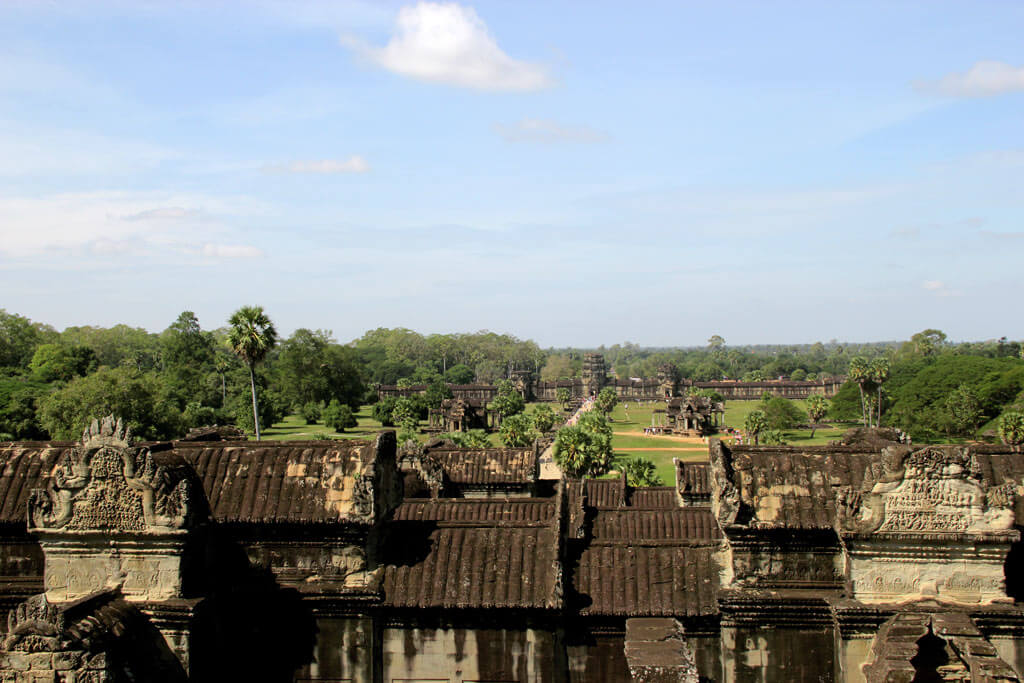 More info for your stay in Siem Reap
In these articles, you can find further information here on Visit Angkor for your stay in Siem Reap:

Find your hotel in Cambodia
Maybe you don't have a hotel for your Cambodia trip yet, then you can browse and book directly here at
booking.com*
agoda. com*
there are also great deals.
Links with a * are affiliate links. If you like my blog and you buy, book or subscribe to something via an affiliate link, I get a small commission from the provider. Of course there are no additional costs for you.
Join our Facebook group
International travel group with friendly people who love Cambodia. We speak English, German and a little Khmer.