In Cambodia you need a valid visa to enter the country. The tourist visa is valid for up to 30 days. You have the option of a one-time extension for up to 30 days. There are several options to get a visa. In principle, the passport must have at least 6 months remaining validity upon entry and at least one complete blank page.
3 October 2022 – No more Covid-19 requirements for tourists
Cambodia has abolished all covid measures. Among other things, you no longer have to show your vaccination certificate.
Regardless, it is recommended to follow airline and transit regulations.
Official letters from the Ministry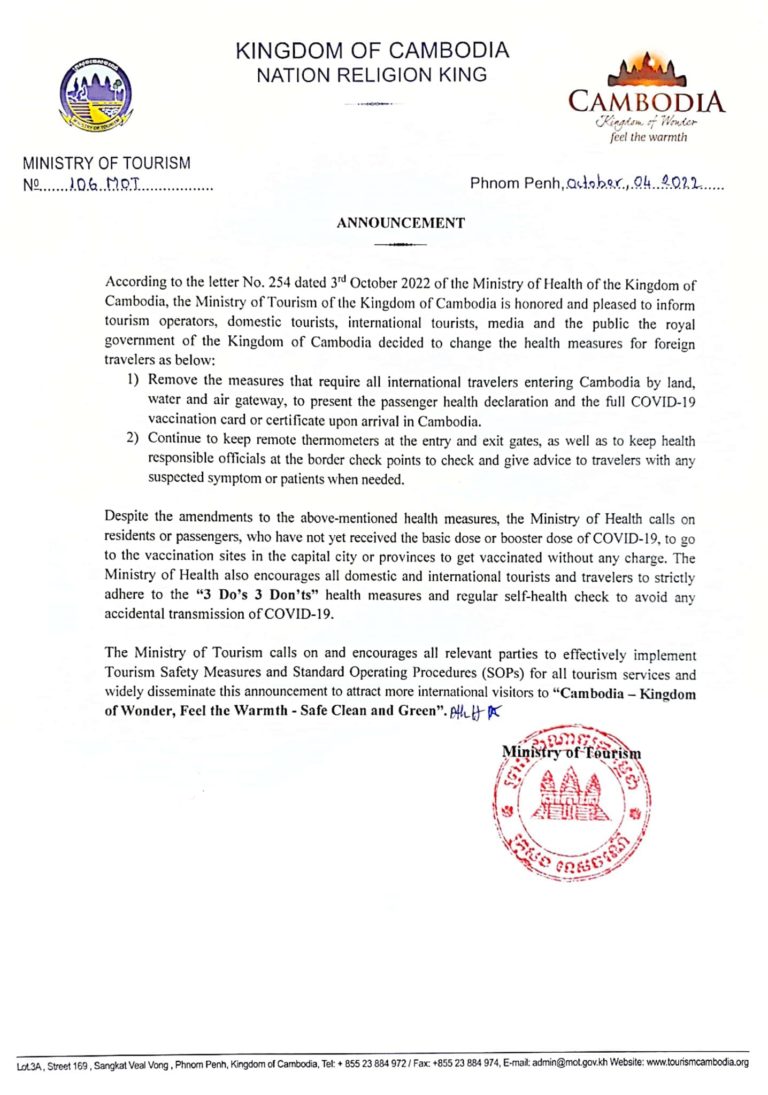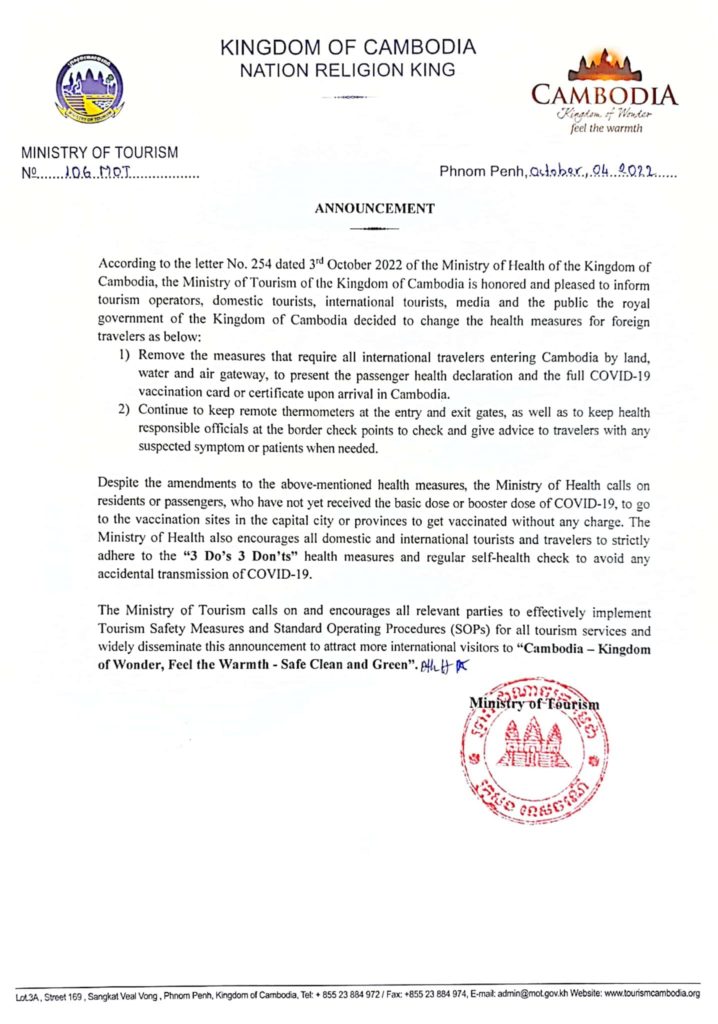 Furthermore, the 3 Do's and Don'ts are recommended:
The 3 Do's
Wearing a mask
Washing hands regularly
Keeping a distance of 1.5 metres from the mask
The 3 Don'ts
Avoid confined and enclosed spaces
Avoid crowded rooms
Avoid touching each other
In addition, tourists are asked to do regular health self-checks to prevent the spread of Covid-19.
Visa at the Cambodian diplomatic mission
You can apply for the visa at the Embassy of the Kingdom of Cambodia in a lot of countries. The website Royal Embassy of Cambodia shows a list with all Cambodian Embassies in the world.
The processing will take about 6 working days. A registered outdated before entry visa includes a usage period. The visa is valid for 3 months. Within these 3 months you must enter Cambodia. The length of stay is determined by the immigration authorities at the border.
What does the tourist visa for Cambodia look like?
This differs from the option you have chosen.
E-Visa prior to tour commencement
The virtual visa does not apply at all border crossings and also not for people who wish to enter from the countries of Afghanistan, Algeria, Arab Saudi, Bangladesh, Iran, Iraq, Pakistan, Sri Lanka, Sudan and Nigeria. At these crossings the E-Visa is accepted:
Phnom Penh International Airport
Siem Reap International Airport
Since December 2017 also Sihanoukville airport
Thai border at Cham Yeam (Koh Kong) and Poi Pet (Banteay Meanchey)
Vietnamese border at Bavet (Svay Rieng)
Laos border at Tropeang Kreal (Stung Treang)
Since 1 October 2014 an E-Visa for Cambodia is charged 30 USD + 7 USD handling fee. Apply for an E-Visa online at the Cambodian Ministry of Foreign Affairs & International Cooperation.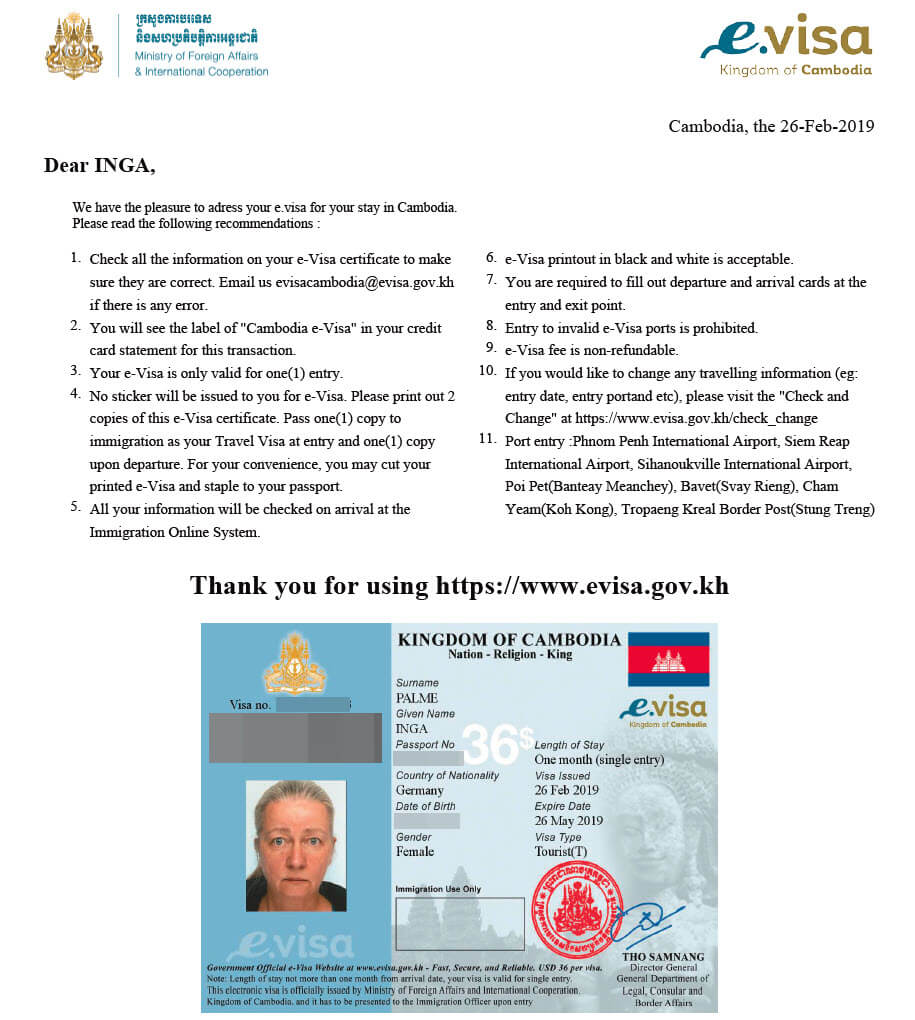 Visa on arrival in Cambodia
Visa on arrival, so when you arrive there at these border crossings:
Phnom Penh International Airport
Siem Reap International Airport
Sihanoukville International Airport (currently only served from China)
Thailand border: Cham Yeam International checkpoint, checkpoint and Poipet International O'Smach International checkpoint
Border with Vietnam: At all border crossings. Border with Thailand: At all border crossings.
Border with Laos: A visa on entry is not possible*.
*Please check again on site to be on the safe side. The information can change at any time.
The tourist visa costs $ 30.00 and can be extended once for up to 30 days. If you don't have a photo with you, the visa costs 34 USD, which is 4 USD more. So there are no problems when entering the country if you don't have a photo with you. Regardless of this, you have to have your photo taken at passport control anyway.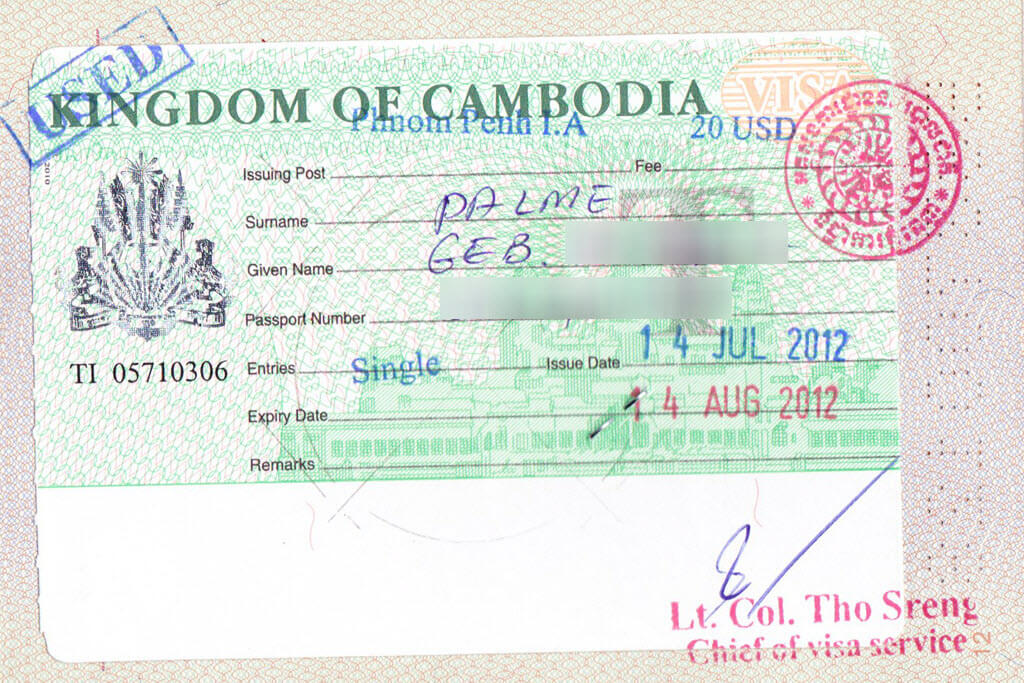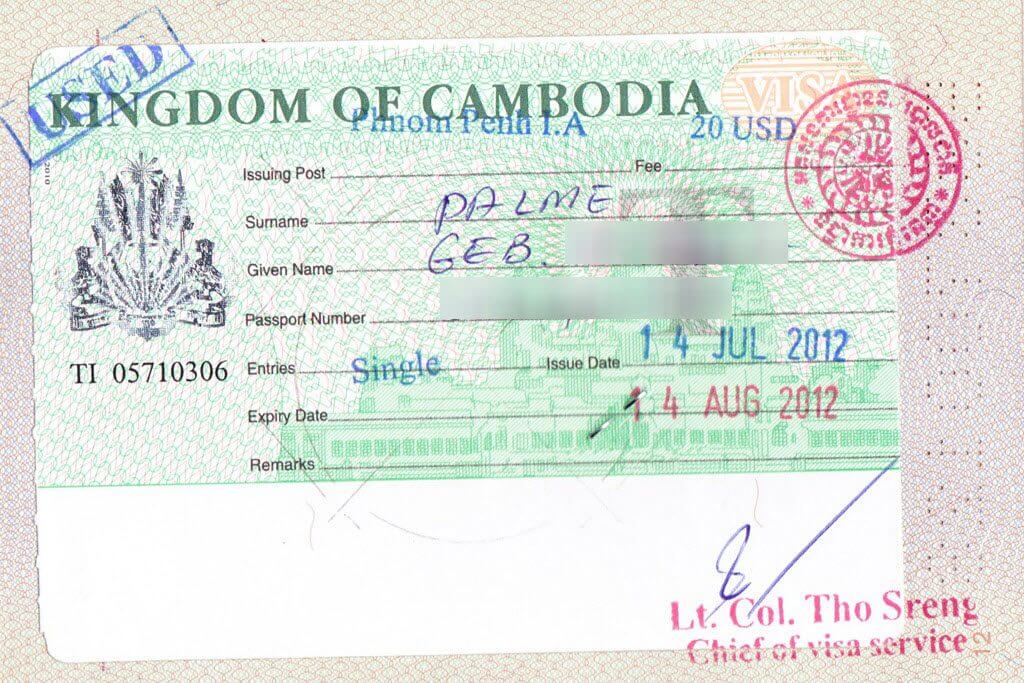 Note: Your tourist visa is only valid for a single entry into Cambodia. This also applies if you are only in Cambodia for a few days and your visa is still valid. Only with a visa duration of 6 months or more (Ordinary Visa) you can enter and leave Cambodia several times with this one visa.
Important:
You can get the application form on the plane or at the border crossings.
The amount is to be paid in cash and exactly as it is due.
Depending on the border crossing, you may be asked to pay additional fees. More about this in the article below.
Make sure that the dollar notes are new. Otherwise they may not be accepted.
You usually have 08:00 in the morning and 08:00 in the evening to enter Cambodia by land. The offices at the border crossings are usually open until then.
What are the border crossings to Cambodia?
[Update May 2022] Currently only a selection of land border crossings are open to tourists, these are:
Vietnam
prek chak / hatien
bavet / moc bai
Thailand
poipet / ban klong luk
phnom dei / ban khao din
o'smach / chong chom
cham yeam / ban hat lek
phsar prum / ban phak kad
daung / ban laem
Laos
tropaeng kreal / nong nok khiene (no Visa on Arrival)
Checkpoints Thailand <-> Cambodia
By far the biggest checkpoint between Cambodia and Thailand is Aranyaprathet (on the Thai side) and Poipet (on the Cambodian side). This is partly due to the direct connection between Bangkok and Siem Reap and partly due to the often cheap flights to Bangkok.
No.
Checkpoint
Thailand
Province /
Street
Checkpoint
Cambodia
Province /
Street
1
Aranyaprathet
Sakaeo /
Highway No. 33
Poipet
Banteay Meanchey /
Highway No. 5
2
Hat Lek
Trat /
Highway No. 3
Cham Yeam
Koh Kong /
Highway No. 48
3
Chong Jom
Surin /
Highway No. 214
O'Smach
Oddar Meanchey /
Highway No. 68
4
Chon Sa Ngam
Surin /
Highway No. 2201
Anlong Veng
Oddar Meanchey /
Highway No. 66
5
Ban Pakard
Chantaburi /
Highway No. 3193
Phsar Prom Pailin
Pailin /
Highway No. 57
6
Ban Laem
Chantaburi /
Street No. 4033
Daung Lem
Battambang /
Highway No. 59
Checkpoints Vietnam <-> Cambodia
Between Vietnam and Cambodia, the border crossing at Moc Bai (on the Vietnamese side) and Bavet (on the Cambodian side) is considered the largest checkpoint. The route leads from Ho Chi Minh City to Phnom Penh.
N0.
Checkpoint
Vietnam
Province /
Street
Checkpoint
Cambodia
Province /
Street
1
Moc Bai
Tay Ninh /
Highway No. 22A
Bavet
Svay Rieng /
Highway No. 1
2
Vinh Xuong
An Giang /
Song Tien – Cuu Long
Kaam Samnor
Kandal /
Mekong Fluss
3
Tinh Bien
An Giang /
Highway No. 91
Phnom Den
Takeo /
Highway No. 2
4
Xa Mat
Tay Ninh /
Highway No. 22B
Trapeang Plong
Tbong Khmum /
Highway No. 72
5
Ha Tien
Kien Giang /
Highway No. 80
Prek Chak
Kampot /
Highway No. 33A
6
Hoa Lu
Binh Phuoc /
Highway No. 13
Treangpe Sre

Kratie /
Highway No. 74
7
Dinh Ba
Dong Thap /
Highway No. 30
Banteay Chakrey
Prey Veng /
Highway No. 30
8
Le Thanh
Gia Lai /
Highway No. 19
Oyadav
Ratanakiri /
Highway No. 78
9
Binh Hiep
Long An /
Highway No. 62
Pray Vor
Svay Rieng /
Highway No. 341D
Where are the border crossings (map)?
The map shows the border crossings of the three bordering countries Thailand, Vietnam and Laos.
The business visa (Ordinary Visa)
For stays longer than 30 days plus one-extension of a further 30 days the business visa for up to one year may be granted upon entry. From a visa for 6 months multiple entry and exit is possible. These specify on entry, that a business visa is required. As with a tourist visa has a business visa initially a maximum period of 30 days, which is then extended by one, three, six months or one year following at the immigration office in Cambodia. The first 30 days are counted here. You can apply for a business visa at the following border crossings:
Phnom Penh International Airport
Siem Reap International Airport
Thai border at Cham Yeam (Koh Kong) and Poi Pet (Banteay Meanchey)
Vietnamese border at Bavet (Svay Rieng)
The business visa for 30 days costs $ 35.00 To obtain a business visa, it does not necessarily have business activities in Cambodia. The prices for the extension vary depending on the duration. For a stay of one year, there are approximately $ 280,00.
Give extension in order
Who the trip to Phnom Penh would like to extend the tourist or business visa to spare, tasked professional travel agencies on site. These then take an appropriate surcharge.
Good to know: You pay 5 USD for every day you stay in Cambodia longer than your visa is valid.
Alternatively, you can combine your visa extension with a short trip to Phnom Penh, when you are in another part of the country.
ACMECS single visa for Thailand and Cambodia
Since 27 December 2012 the ACMECS ( Ayeyawady-Chao Phraya-Mekong Economic Cooperation Strategy ) Single Visa for Cambodia travellers from currently 35 countries can be obtained. This visa allows entry to Thailand and Cambodia. It is valid for up to 3 entries to Thailand and one entry into Cambodia, the residence time for Thailand is up to 60 days per entry and for Cambodia 30 days. For Thailand, the fee is 30 Euros for each entry and is payable when applying for a visa at the Thai Embassy. You pay the visa fee at the border crossing.
The processing period is different because two different authorities have to agree. Once the Thai Foreign Ministry and even the Royal Embassy of Cambodia.
Special: From Bangkok to Siem Reap
You can take a bus, taxi or train from Bangkok to Aranyaprathet. The train leaves Hua Lamphong station at 05:55.
Once there, take another bus or tuk tuk to the border. From Khao San bus station or Mo Chit bus station there is a direct bus connection to Siem Reap. Both bus stops are about 10 minutes walk from the train stop. Once you are at the border crossing, you must get off the bus.
At the Thai checkpoint you fill out the exit card and present it to the Thai immigration authorities together with your passport.
A little further down the road you will come to the Cambodian immigration office. If you already have a visa, go directly to passport control (200 metres), fill out a short form and present it together with your passport and a recent passport photo. If you don't have a visa yet, you still have to fill out the complete application form. The relevant office is 50 metres down the road on the right-hand side.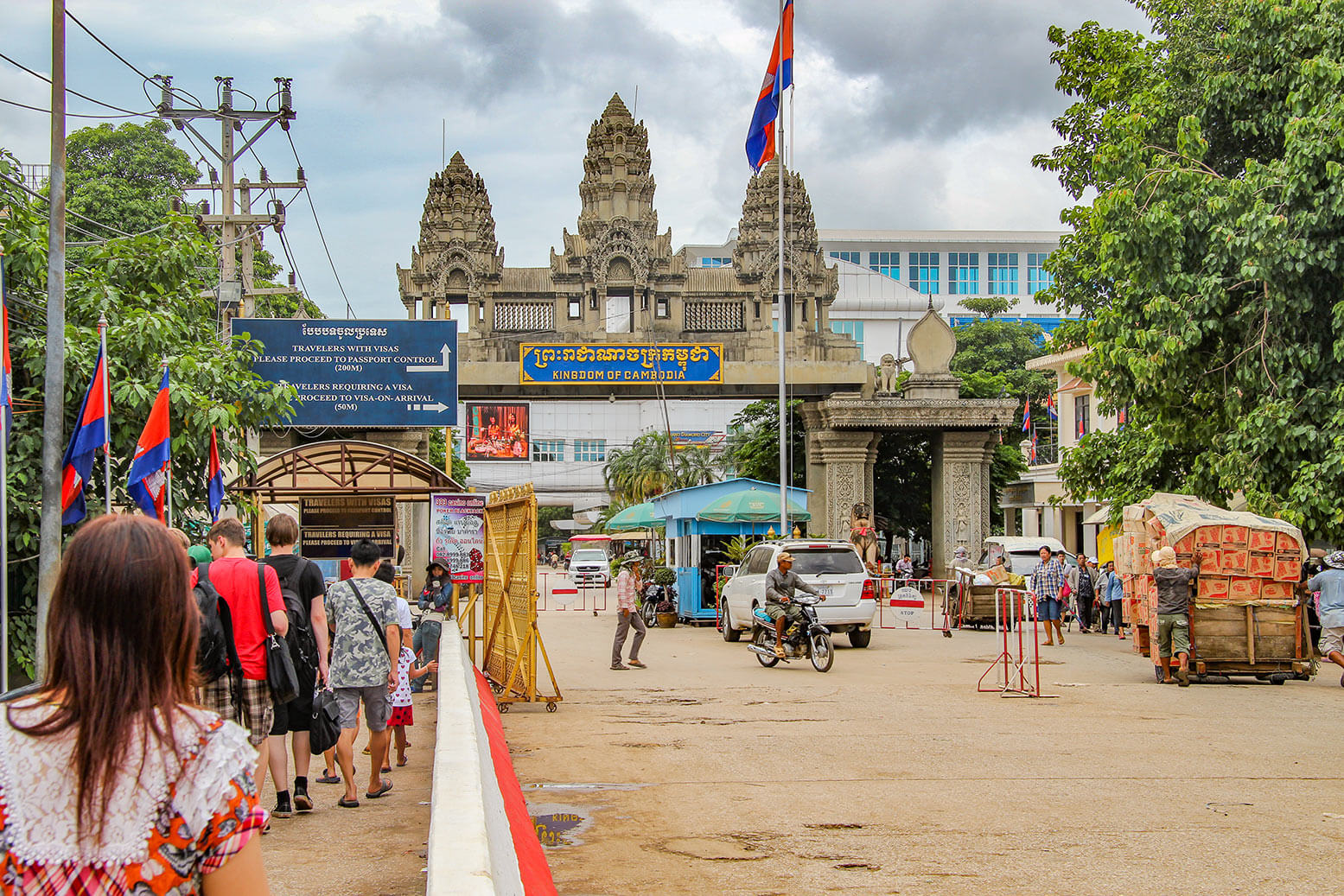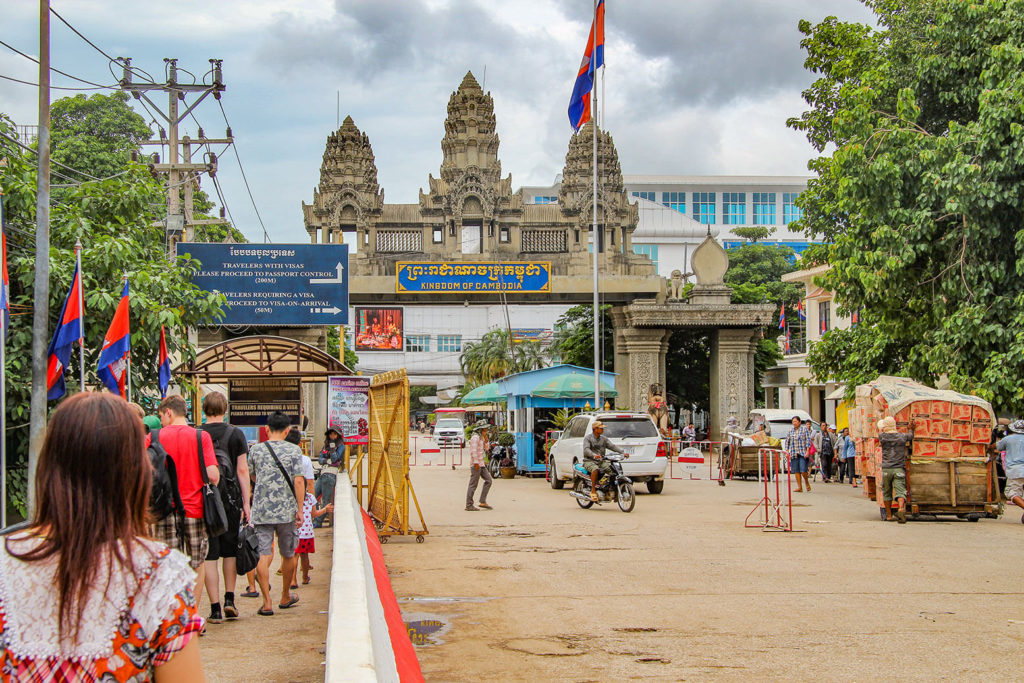 Once everything is done, you can take the free shuttle to the bus station. From the bus station you have 3 options to get to Siem Reap:
Taxi: You can book a whole taxi for yourself. Or you can wait for other people and share the fare of 48 USD.
Bus: Usually it costs 9 USD per person to take the bus.
Minivan: Well, it usually takes a while to get 10 people on board to share the van. Usually the ride costs 10 USD per person.
Beware of scammers at the border
Travellers are always advised to beware of the following scams they may encounter when crossing the border from Thailand into Cambodia by land:
While you are standing in line at Aranyaprathet, you may be approached by people pretending to be officials. They offer to help you cross the border and get your visa. As they are not immigration officials, you should never give them your passport.
Some bus drivers who take you to the border may stop at a small office on the way there. They interview tourists to find out how familiar they are with Cambodia's visa requirements and then ask them for a bribe or an overage on the visa-on-arrival fee. If you refuse to pay extra, they will probably make you wait in line even longer. Be careful!
Therefore, consider getting an e-visa for Cambodia in advance. This will save you time and largely avoid the scams at the border.
Please note: We have compiled all information to the best of our knowledge and belief. We do not assume any liability for the correctness of the information. If you have any other / new information, please let us know in the comments. Thank you :-)
More info for your stay in Siem Reap
In these articles, you can find further information here on Visit Angkor for your stay in Siem Reap:

Find your hotel in Cambodia
Maybe you don't have a hotel for your Cambodia trip yet, then you can browse and book directly here at
booking.com*
agoda. com*
there are also great deals.
Links with a * are affiliate links. If you like my blog and you buy, book or subscribe to something via an affiliate link, I get a small commission from the provider. Of course there are no additional costs for you.
Join our Facebook group
International travel group with friendly people who love Cambodia. We speak English, German and a little Khmer.