It's was beautiful day in Siem Reap, Cambodia's third largest City. I wandered aimlessly through the narrow aisles of "Old Market", one of the several markets in the city centre of Siem Reap. But this one is special.
Why is it special? Because it wasn't built only on purpose to serve as a place where tourists can buy little handcrafted things and typical Cambodian souvenirs. No, this market is, like its name already reveals, one of the oldest markets in Siem Reap. This means that like any other market in any other culture it was primarily built for trading and selling local food from local producers to local customers.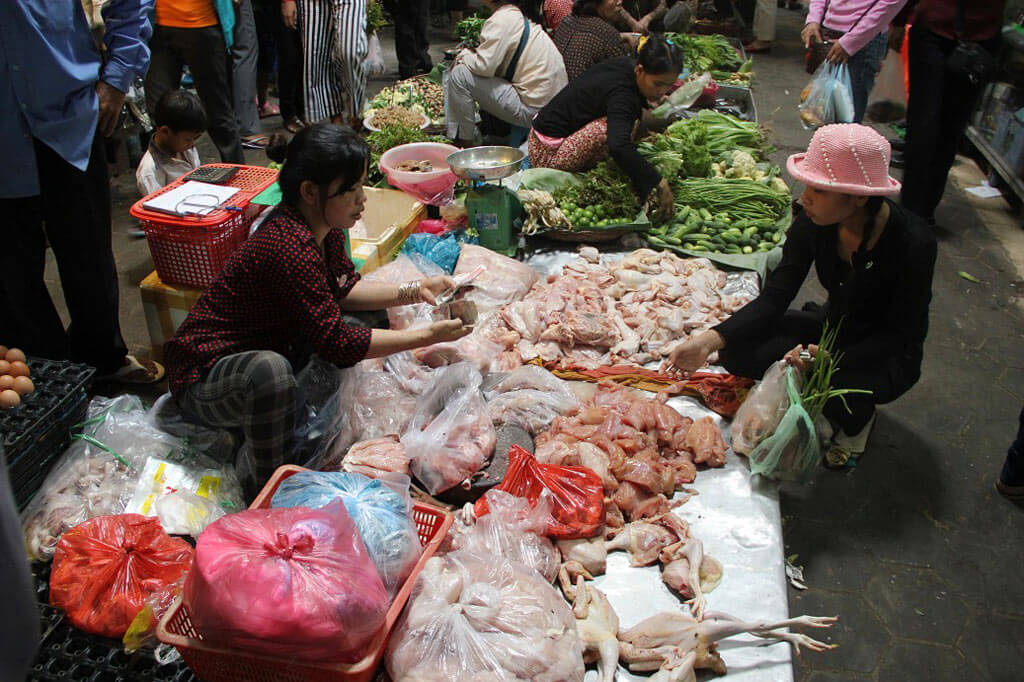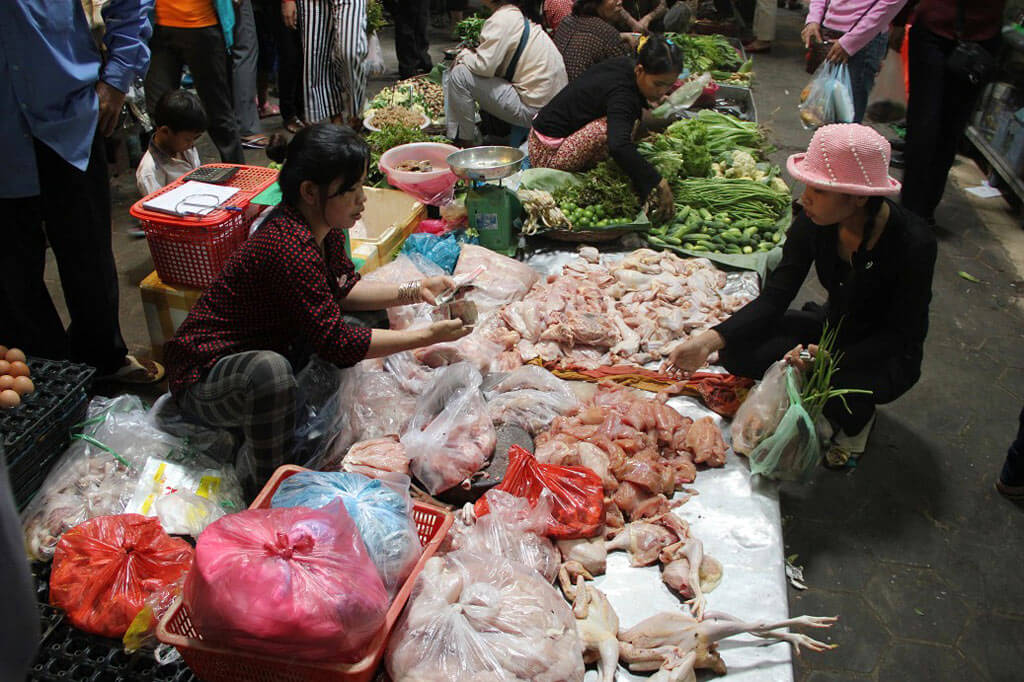 But you must know, Siem Reap is very close to Angkor Wat: the great temple complex, Cambodia's biggest pride and joy, famous cultural world heritage and therefore of course a massive tourist attraction. A lot of tourists stay in one of the western styled star-hotels located near Siem Reap's Old Market and head out for one day trips by TukTuk-Taxi to amazing Angkor Wat.
The Old Market in Siem Reap even an attraction for tourists
Obviously, tourists want to bring something special back home to their beloved ones. So slowly Old Market expanded from a few little stalls overloaded with freshly caught fish next to tables full of exotic green oranges and awfully smelling durian fruits, which are adjacent to stalls with huge varieties of herbs and spices that are opposite to still bleeding beheaded chicken hanging from the ceiling, next to crowded stalls with other unknown, indefinable delicious-looking food with unspeakable names, to a big roofed place of food mixed with numerous tourist stalls selling clothes, bags, jewellery and much more Cambodian bits and pieces to happy tourists.
Seriously, while you're busy negotiating a good price for one of the famous "Angkor- my country, my beer"-T-shirts or for one of the beautiful flower power dresses, you smell the spices, hear the still alive chicken and see the fresh vegetables, which you likely will have for lunch. Because despite of the "new" touristic part, Old Market is still constantly visited by local natives as well as by cooks of the surrounding restaurants who buy their daily food there.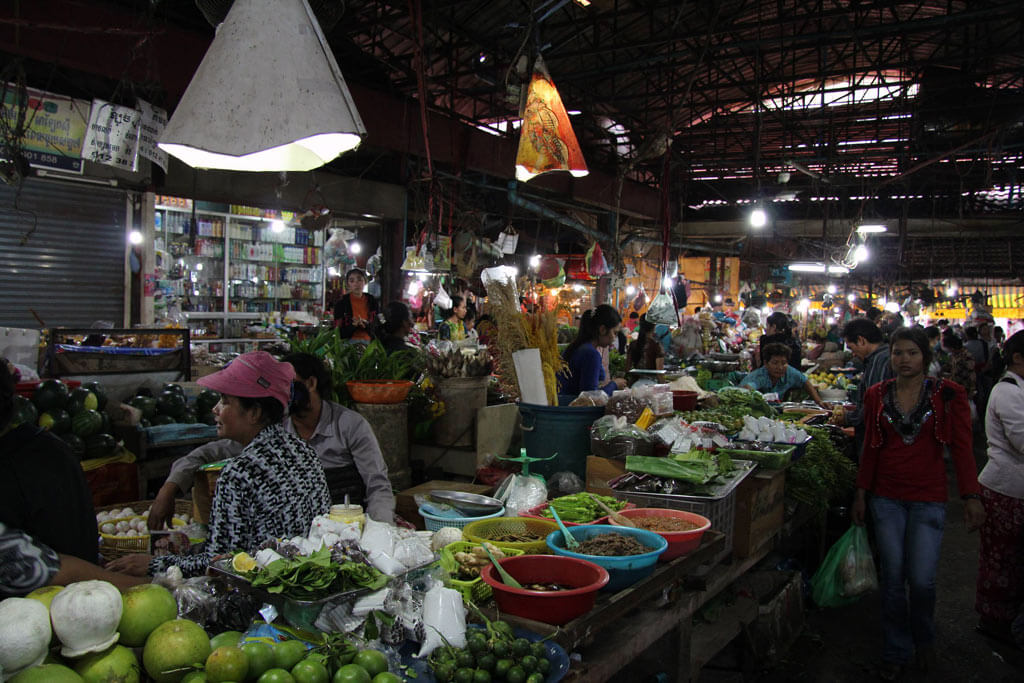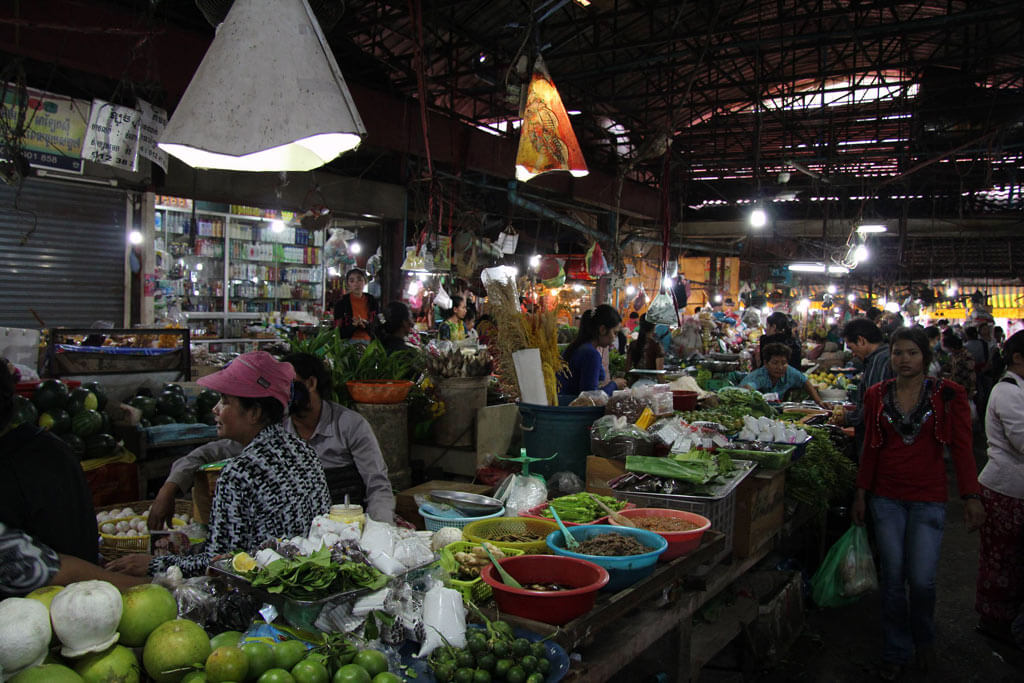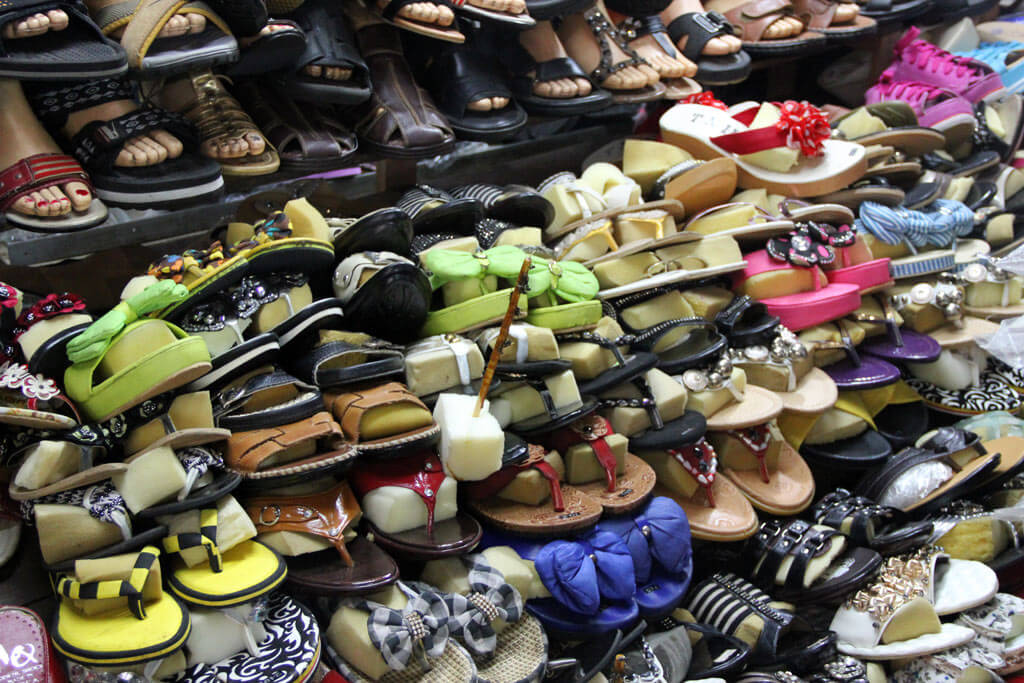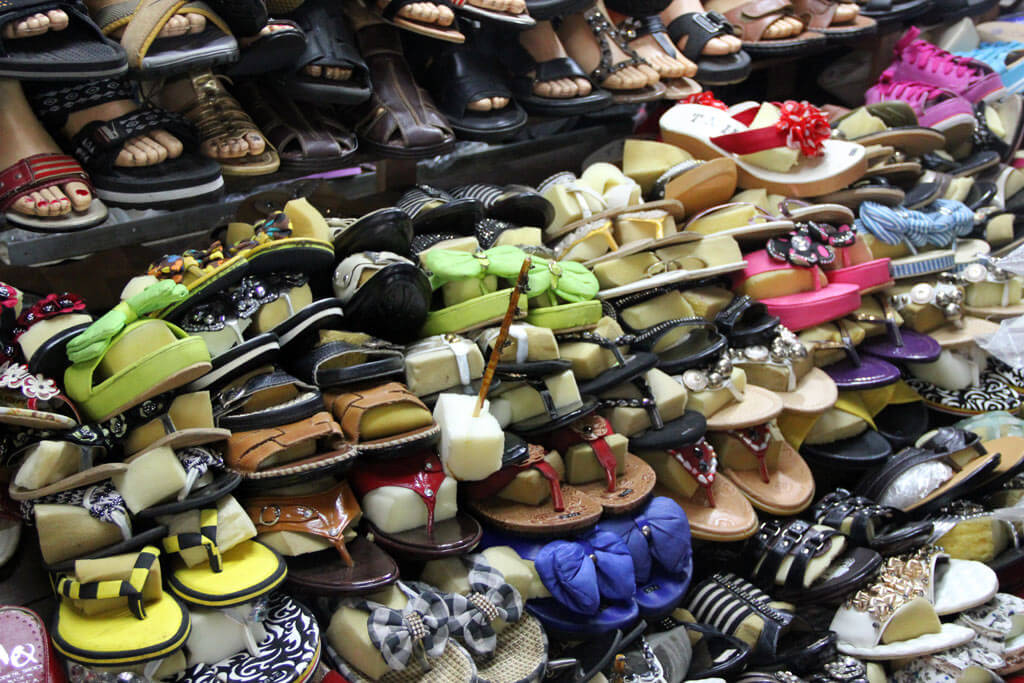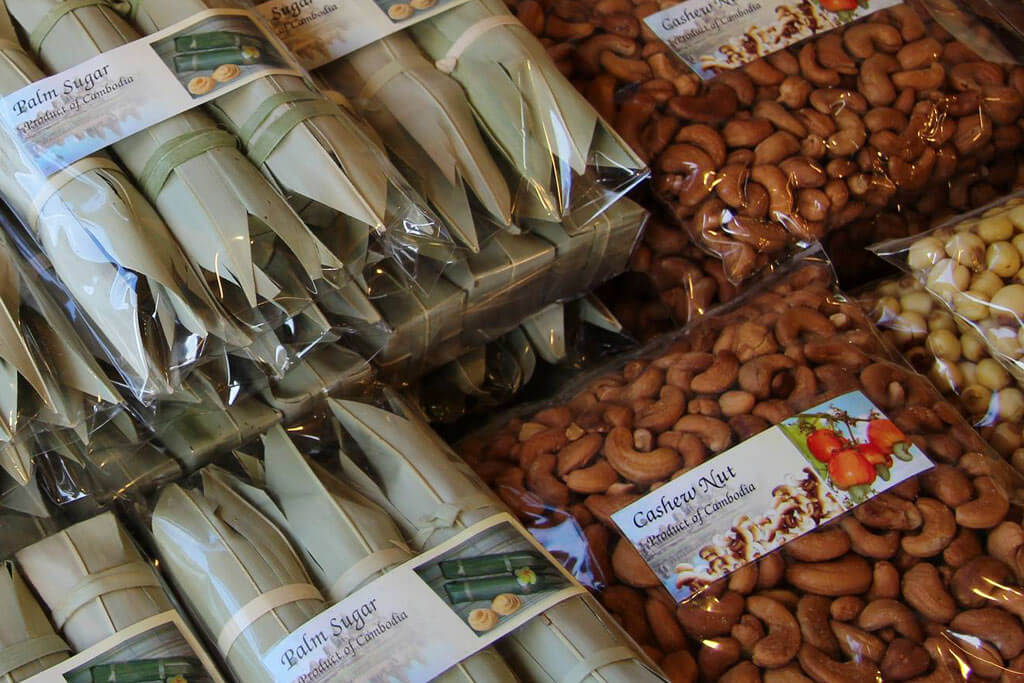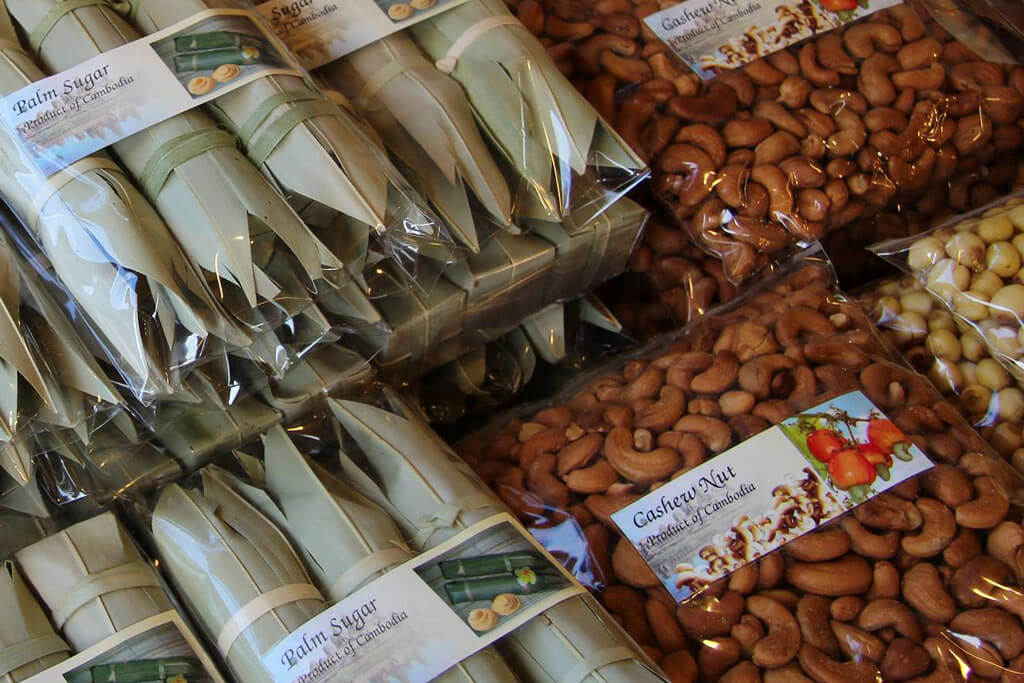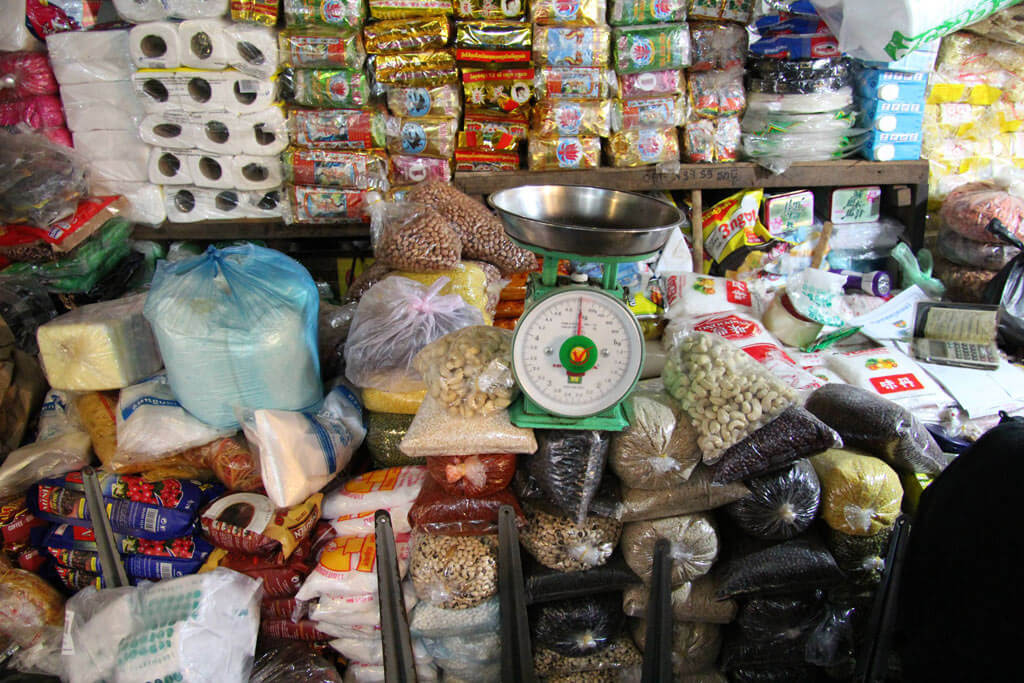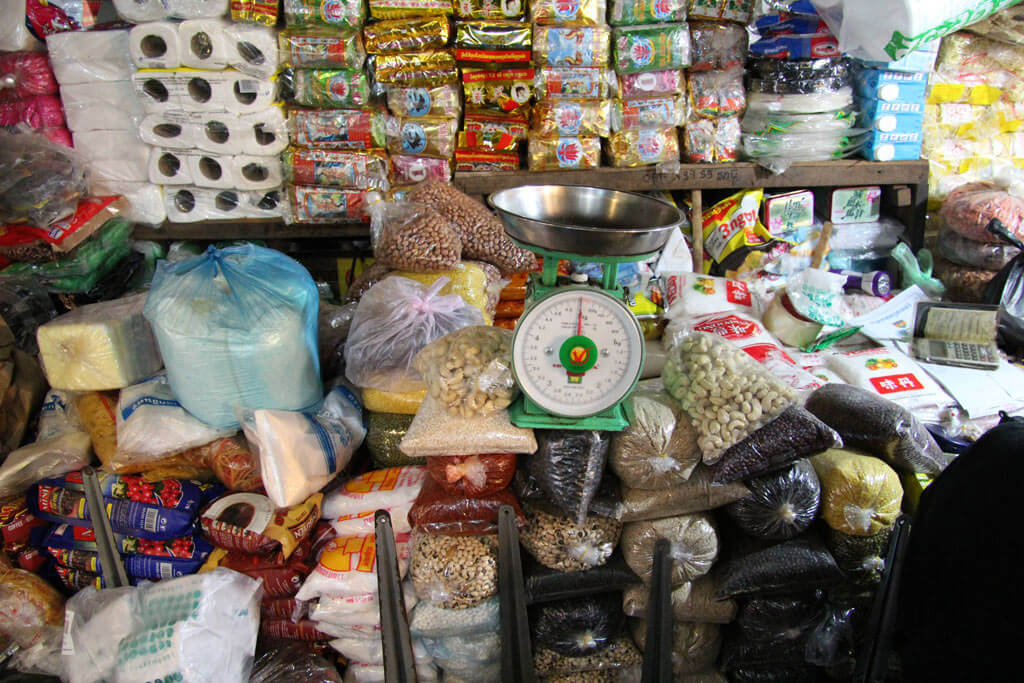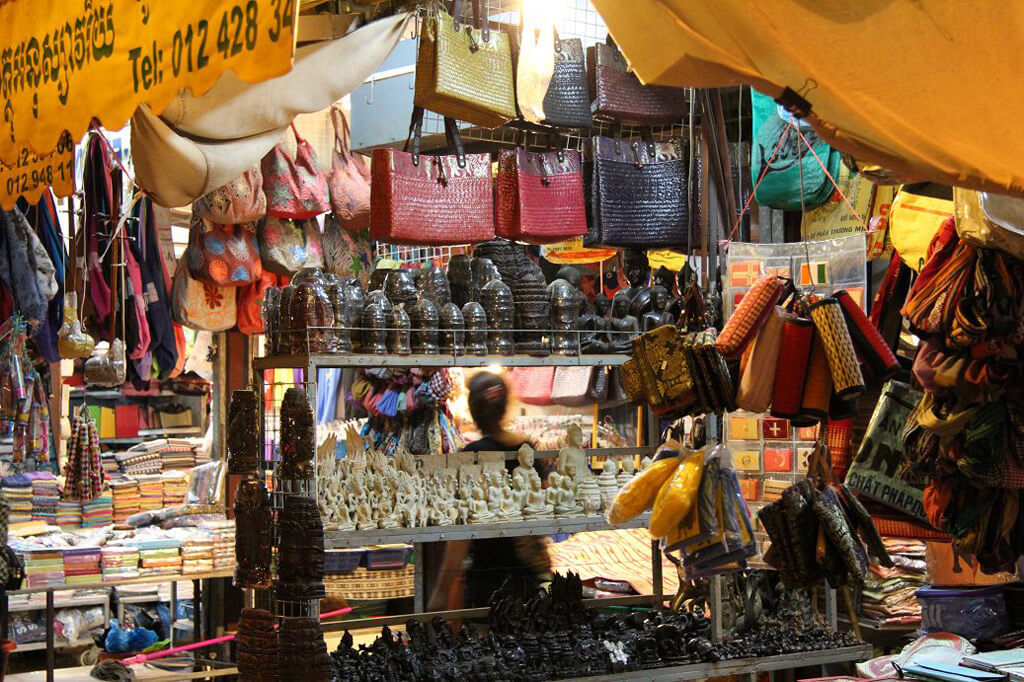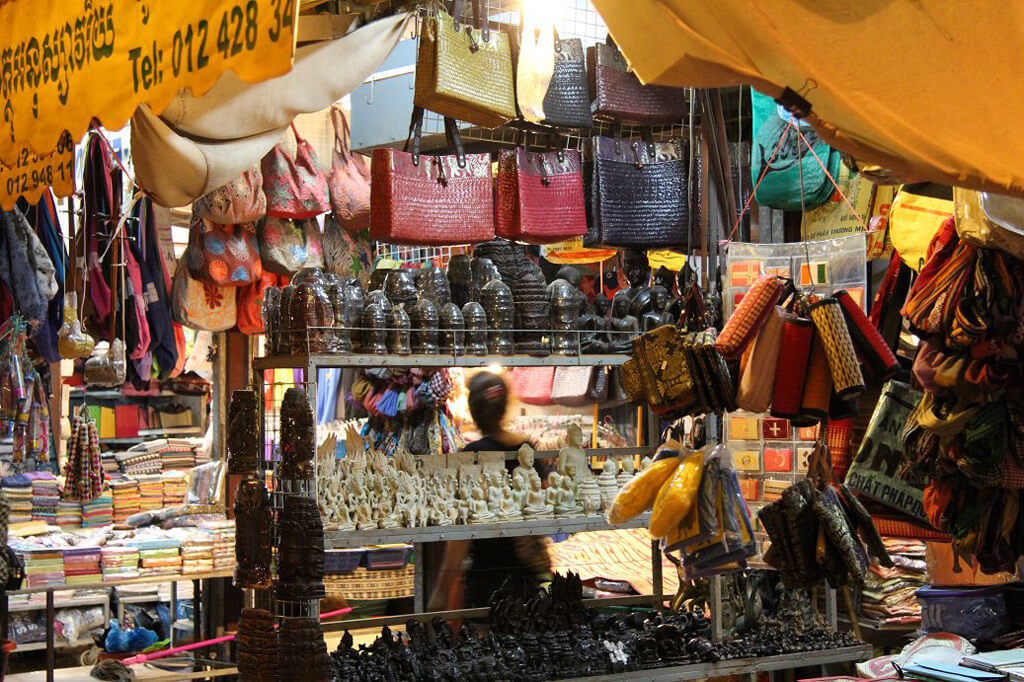 Overwhelmed by this mixture of different impressions, it was me standing at one of those stalls trying to buy little cute handmade bracelets for my friends back home. The young woman, assumedly only a few years older than me, charged three 3$ each. "What!? 3$ each?? That's way to much!" I was stunned. "Lady, is good pryy" she answered with a submissive, begging, yet demanding voice. Somehow, Cambodians tend to not pronounce the last letters of English words, especially if the last letter is "s". So by "pryy" she obviously meant "price".
"No, I've seen exactly the same bracelets on Night Market for 2 for 1$!" I argued. "But Lady, Night Market is not Old Market! You want original." At Night Market you can only purchase souvenirs and clothes but no food, thus it is barely visited by natives. "Yes you're right… but though, it's too much! Okay, I take 10 bracelets and I give you 5$." And then, there it was: She looked me straight in the eye and said forthright "But lady, you're rich, right!?! Why don't you pay me good pryy?" Once again I was stunned. "No, I'm not rich!" I wanted to say, but is that really true?
Am I rich or not?
Well, I didn't get here in a minute. I'm a student still living at my parents' place because it's cheaper than renting an apartment on my own. I saved every penny and worked hard to finance this trip to Cambodia. So no, I'm definitely not rich. But compared to here, where the sun always seems to shine, where eating daily in restaurants and afterwards drinking cocktails for two and a half Dollar became "ordinary", where using a TukTuk-Taxi is simply too cheap and convenient to not use it and here, where I sleep in a big hotel room that is as big as a room which an ordinary Cambodian family uses as living, eating and sleeping room at the same time, here I seem to be rich. And yes, here I am, because as a tourist, I can afford spending money on things like these whereas a native never could spare money for it.
But does that mean that I have to pay an exaggerated price for one small bracelet which is simply a single string of textile decorated with tiny seashells and for what locals never ever would have to pay the same price?
Yes, it does. Because no matter how overpriced an item seems to be here, it is still cheaper than back home. And no matter how cheap and ordinary something appears to be here for me, it is still exclusive and unaffordable to some local Cambodians.
So? Am I rich? Or am I not? Well, I guess it depends, like everything in life, on your point of view.
In the end I took six bracelets and paid 5.50$. Both of us smiled happily, thinking we've made a good deal.

Affiliate*

Links and references with a * are an affiliate link (advertising link). If you like Visit Angkor and buy, book or subscribe to something via an affiliate link, the provider will make a small commission for Visit Angkor. Of course, there are no additional costs for you.
Join our Facebook group
International travel group with friendly people who love Cambodia. We speak English, German and a little Khmer.