Makara is 20 years old and works since one year at "The Blue Pumpkin" in Siem Reap. She earns around US$ 100.00 per month and supports even her family from this small salary. She works six days a week and eight hours a day, means 48 hours a week.
Whoever has experience with the heat in Cambodia can imagine what it means to standing on the feet for eight hours every day.
Makara is happy that she has got this job, because before that – in another restaurant – she got much less, always short to pay the bills and support the familiy with this salary. She always has a shy smile on her face, is thoughtful and cares – like their colleagues too – about the guests.
France in Siem Reap; Patisserie "The Blue Pumpkin"
"The Blue Pumpkin" is an unusual place for a normal cambodian palate. You can find all kinds of variations of croissants, cakes, cookies, cupcakes, ice cream and shakes at this place.
Also breakfast, lunch and dinner ; everything personally created by chief Arnaud Curtat and all served in a very modern designed place. The best of all: It tastes just delicious there:
A true sin "The Rocher Praline"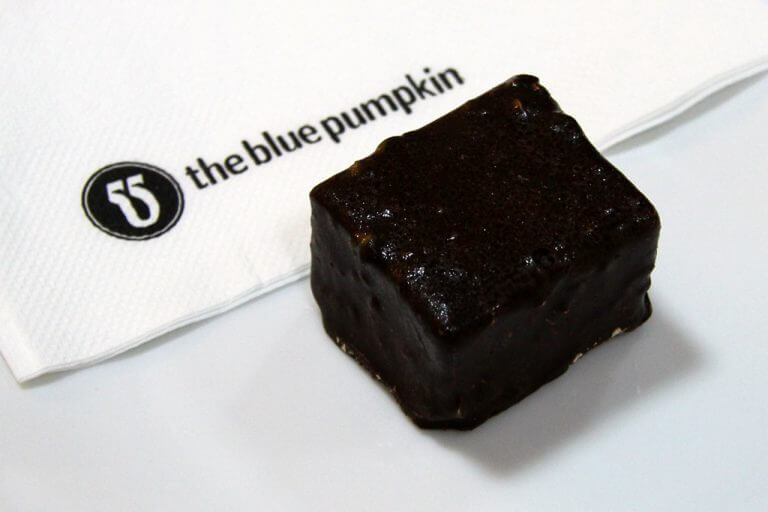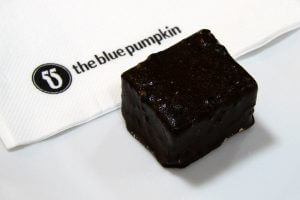 We fall in love with the Rocher Praline. A true special for US$ 1.75 – a just four by four cm wide chocolate dice which really hold its promise.
Makara presents the praline for us in our photo together with the promotion for "The Blue Pumpkin". If you see her, please say hello from us.
The Blue Pumpkin: Five times in Siem Reap
The biggest of The Blue Pumpkin in Siem Reap you'll find at the Hospital Street, cross street of the Pub Street. At this location we met Makara. A smaller branch you can find on the Sivatha Road, cross street to the west side of the Pub Street. If you want to sweeten your visit of the temple complex of Angkor, you'll find one at the temple of Angkor Thom. Even golfers don't need to abstain from this sweets, and also at the airport of Siem Reap, a small branch is located.

Affiliate*

Links and references with a * are an affiliate link (advertising link). If you like Visit Angkor and buy, book or subscribe to something via an affiliate link, the provider will make a small commission for Visit Angkor. Of course, there are no additional costs for you.
Join our Facebook group
International travel group with friendly people who love Cambodia. We speak English, German and a little Khmer.