Every year during the full moon of the Khmer month Magha there is a very special day: It is Meak Bochea, a [since 2020 no longer official] holiday in Buddhist Cambodia. As Meak Bochea always coincides with the full moon, it is a movable holiday, so the date is not fixed. The date in the coming years is:
| | | |
| --- | --- | --- |
| Year | Date | Day |
| 2022 | February 16 | Wednesday |
| 2023 | February 05 | Sunday |
TIP
Plan your travel so that you are in Cambodia on a holiday. Here at Visit Angkor I have compiled a list of all holidays in Cambodia.
Meak Bochea reminds of the very last sermon of Buddha in which he summarized the "heart of Buddhism" into these 3 principles in front of 1,250 monks:
Stopping from all evil
Doing only what is good
Cleansing the mind

The 3 Principles of Buddha
The fourfold assembly
1.250 monks who gathered to hear the sermon about 2,500 years ago on that day are also often referred to as the "Fourfold Assembly" because there were four facts:
All 1250 listeners were "Enlightened Beings"
Buddha ordained them all himself
According to tradition, they came to the sermon without being summoned
It was full moon in Khmer month Magha
Meaning of the name Meak Bochea
The name Meak Bochea (Khmer: មាឃបូជា) originates from the Thai "Magha Puja".
Magha = Meak: name of the third lunar month
Puja = Bochea: to venerate
"Day of veneration of Buddha and his teachings on the full moon of the third lunar month."
Buddha knew when he was going to die
According to legend, Buddha predicted his own death on that day, which was to take place exactly 3 months later. The day of his death was also his day of birth and his evidenced experience of enlightenment. Since then Cambodia celebrates the death and birthday of Buddha as Visak Bochea Day.
Importance of full moon at Meak Bochea Day
In Buddhism, the full moon is considered to be a holy day and the perfect time to repent of one's sins and at the same time to earn merits. The added historical significance of the full moon on Meak Bocheay Day makes this a special day of penance, merit for good deeds and remembrance of Buddha's teachings.
For this purpose the Khmer visit the local temples and pagodas to practice doing good deeds for merit. Nevertheless, they strive to purify their minds, avoid all future sins, and obey all Buddha's commandments. These commandments include the avoidance of:
alcohol consumption
killing
stealing
lying
Since the Khmer like to drink a delicious beer, the rush to the Meak Bochea Day for penance in the temples is quite crowded. Also the non-lying can hardly be kept completely and contributes to the run on the temples.
Meak Bochea Day – and you are part of it
If you're in Cambodia during Meeak Bochea Day, then check out the ceremonies! The scenes are truly impressive as the monks in their orange and white nuns in their white robes process along the temples and pagodas.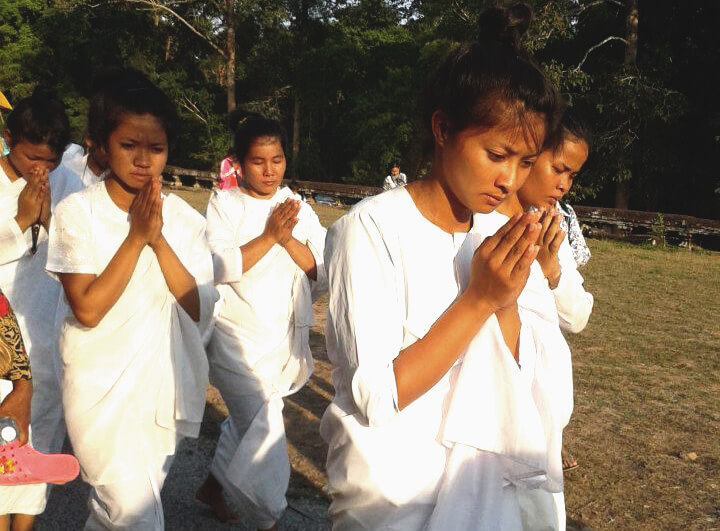 Visit a pagoda or temple to watch the Buddhist ceremonies. The believers perform processions in which candles, incense sticks and lotus blossoms are carried around the temple three times. Each of the 3 rounds has its own spiritual meaning:
The first round is about honouring Buddha.
In the 2nd round the believing Khmer honor the teachings of Buddha (Dharma)
And in the third round they honor the monastic life (Sangha).
But even if you are not in a pagoda or temple: everywhere you will meet people on the streets who take part in processions to Meak Bochea Day.
TIP
Find out (e.g. in your accommodation) if you can watch the celebrations of Meak Bochay with a Cambodian. I myself was lucky that Lee Heng invited me to the Pchum Ben festival. Without him I would not have understood at all what the "rice battles" are all about :-)
Siem Reap: 1,250 monks at Meak Bochea
In Siem Reap you can look forward to very special ceremonies. From about 3 o'clock in the afternoon, 2 large processions will take place. One around Angkor Wat and another around Wat Damnak. Like 2.500 years ago to the last speech of Buddha 1.250 monks will walk around Angkor Wat and Wat Damnak.
The special meaning of Udong at Meak Bochea Day
On the hill of Udong the probably biggest and most important ceremony of Meak Bochea takes place every year in cambodia, when hundreds of monks and government officials gather and perform the rituals of Meak Bochea. These are the same ceremonies as described above, but of special importance.
Udong (or Oudong) – the former capital of Cambodia – is located about 28 miles north of today's capital Phnom Penh. The hill with the same name, 110 metres high, has been a holy place since the 7th century. In recent years, Oudong has become even more important. The reason: In one of the stupas – by far the most magnificent stupa – there are relics of Buddha. Some sources say it is his ash, others report an eyebrow hair, tooth fragments and bones. The photo here was taken by my very best friend Plony <3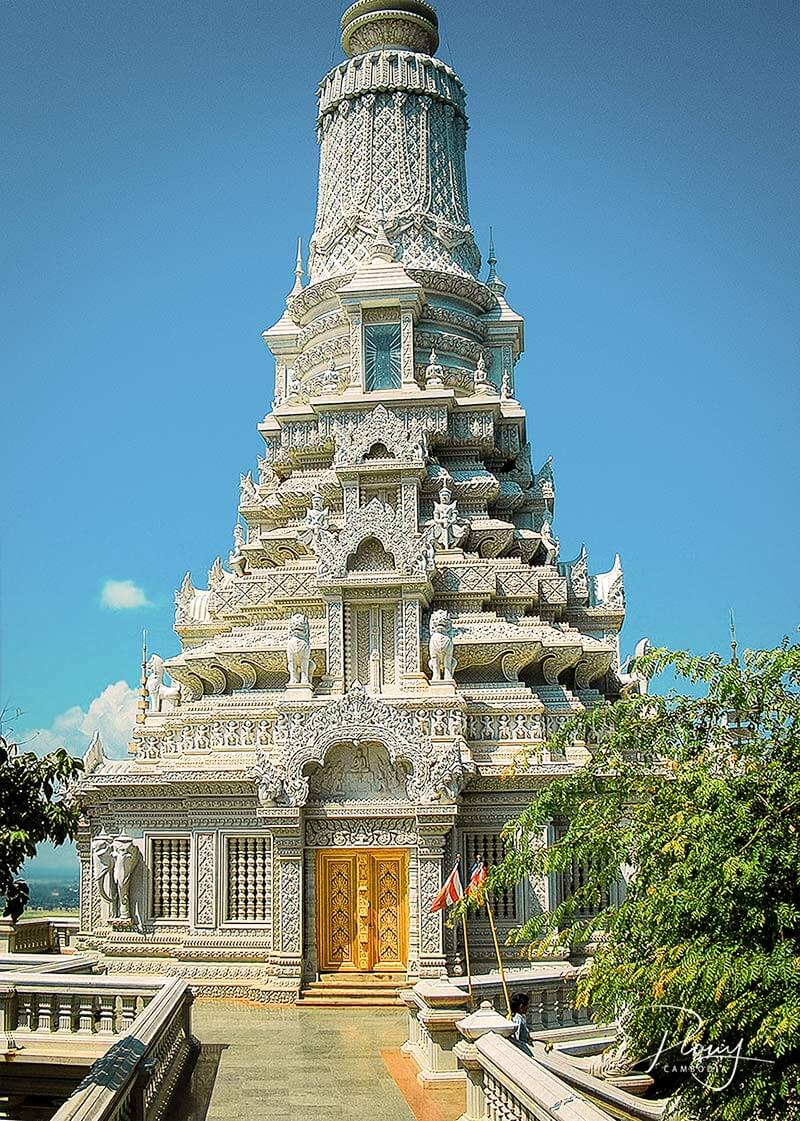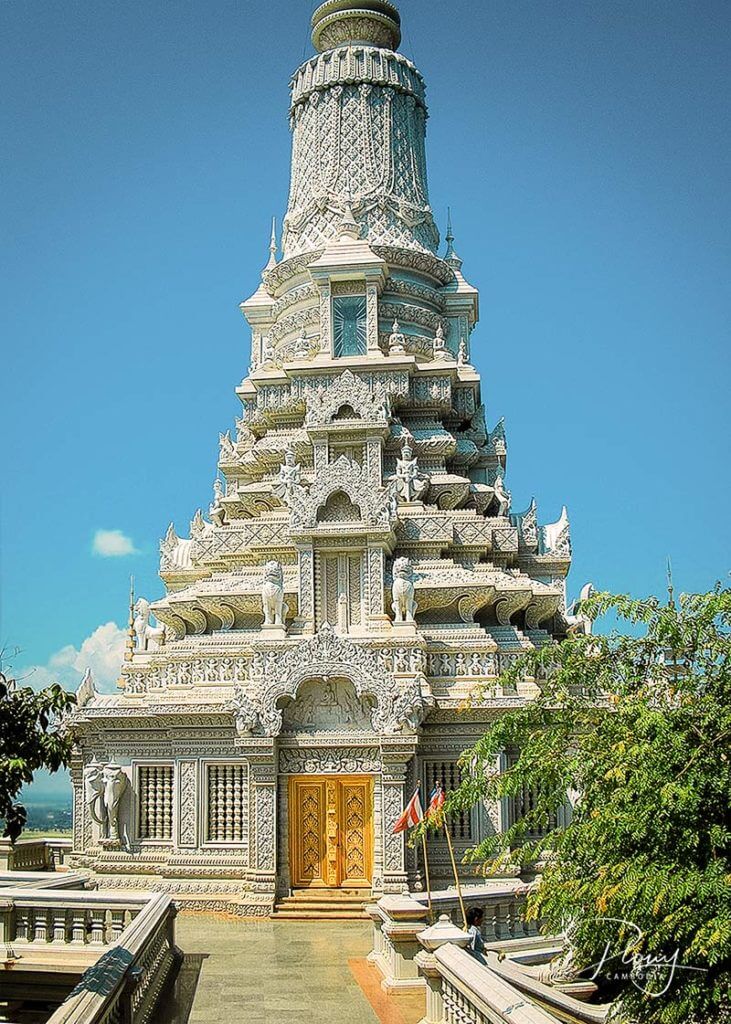 I wish you a wonderful time in Cambodia and I am happy if my blog helps you to plan your trip. Please write me if you are interested in any other topics that may not be available here at Visit Angkor.

Find your hotel in Cambodia
Maybe you don't have a hotel for your Cambodia trip yet, then you can browse and book directly here at
booking.com*
agoda. com*
there are also great deals.
Links with a * are affiliate links. If you like my blog and you buy, book or subscribe to something via an affiliate link, I get a small commission from the provider. Of course there are no additional costs for you.
Join our Facebook group
International travel group with friendly people who love Cambodia. We speak English, German and a little Khmer.