Today is a very special day in Cambodia: With the appearance of the angel on earth, Moha Songkran begins, the first day of the three-day Cambodian New Year.
Due to Corona the official celebrations are cancelled (although the pagodas are probably open during the holidays, especially in rural areas). However, the Cambodian Prime Minister has promised that the official celebrations with all the games etc. will be made up for at a later date. Then the Khmer can even look forward to extended festivities. Because instead of 3 days the celebration will last 5 days. [Source: Phnom Penh Post]
Korak Tevy, the Monday Angel
Today it is Korak Tevy, the Monday Angel, who comes to earth. Tonight at 08:20pm Cambodian time – 5 hours earlier than in my homeland Germany – it is finally time.
Depending on which day the new year begins, another angel will come to earth. In total there are 7 angels. They are all daughters of Kabil Moha Prum. Around him and all the angels there is an old legend, which still has influence on the ceremonies in the whole country.
The characteristics of angel Korak Tevy
Each angel has very special attributes. Korak Tevy carries a sword with his right hand and I carry a stick with my left. Her hairstyle is decorated with a hairpin with flowers of the jasmine tree and a pearl necklace around her neck. Korak Tevy rides a tiger and her favorite food is oil.
The Khmer people offer gifts to the angel that match his personality. For this purpose they build a special gift table.
Gifts to greet the New Year angel
The gifts to greet Angel Korak Tevy are:
5 incense sticks and 5 candles (5 ទៀន 5 ធូប 5)
2 plates with young banana tree decorations (ស្លាធម៍កូនចូនចេក1គូ)
3 types of fruit, each type presented on 2 trays
Small plaits with jasmine flowers, which are placed on each tray
And the favourite food for Korak Tevi: cooking oil (តេ លំ)
Here is a photo with the gift table from Sokboromey for angel Korak Tevy. She sent it to me a few moments ago <3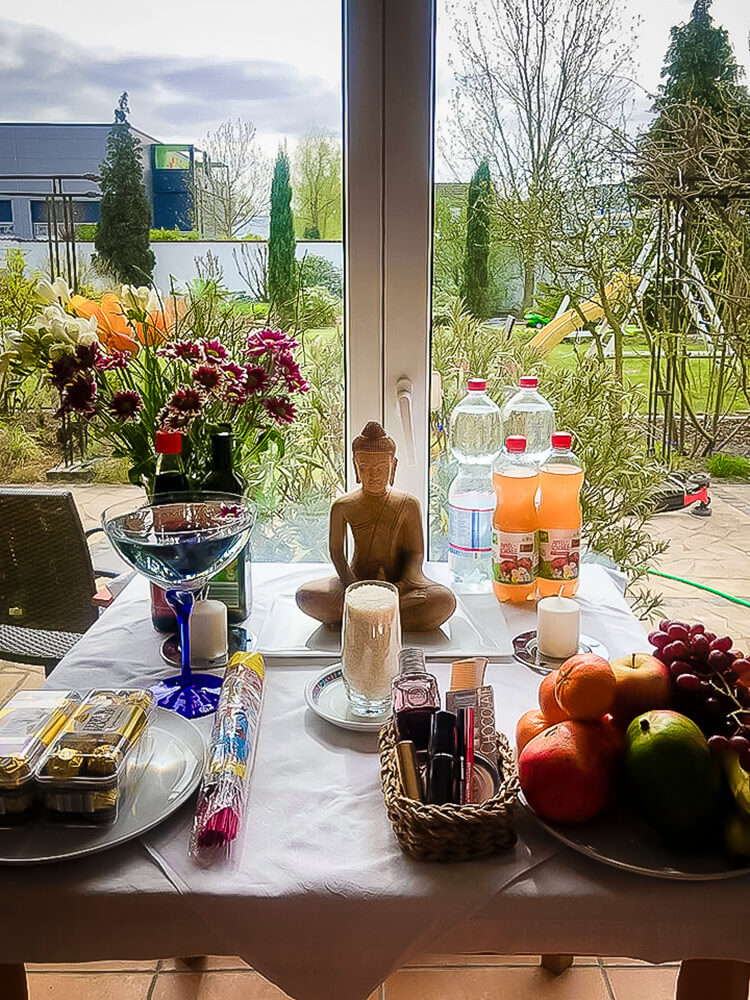 The year of the rat begins
With the Cambodian New Year, the Year of the Rat, 2563 BE in the Buddhist calendar, begins at the same time. The abbreviation BE means "before the Buddhist era", since 543 B.C. (before Christ) is the first year of the Buddhist calendar. And with Visak Bochea on May 18th on the birthday of Buddha, the year 2564 BE in the Buddhist calendar begins. Everything fully logical and totally uncomplicated, right? :-)
The year of the rat has a very special meaning, because the Khmer believe that this year will bring a lot of luck and success. As a special quality the rat is awarded wisdom.
Korak Tevy will come to earth this year – 2020 – may she protect people from all evil.
❤️🙏❤️ Sus'Dei Chnam Thmei ❤️🙏❤️
Happy Khmer New Year

Find your hotel in Cambodia
Maybe you don't have a hotel for your Cambodia trip yet, then you can browse and book directly here at
booking. com*
: Or you can check out
agoda. com*
there are also great deals.
Links with a * are affiliate links. If you like my blog and you buy, book or subscribe to something via an affiliate link, I get a small commission from the provider. Of course there are no additional costs for you.
Post from Visit Angkor
You like the articles from Visit Angkor?
Great: Enter your e-mail address here and choose the topics that interest you. From then on you will receive all new articles directly to your mailbox.
Do you like the post? Just follow Visit Angkor on Facebook, and become a member of our Facebook group We Love Cambodia. I'd also be happy to hear your reviews and comments– the asterisks are directly under this text. Thank you so much :-)
Click to rate this post!
[Total:

0

Average:

0

]