[update: Angkor Sunset Finder is no longer online] Watching the sunset it one of the most amazing attractions for visitors so even at Angkor. But most of them only know the most frequented sunset points such like Phnom Bakheng where it is overcrowded every day. The Angkor Sunset Finder is a new website and offers 34 places where visitors can see the sunset at the Angkor Archaeological Park. It is an initiative by APSARA National Authority to enhance visitor experience and appreciation of Angkor while ensuring its conservation for future generations.
This pilot project, which arised from the Tourism Management Plan, is part of the Angkor Heritage Management framework and supported by the Royal Government of Cambodia, the Australian Government and UNESCO. The Sunset Finder project has been undertaken by Australian consultants GML who are working in collaboration with the APSARA National Authority.
The goal is to promote amazing sunset experiences on several places at Angkor and it aims to spread visitors across the park by offering new and unknown attractions and to provide benefits to local communities.
How the Angkor Sunset Finder works
You can refine your search by selecting between different choices such as they are:
What kind of atmosphere?
What category of visitor?
Max. capacity for Visitors to the Site
Max. distance to the Ticket Gate
Access and Parking by Vehicle Type
By site name
Also you find key information such as likely crowd turnouts, transport options and ambiance which let you choose the sunset experience which you prefer. Here´s a screen how the Angkor Sunset Finder looks like.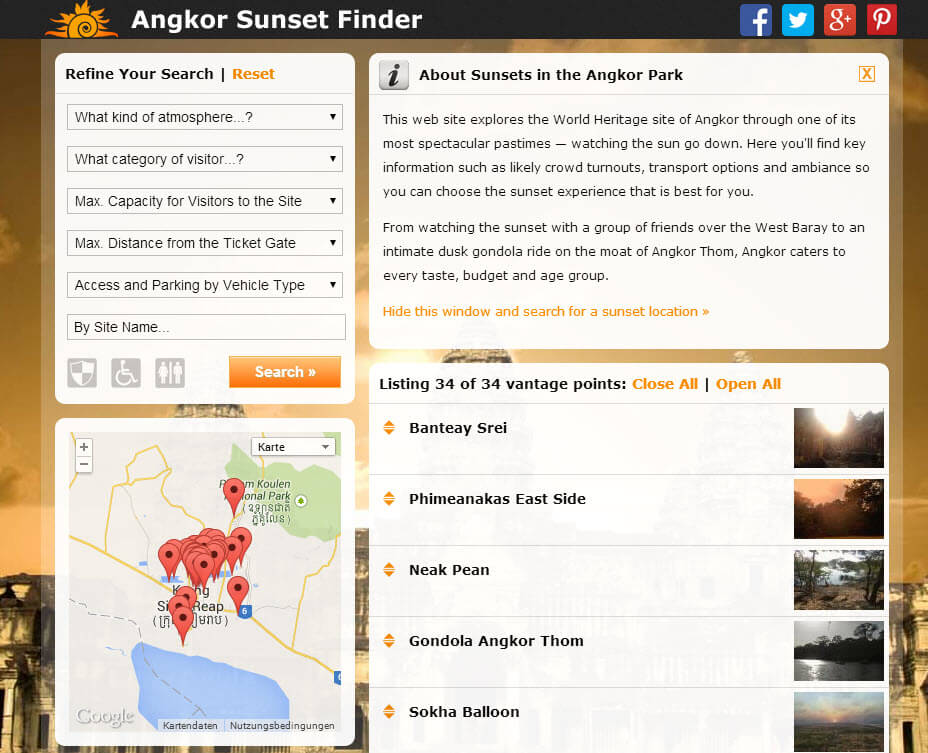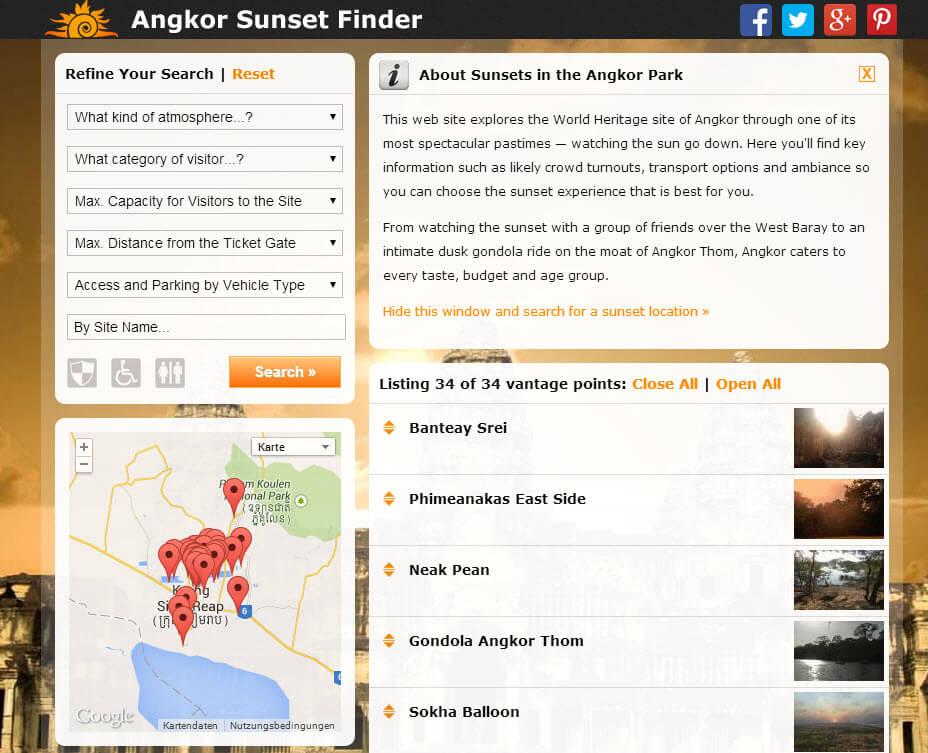 Actually about 4 Million visitors come to Cambodia each year. Most of them visit the temple of Angkor. Which one is your favourite Sunset Point at Angkor?
Direct link to the Angkor Sunset Finder – have fun and enjoy the sunset at all these magnificent places!!
More info for your stay in Siem Reap
In these articles, you can find further information here on Visit Angkor for your stay in Siem Reap:
Title Photo: Sok Kakada

Find your hotel in Cambodia
Maybe you don't have a hotel for your Cambodia trip yet, then you can browse and book directly here at
booking.com*
agoda. com*
there are also great deals.
Links with a * are affiliate links. If you like my blog and you buy, book or subscribe to something via an affiliate link, I get a small commission from the provider. Of course there are no additional costs for you.
Join our Facebook group
International travel group with friendly people who love Cambodia. We speak English, German and a little Khmer.