On this page we have collected all our tips to help you find the perfect tour guide for your visit of the Angkor temples.
How to book an Angkor Tour Guide
In general, you can book a tour guide directly in all hotels. Just ask at the reception for the conditions. It is best if you get to know your tour guide before you visit the Angkor temples. Then you can get to know each other and the tour guide knows better what to expect. Maybe you are particularly interested in the architecture or the reliefs of Angkor Wat. Or you want to go to Phnom Bakheng for sunset, no matter how crowded it is. Your tour guide will help you with all your questions and wishes.
TIP: Make sure you have a tour guide before you visit Cambodia. In the high season it can happen that the tour guides are fully booked and you won't get one at short notice.
Many tour guides meanwhile have their own websites. For example, enter "Angkor Tourguide" or "Angkor Guide" into the Google search and browse the results.
On Tripadvisor you can view the ratings of many Angkor tour guides.
Do I need a tour guide at all?
That depends entirely on your personal preferences. Of course you can conquer the Angkor temples without a guide, but then you are completely on your own. Tuk Tuk drivers will take you from temple to temple but they usually can't tell you much about the Angkor temples.
If you don't want to know so much about the history of Angkor anyway, but rather just want to look and take pictures, a visit to the Angkor temples is worth it even without a tour guide. Maybe you have already read a lot about the Angkor temples on the net or in books – this will certainly help you with your explorations.
Tip
You can now also buy your Angkor ticket online in advance. Or you can pick it up at the ticket office.
Reasons for an Angkor Tour Guide
Tour guides know where and when to visit each temple.
They know the best places for your ultimate sunrise experience at Angkor.
You can agree with your tour guide in advance what you would like to see and when. Based on your information, he knows what is important for you. He will also inform you in good time if one or two of your wishes cannot be realised.
They know when and where the fewest people are in Angkor Park.
Angkor tour guides know the places where it is worth taking photos.
Only with the stories a tour guide tells you can you understand the Angkor temples.
They know where to get the best food in Angkor Park (even without going to the special tourist restaurants).
With an Angkor tour guide, you can relax with confidence. For example, he knows how long it will take to get to the next temple and will gently point out when it is time to move on.
In Angkor Park, there are always situations where you may not know what to do. A tour guide at your side will help you with this.
How to identify a certified Tour Guide
In total, there are around 3,000 official Angkor tour guides. They have all completed a training course. It is best to book a licensed tour guide. They identify themselves with a badge. You can also recognise them by their professional clothing with a beige shirt. Many tour guides are listed in some kind of association.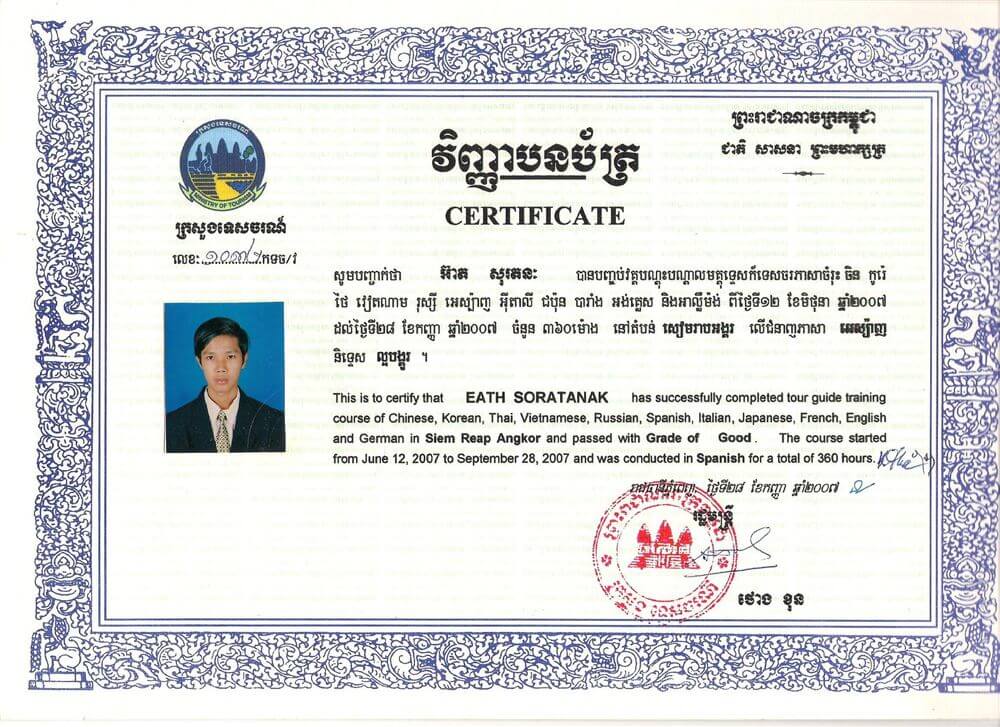 You can enquire about and book tour guides in advance via these platforms.
Cambodia Tourist Guide Association
The Cambodia Tourist Guide Association (CTGA) was founded in November 2009. The aim of the association is to enable its members to earn a sustainable income. Currently, 500 trained Angkor tour guides are listed with the CTGA. Besides German-speaking tour guides, there are guides with other languages such as French, English, Thai, Spanish, Japanese, Italian, Chinese, Vietnamese and Russian. The guides can be contacted directly by phone via the CTGA website.
Khmer Angkor Tour Guide Association
The Khmer Angkor Tour Guide Association (KATGA) was founded in 1999. This association is also concerned with ensuring that the guides receive a sustainable income. Although the trained Angkor guides are also listed on this website, they cannot be contacted directly. It is also not clear which language they speak. However, you can send a booking request directly via the website or call them.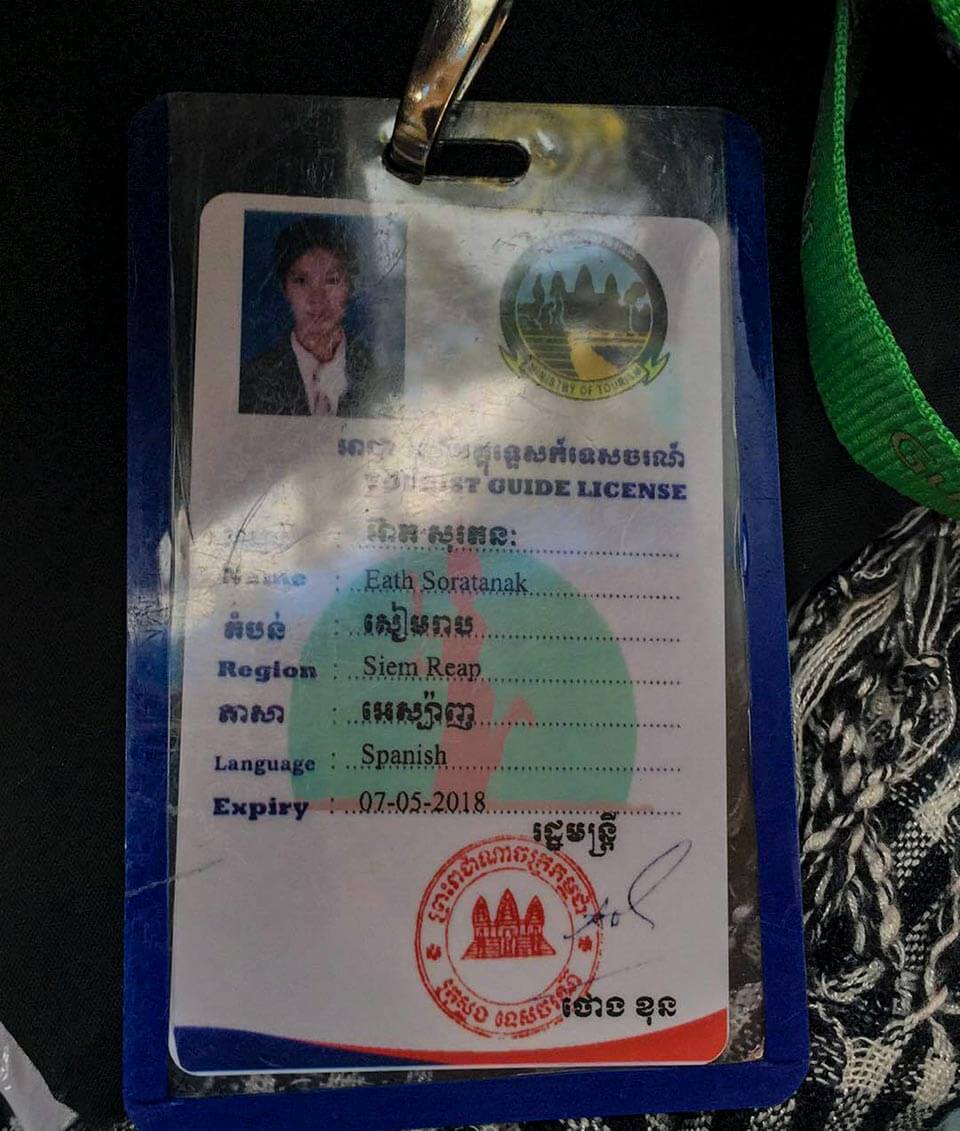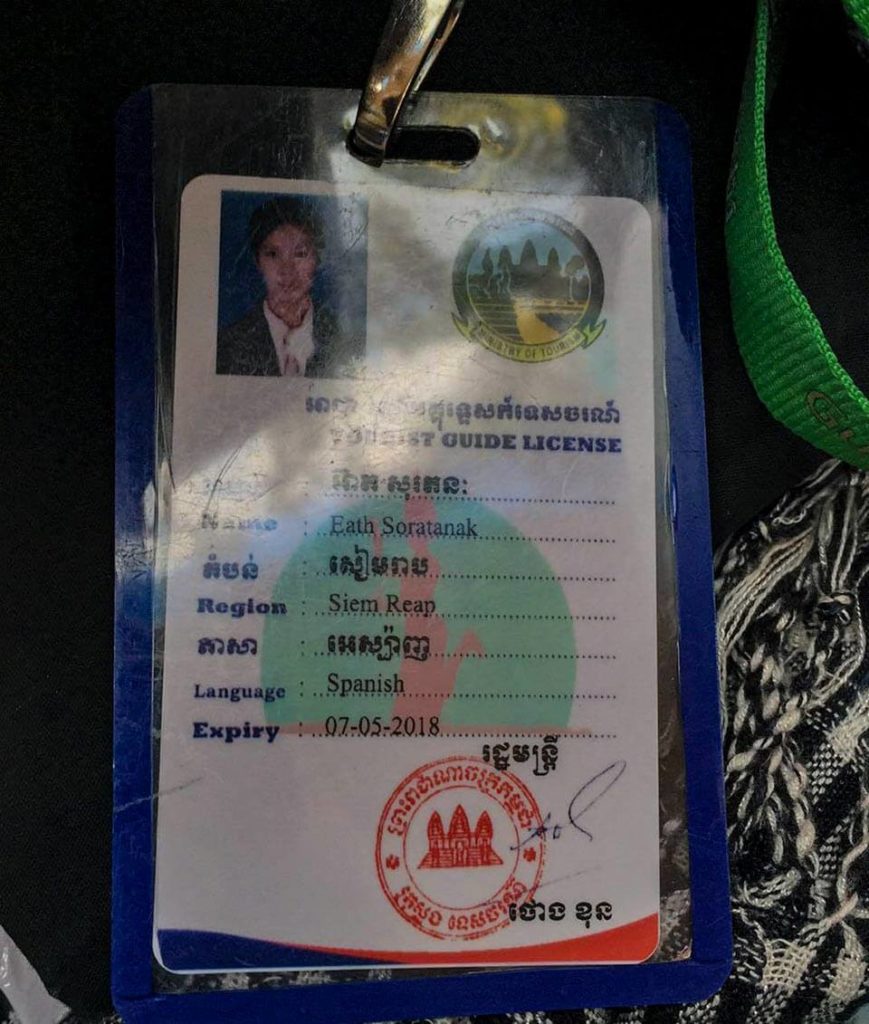 popular pages about Angkor
Did you enjoy reading the post? Why not follow Visit Angkor on Facebook, where you'll find more articles about Cambodia? I'd also be happy to hear your reviews and comments– the asterisks are directly under this text. Thank you so much :-)

Find your hotel in Cambodia
Maybe you don't have a hotel for your Cambodia trip yet, then you can browse and book directly here at
booking.com*
agoda. com*
there are also great deals.
Links with a * are affiliate links. If you like my blog and you buy, book or subscribe to something via an affiliate link, I get a small commission from the provider. Of course there are no additional costs for you.
Join our Facebook group
International travel group with friendly people who love Cambodia. We speak English, German and a little Khmer.