This is no problem at all – especially in the tourist center of Siem Reap you will be asked at almost every corner by Tuk Tuk drivers whether and when you want to visit the Angkor temples. Angkor tours are popular with the Tuk Tuk drivers because they make good money for them with about 25 $. You can also find many offers here on the net. Here are a few suggestions from me:
Cambodia Golden Tours – behind this is Seam Vutha, where Seam is his last name. I write "hide" because there is no photo of him on the website. But I can assure you that he is great! On the photo above you can see him with me in the "luggage" on his motorbike – he had "unbuckled" his tuk tuk at this time. With him I have already turned around quite a lot. To the website of Cambodia Golden Tours.
Sophal Ouk – he doesn't have his own website, but I'm really happy that he already got bookings directly through my blog here. Yu can find him on Facebook.
visit-angkor.com – My "domain name cousin" runs a tuk tuk service to the Angkor temples. I don't know him personally, but I think this namesake thing is funny :-) To the website of visit-angkor.com.
Mon – he doesn't have his own website either, but I can highly recommend him. Here at Visit Angkor I wrote a little article about Mon, because I am so enthusiastic about him.
Mainn – with him I criss-crossed the vast landscapes in the south of Siem Reap. I'm sure he's also a great tuk tuk driver when it comes to visiting the Angkor temples.
By the way: More information about Tuk Tuk drivers in Siem Reap can be found here in the blog article Tuk Tuk driving in Siem Reap, everything you need to know.
Tip: Exchange phone numbers with your driver. This is especially helpful when returning from the main temple of Angkor Wat. The car park is littered with tuk tuks and it's unlikely you'll find your tuk tuk driver. And it's anything but fun when you have to search for the proverbial needle in a haystack. Well, I admit it's not that bad. So far it's always(!) been the other way round and my tuk tuk driver has seen me from afar and waved at me or even spoken to me. I am amazed every time. But I still don't rely on it and always have my tuk tuk driver's phone number ready.
popular pages about Angkor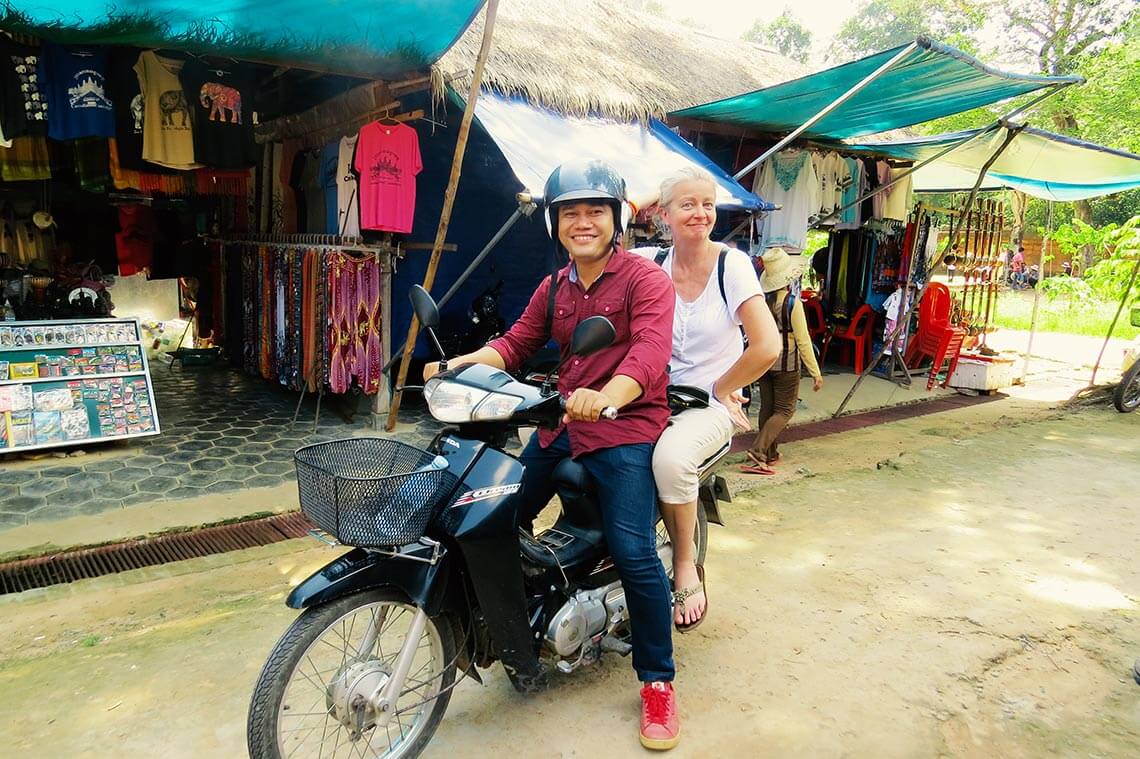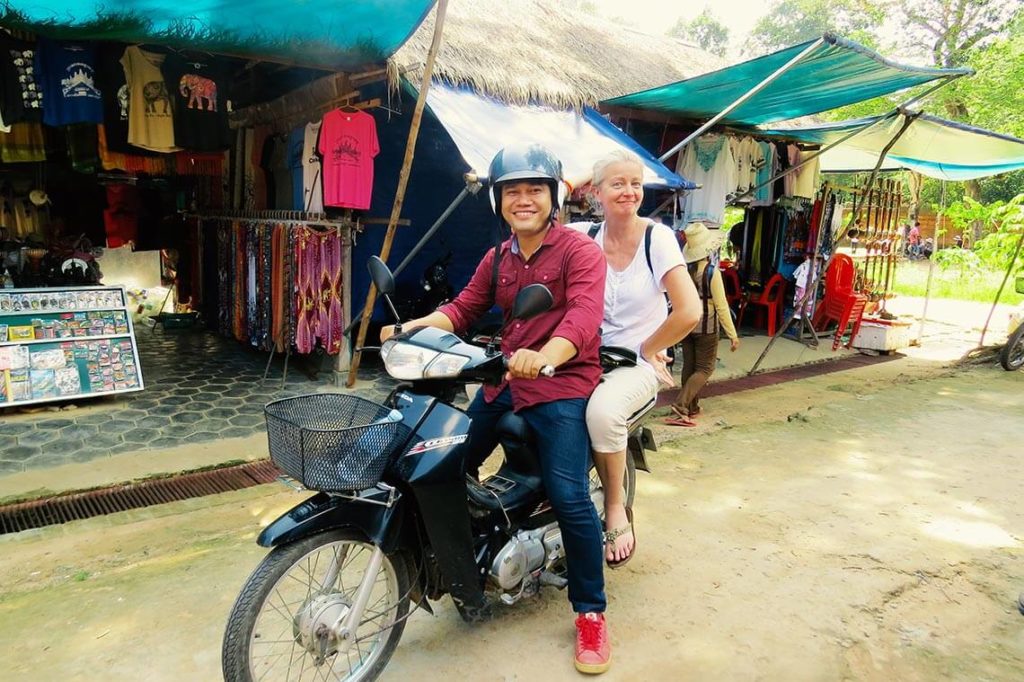 Options for your journey to Angkor Archaeological Park
By Tuk Tuk – For me, the most pleasant way to explore the Angkor temples. After each visit to a temple, I look forward to the cooling breeze around my nose.
By car or bus – (small) groups also like to be driven through Angkor Park in such air-conditioned vehicles.
E-bike – In Siem Reap there are several providers of e-bikes that you can rent for one or more days. Tip: Make sure the batteries are full when you set off for the Angkor temples!
Moped – Caution: Even if you have an international driving licence, you may not be allowed to continue driving if you are stopped. However, as a passenger you can explore the Angkor temples very comfortably. Make sure you are safe and wear a helmet!
By bike – If you are fit, you can conquer the temples on your own by bike. But don't underestimate the hot and humid climate! Some hotels offer free bikes. Make sure you check in advance whether you can manage by bike. If not, rent a bike. For $5 a day, you can get a really good mountain bike with helmet and safety lock.
Time it takes to get to the Angkor temples
By tuk tuk, the journey from the centre of Siem Reap to the car park in front of Angkor Wat takes about 20 minutes. By bike it takes about 30 – 40 minutes. Remember that buying tickets also takes time. Especially if you buy the pass for only one day and want to buy it the same morning. There is often a good 30-minute wait.
Tip: Don't underestimate the cool air in the early morning on the way to Angkor Park. The wind in the tuk tuk can make you feel cold. To be on the safe side, pack something long-sleeved. You won't regret it.

Find your hotel in Cambodia
Maybe you don't have a hotel for your Cambodia trip yet, then you can browse and book directly here at
booking.com*
agoda. com*
there are also great deals.
Links with a * are affiliate links. If you like my blog and you buy, book or subscribe to something via an affiliate link, I get a small commission from the provider. Of course there are no additional costs for you.
Join our Facebook group
International travel group with friendly people who love Cambodia. We speak English, German and a little Khmer.