The Cambodian motorcycle rickshaw – the Tuk Tuk – is for me the best vehicle in Siem Reap and its surroundings. Up to four people can be seated opposite, with the two most comfortable seats facing the direction of travel. Siem Reap can be explored wonderfully together with the surrounding countryside on a comfortable cushion with airflow around your nose. Tip: Have a Tuk Tuk pick you up at the airport if you don't have that much luggage. Even if it may cost extra, because your hotel only offers free transfers by car or minibus. Believe me, just after a long flight you will enjoy the ride with the Tuk Tuk. It is best to ask in advance at the hotel whether they will send you a Tuk Tuk to the airport. If you are courageous, you can also take the chance and take one of the available Tuk Tuk drivers at the airport. Be sure to have the address and phone number of your hotel ready.
What does a Tuk Tuk ticket cost?
The prices should serve you as a guideline. If a price seems too high to you, you can trade. And if you don't agree with the Tuk Tuk driver – for whatever reason – just go to the next Tuk Tuk driver.
Drive to/from airport: from $5
Trips in Siem Reap: $2 – 4
Trips to special events like Phare, the Cambodian Circus: $8-10 including waiting time. Your Tuk Tuk driver will pick you up at the end of the event and take you back to your hotel or or city center.
Daily packages with a Tuk Tuk
in the urban area of Siem Reap: $12 – 16
in the surrounding area of Siem Reap: $12 – 16
Angkor Temple, Small Circuit (the small tour with the most important temples like Angkor Wat, Bayon, Terrace of Elephants, Terrace of Leper King and Angkor Thom): from $20
Angkor Temple, Grand Circuit (the grand tour with temples like Banteay Kdei, Tha Nei, Krol Ko, Thomammom and others): from $25
Other temples: Phnom Krom $7 , Rulous Group $20, Banteay Srei $25, Beng Melea $30, Phnom Bok and Phnom Kulen $35.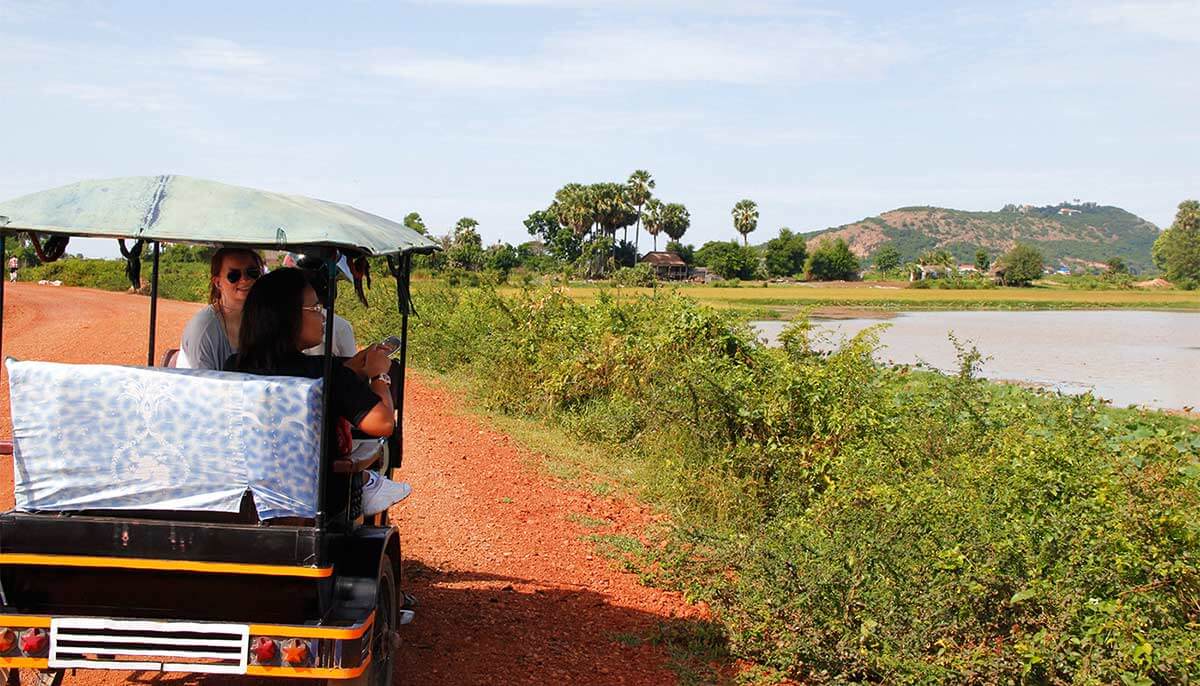 TIP: Find your Tuk Tuk driver on your own and negotiate the price directly with him. Firstly, this has the advantage that you spend the day with a Tuk Tuk driver who is likeable to you. Secondly, you save the surcharge that the hotel charges for the booking.
Pay the Tuk Tuk driver with small cash
Honestly: A Tuk Tuk ride of $2 or $3 with a $50 bill to pay for is rubbish. Tuk Tuk drivers usually do not have much money. And if you don't have much money, ou can't change bigger banknotes. The best thing to do is get yourself a bundle of $1 notes before you go to Cambodia. With these you are well equipped to pay not only your Tuk Tuk driver comfortably. Even at markets, in streetfood restaurants etc. small notes are an advantage over a $100 note.
Note: There are Tuk Tuk drivers who take the same price. No matter if you enter the Tuk Tuk alone or with a total of 4 persons. Others want a higher price if they have more than one passenger to carry. Or one of the passengers is not as slim. At first glance this may seem quite greedy, but according to Cambodian logic the calculation is simple: more passengers = more weight = more fuel costs and higher wear. Sounds reasonable, doesn't it?
The matter with lunch
Everyone has to eat, including your Tuk Tuk driver. So don't be surprised if he takes you e.g. during your Angkor tour to a restaurant overcrowded with tourists. Usually these restaurants are not only overcrowded, but also overpriced. The fact that your Tuk Tuk driver will take you exactly there when you ask him where you can eat well has one simple reason: He gets something to eat there for free. A practical and sensible arrangement for restaurant and Tuk Tuk driver, but not for you. Tip: Offer to invite your Tuk Tuk driver to lunch at your expense. Tell him to show you another, more beautiful place. Stay a little stubborn, because at first he may not believe you and worry that he won't get lunch. And: respect if your Tuk Tuk driver doesn't want to eat with you at the same table.
Drinks for your Tuk Tuk driver
Hard to believe, but I experienced that my Tuk Tuk driver was half thirsty. He was ordered from the hotel to drive me. But water was not thought of for him. So I gave him one of my two water bottles. He drank it empty in one go. Tip: Let your Tuk Tuk driver show you his water supply during day trips. If he is too proud and doesn't want to show anything, respect that. Leave the water bottle in the tuk tuk when leaving. You will see: When you come back, it will be empty or at least opened ;-)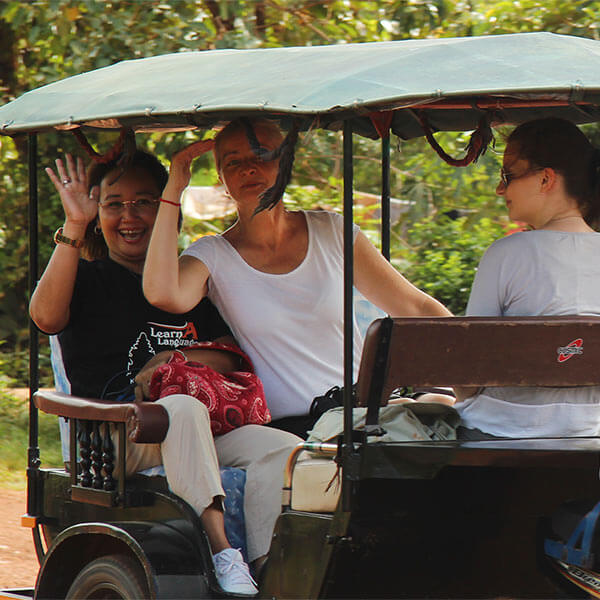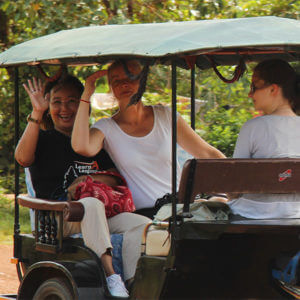 Watch your luggage
Unfortunately, it sometimes also occurs in Siem Reap that handbags and luggage are simply dragged along by motorcycles. So take care of your luggage. Make sure that your camera, smartphone and everything else you care about is safely stowed away. Best on the floor and between your legs. In many Tuk Tuks there is a lockable flap. Ask your Tuk Tuk driver if he keeps your things there. This is especially handy if you have a little more luggage with you – for example on an Angkor tour, when you get in and out of the Tuk Tuk all the time.
Unfortunately some Tuk Tuk drivers cheat
Yes, that can happen, unfortunately. How does that come about? Very simple: You just arrive at Siem Reap. At the airport or at the bus station. You have not booked a pick-up service and are looking for a driver. You find one and tell him which hotel you want to be driven to. The Tuk Tuk driver will tell you, however, that the hotel is closed. Sometimes it even happens that it is claimed that it has been burnt down. Of course the Tuk Tuk driver knows a great hotel, which just happens to have some capacity available. From this hotel he gets an extra commission and of course he wants to collect it. So not only the Tuk Tuk driver but also the hotel is involved in this deal – a kind of Win Win situation in Cambodian way ;-) In such cases only one thing helps: Ask the Tuk Tuk driver to drive you to the desired hotel. If he refuses, just get out again and take another Tuk Tuk. And before you're worried: That's a rare occurrence. And if it should "catch" you of all people, then you are now forewarned :-)
"Ort te awkun"- works great with a smile
"Ort te awkun"means "no thanks" in Khmer language. Friendly pronounced and with a smile it works true miracles. You can listen to how ort te awkun is pronounced here in this audio recording:
Further information for your stay in Siem Reap
In these articles you will find more information here at Visit Angkor for your stay in Siem Reap:

Find your hotel in Cambodia
Maybe you don't have a hotel for your Cambodia trip yet, then you can browse and book directly here at
booking.com*
agoda. com*
there are also great deals.
Links with a * are affiliate links. If you like my blog and you buy, book or subscribe to something via an affiliate link, I get a small commission from the provider. Of course there are no additional costs for you.
Join our Facebook group
International travel group with friendly people who love Cambodia. We speak English, German and a little Khmer.