On Monday, July 16, 2012 after had lunch, 5 of us – all the girls from Intercultural Innovation Camp left the city for cycling tour to the house of the family of Yoath Seiyon, our Cambodian Team Leader. Seiyon invited us to have dinner at her house, her mother will serve traditional Cambodian dishes. With Seiyon as our tour leader today, we cycled along Siem Reap street in the blasting heat.
Not even half of the trip, I cannot continue cycling, my knees start to scream and then I move to Seiyon sister's back who rode a motorcycle. After about 45 minutes rode on motorbike, I arrived at Seiyon's house. There at the house I greeted by Seiyon's mother and sisters.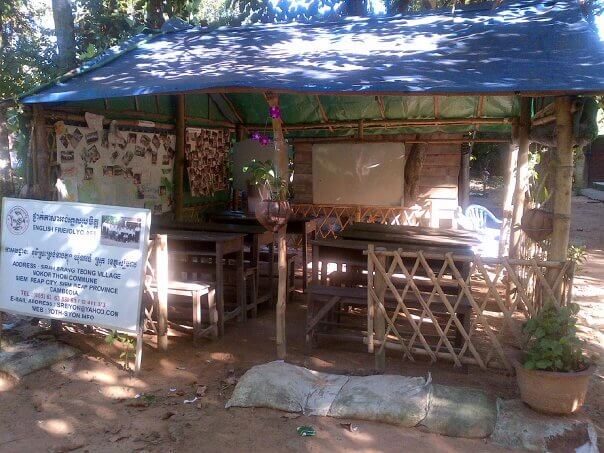 While waiting for the other girls on bicycle to arrive here, I walked around the house with Yoath Kunthea, Seiyon's younger sister. After took me to the lake near her house, Kunthea took me back to the house and wanted to show me Seiyon's school. What they call the school is a very simple hut with tarp roof with some wood bench in a row, dirt floor, 1m high bamboo fence around it. At the left side of the hut a bit at the back there is a board full pictures of the activities of the school. In front of the hut, on the left side there is a board with Seiyon's contact details, picture of the "students" and she named "this school" as English Friendly Class.
After a moment looking at this hut, I had goose bumps and cried. This really touch my heart. The simplicity of this place, the burning passion inside Seiyon's heart to teach English to her neigbours touched my heart deeply.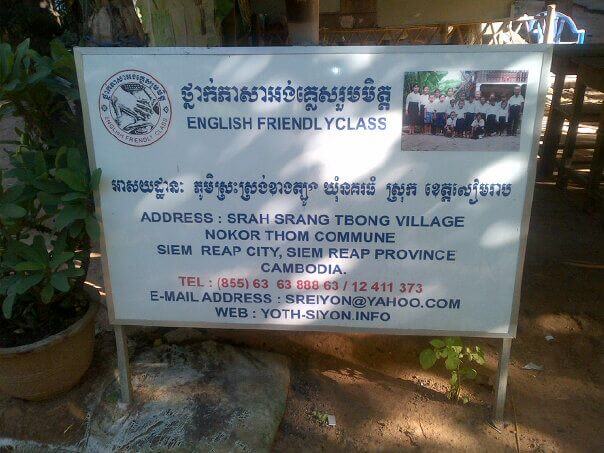 As soon as Seiyon arrived and after we all finished had delicious traditional Cambodian dishes cooked by Yoath Dara, Seiyon's younger sister, I started to ask Seiyon information about her school.
Seiyon said that the reason why she built and started her school was because she wants to share what she has in a simple way. She has nothing but her ability to speak English better than her neighbours. She also wants the small children near her house to experience something that she never had when she was their age. Seiyon told me that at the beginning she started her class on the floor, at her house. With her own money that she earned and saved, she built her school that stand out next to her house.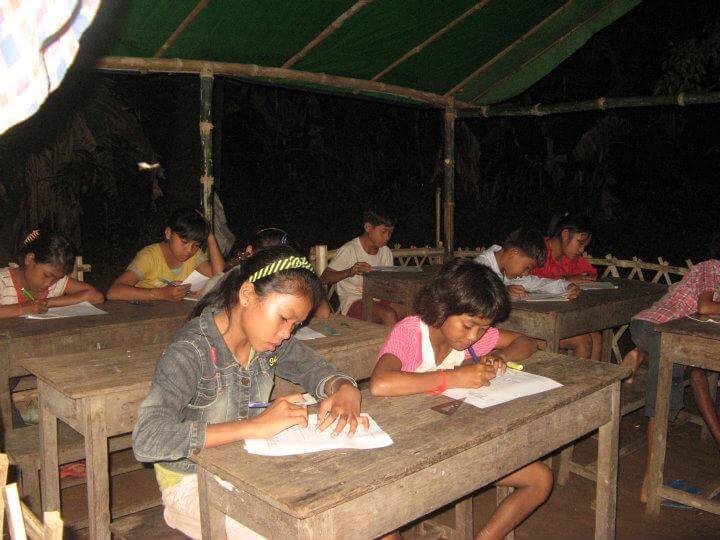 At the moment, she has 28 students, they range from 6 – 21 years old. 15 male students, and 13 female students. While told me these information, I can see the fire in Seiyon's eyes. That fire burning with passion that enlighten my heart. This experience that I have today teach me a lot. How a simple girl, from a simple family with limited economic condition and situation can do big thing for her community. Go Seiyon, continue your works and burn other heart with your passion to share your knowledge!
Edit Dec 2021: Today Seiyon runs Village Homeschool. Just contact her to get more information :)

Affiliate*

Links and references with a * are an affiliate link (advertising link). If you like Visit Angkor and buy, book or subscribe to something via an affiliate link, the provider will make a small commission for Visit Angkor. Of course, there are no additional costs for you.
Join our Facebook group
International travel group with friendly people who love Cambodia. We speak English, German and a little Khmer.