Phimeanakas in Khmer ប្រាសាទភិមានអាកាស (Prasat Phimean Akas) means celestial temple, it is located in the middle of the old Royal Palace, aligned with King Jayavarman VII's Victory Gate and to the west side of the Terrace of Elephants.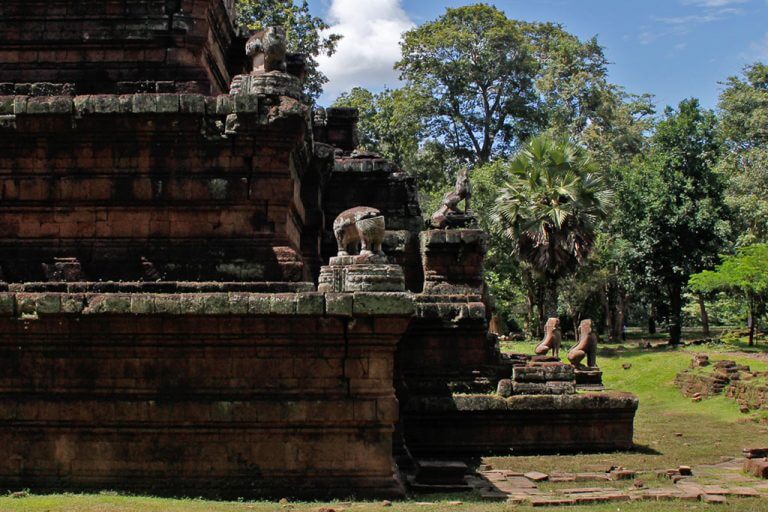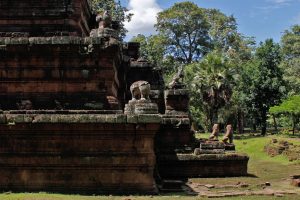 The Hindu temple symbolizes a Sky Palace and used to be a place to worship the gods. The three tier pyramid is smaller than other temple in the Angkor area but has an impressive height of about 40m, including the platform and remaining gallery on top.
Phimeanakas had walls surrounding it made from Laterite with 600m length, 300m width, and 5m height. There are five gates, whereas the east gate used to be the most important. Here the king, ministers and common people would enter the temple. The north gate was used for transport purposes only. The steps on all stairs are ornamented with Garudas figures. Inside the temple are two pools which were used for bathing, one for male and the other one for female visitors.
Nāga, a serpent-spirit with nine heads lived in the Phimeanakas temple
Phimeanakas is associated with a legend that tells us the story of a golden tower on top of the pyramid. In the tower it is said that a serpent-spirit with nine heads, called Nāga, used to live there. Each night he would turn and appear as a woman. The king ascended the stairs of the temple every night to lie with the Nāga princess (One wonders how he had any energy left after the climb).  If Nāga did not appear, it meant that the days of the king were counted.

Affiliate*

Links and references with a * are an affiliate link (advertising link). If you like Visit Angkor and buy, book or subscribe to something via an affiliate link, the provider will make a small commission for Visit Angkor. Of course, there are no additional costs for you.
Join our Facebook group
International travel group with friendly people who love Cambodia. We speak English, German and a little Khmer.