Although there are special forms of greeting for different times in the Khmer language, these are fairly uncommon. Thus, generally to say joom reab sou ជំរាបសួរ has enforced which corresponds to our "good day". Joom reab sou is especially towards strangers, highly placed persons and with administrative procedures used.
To extend the hand, is unusual. Rather, the palms will be merged and held in front of the body, the so-called Sampeah of which there are five different forms. Depending on the rank of the opponent the fingertips have to be shown on the chest, mouth, nose, eyebrow or forehead. Tip: Use the audio file here on the bottom of the title image in this article and listen to 4 different voices how joom reab sou is pronounced.
How children are welcomed in Cambodia
For an adult, it is not common in Cambodia to greet children. On certain occasions adults are welcomed by children, for example this occurs in the foreign guests of the parents. Here the greeting can be answered with a slight nod. The hands are not merged.
Did you know? As there do not exist words like "daughter" or "son" in Khmer Language, people say "kon-proh" or "kon-srey", which means: "child man" or "child woman".
See also: Greeting and a little conversation in Khmer language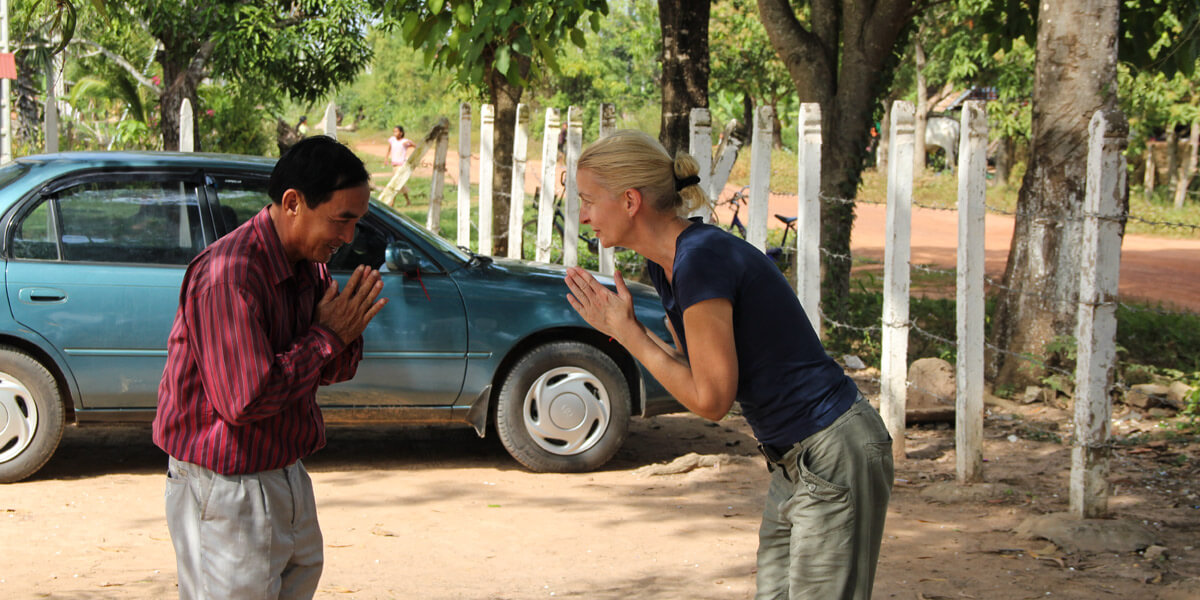 Listen how to spell "Hello", "How are you", "What's your name", "Goodbye" and further more in Khmer Language here on Visit Angkor.

Affiliate*

Links and references with a * are an affiliate link (advertising link). If you like Visit Angkor and buy, book or subscribe to something via an affiliate link, the provider will make a small commission for Visit Angkor. Of course, there are no additional costs for you.
Join our Facebook group
International travel group with friendly people who love Cambodia. We speak English, German and a little Khmer.