Angel Mohothareak Tevy (The Saturday Angel) – also written Mohurea Tevy oder Mohor Thak Ra Tevi – arrives at 09:12 am in the morning of 14 April – Cambodian time, the 2562 BE (Buddhist Era) – the year of the dog. She is the youngest daughter of Kabil Moha Prum. People in Cambodia have prepaired and decorated their houses also with special gifts to welcome the New Year Angel.
Angel 2019: Read about Tungsa Tevy, Khmer New Year Angel 2019
The angel wears a trokeat flower (water hyacinth) tucked behind her ear and sapphires around her neck. She dines on deer meat. On her right hand, she carries a disc of power and on her left hand a trident. Mohothareak Tevy rides the peacock. [source]
Gifts to welcome the new angel
The most typical decoration – but it can vary by region and also practice in families and communities:
A statute or picture of Buddha
5 incense sticks and 5 candles
A pair of decorated young banana tree
3 kinds of fruits, each of them prepared into 2 trays
Small jasmine flower braids to put on every offering
And the special offering for Mohothareak Tevy: Deer Meat
Beside those required offerings, you can prepare as many other offerings as you like such as: candy, cokes, biscuits, milk, etc.
About the water hyacinth
Like the other 6 angels, Mohothareak Tevy also wears a flower in her hair. In my research on which flower it is, I found the term "Trokeat Flower" at Khmer Chhankitek Calendar. However, the translations were anything but expedient. But my all-beloved girlfriend Boramey found the solution. Namely: The Cambodians say "Pka Trokeat" or "Pka Kom Ploak". And in my further research, I finally discovered this photo here.
The pictured flowers are called "Phkar Trokeat" (Water Hyacinths). They are similar to those on a photo that Boramey sent me for comparison. After some too'ing and fro'ing, we finally agreed that it must be Water Hyacinths. I also learn from her that they are a popular delicacy on the Cambodian diet. Oh yes, and on my next visit to Cambodia I will try a dish with water hyacinths :-)
About the Khmer New Year Angel
With the angel coming down to earth, a 3 day festival and public holiday begins in Cambodia. The fact that every year an angel comes to earth is based on a legend. What's up with this legend, you'll learn in my article Khmer New Year – The Legends. Each angel is unique and the uniqueness is documented in the Moha Sangkran.
Each angel has another favourite food
Each angel rides on another animal to earth
Each angel carries certain items in the left and right hand
Each angel has got a different hair accessory
The gifts are so different every year. Particular emphasis is placed on the favourite dish of the angel.
Photos from my lovely Khmer friends
As in previous years, my Cambodian friends sent me photos of their decorated gift tables for the Angel. It is already a cherished tradition. This gift table for angel Mohothareak Tevy comes from Germany – because even abroad, the Khmer remain loyal to their culture. Here, however, with a small modification: The family "council" has decided that there is fruit instead of venison. Animal welfare must be, so the reason.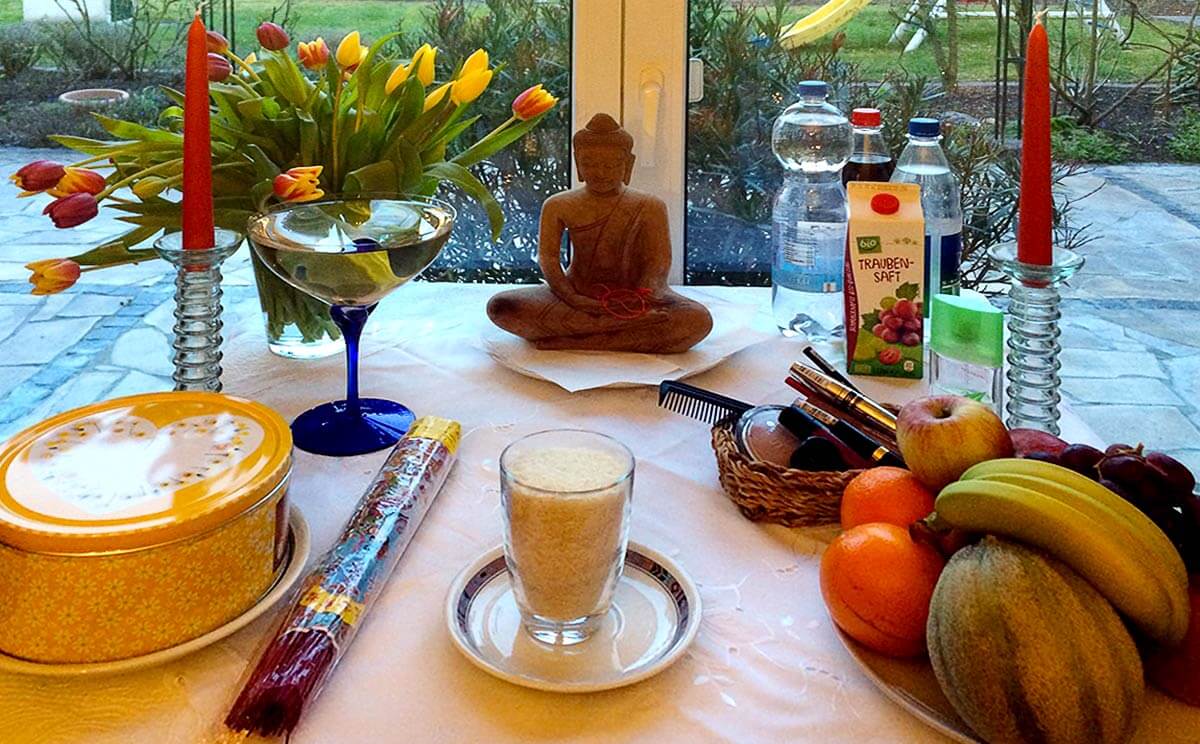 The "official" New Year song
Each year before the Cambodian New Year Festival, artists release new songs. They all are titled "The New Year's Song." What exactly is behind it, whether it is and old or more recent tradition, I have not found out yet. But as far as I'm aware, the pop song "City Chicken" is one of the favorites and is probably currently played everywhere in Cambodia.
May this Year of the dog be full with happiness, health, success, love and prosperity for all!
Read more about "Sus'Dei Chnam Thmei" – the 3-day festival to celebrate the New Year in Cambodia
Happy Khmer New Year!
We wish you all a very Happy Khmer New Year 2018! May it be full of luck, health and success!
Read also
Read more about "Sus'Dei Chnam Thmei" – the 3-day festival to celebrate the New Year in Cambodia and the legends about Khmer New Year

Find your hotel in Cambodia
Maybe you don't have a hotel for your Cambodia trip yet, then you can browse and book directly here at
booking.com*
agoda. com*
there are also great deals.
Links with a * are affiliate links. If you like my blog and you buy, book or subscribe to something via an affiliate link, I get a small commission from the provider. Of course there are no additional costs for you.
Join our Facebook group
International travel group with friendly people who love Cambodia. We speak English, German and a little Khmer.