You just haven't dined in Cambodia until you have tried Cambodian pancakes, or Khmer pancakes as they are also known. My first experience with them, while visiting Angkor, is something that I will never forget!
After our trip through Angkor, we arrived at a small restaurant in the area, and just in time for lunch too! The restaurant that our Cambodian guide had brought us to was one of those that the locals use, and not one where you would normally find tourists – those restaurants are much more expensive!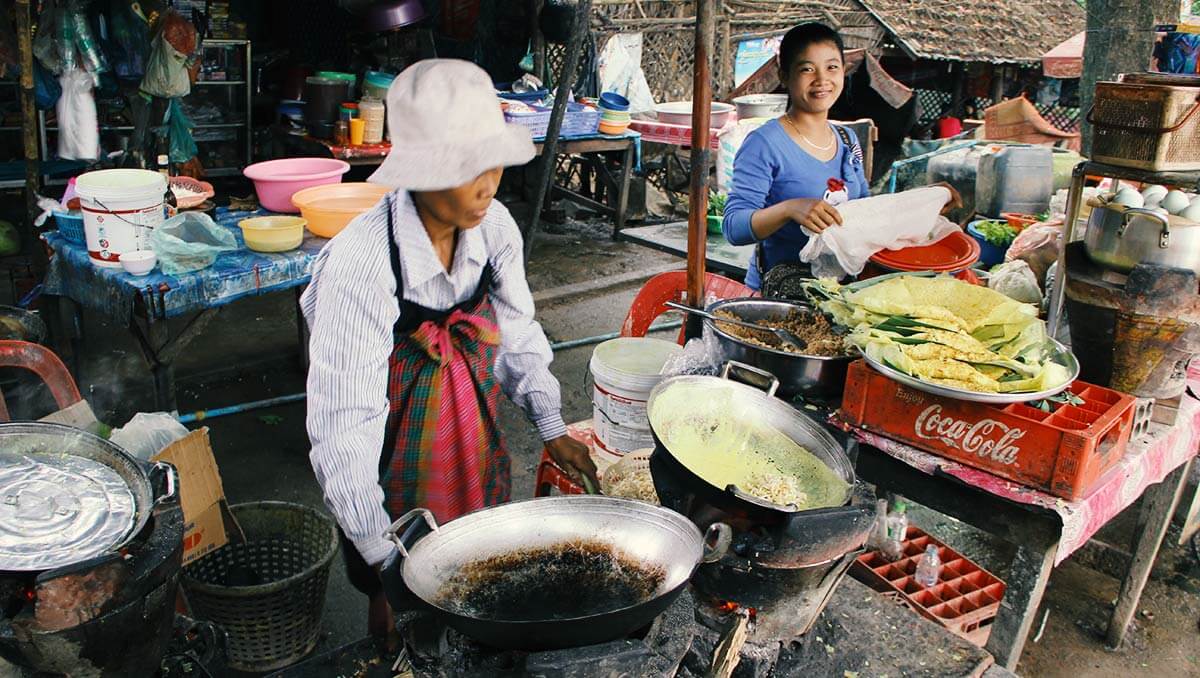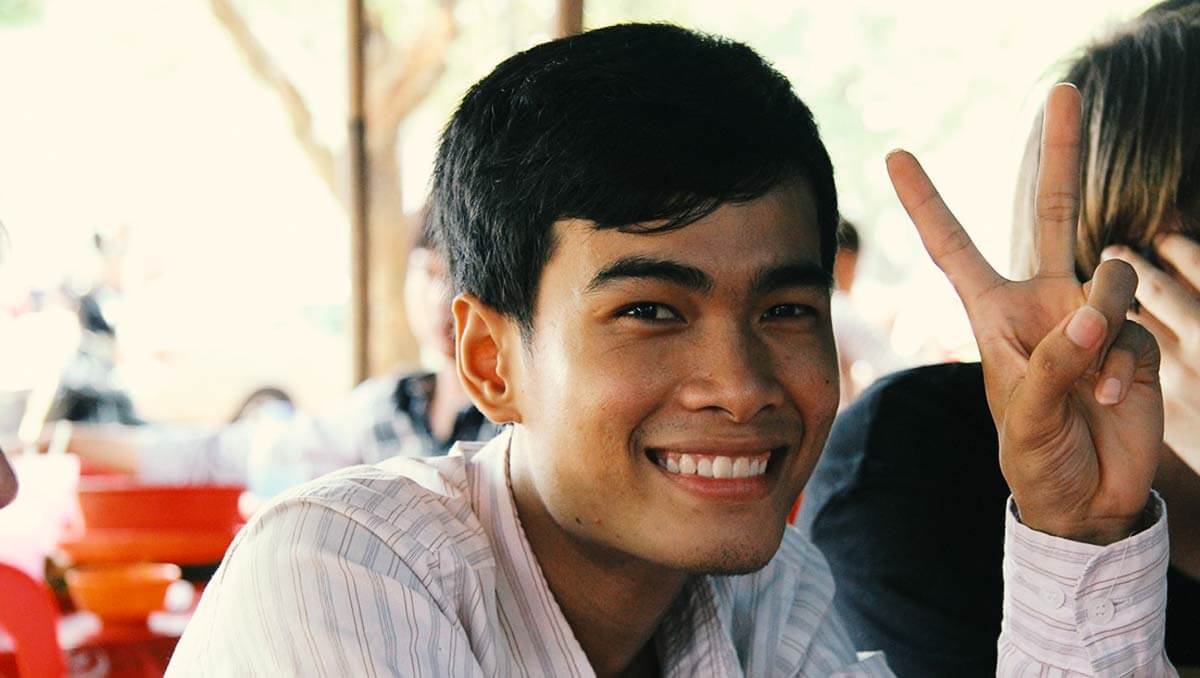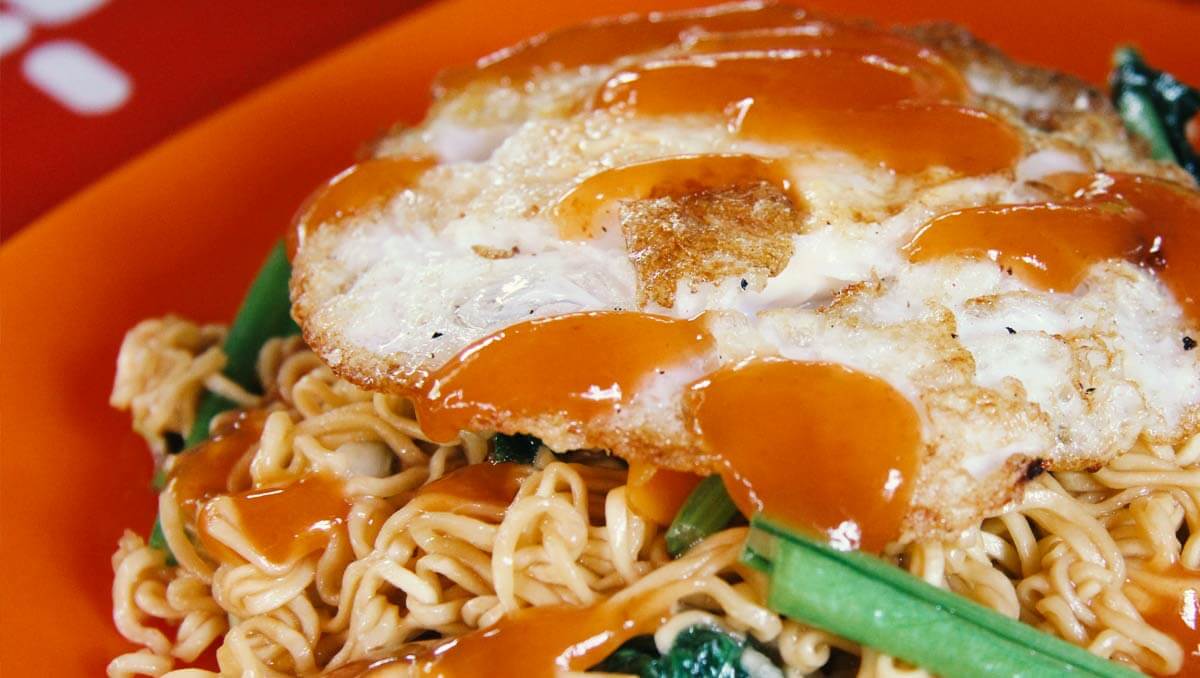 Of course, while we were excited to be trying something new, we just did not know what was customary to order in a restaurant like this.Our ever helpful guide informed us that Cambodian pancakes were on the menu, as where noodles fried with egg. Being the adventurous types that we are, and also hungry, we decided that we would very much like to try both.
Cambodian pancakes are cooked with lots of fresh vegetables, which can be bought from a market or taken straight from the jungle – and you can't get any fresher than that, can you? Popular, global, culture never surprises me anymore but I was still a little taken aback by the tablecloths in the restaurant – every one of them was red, and printed with the Coca Cola logo on them.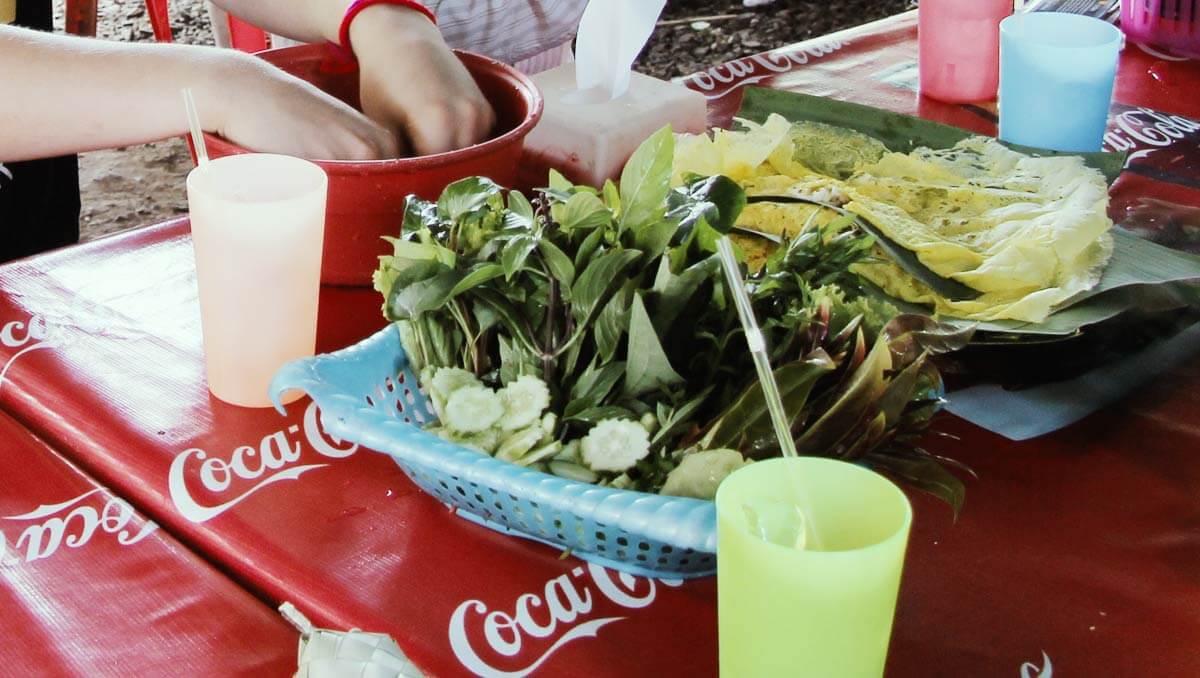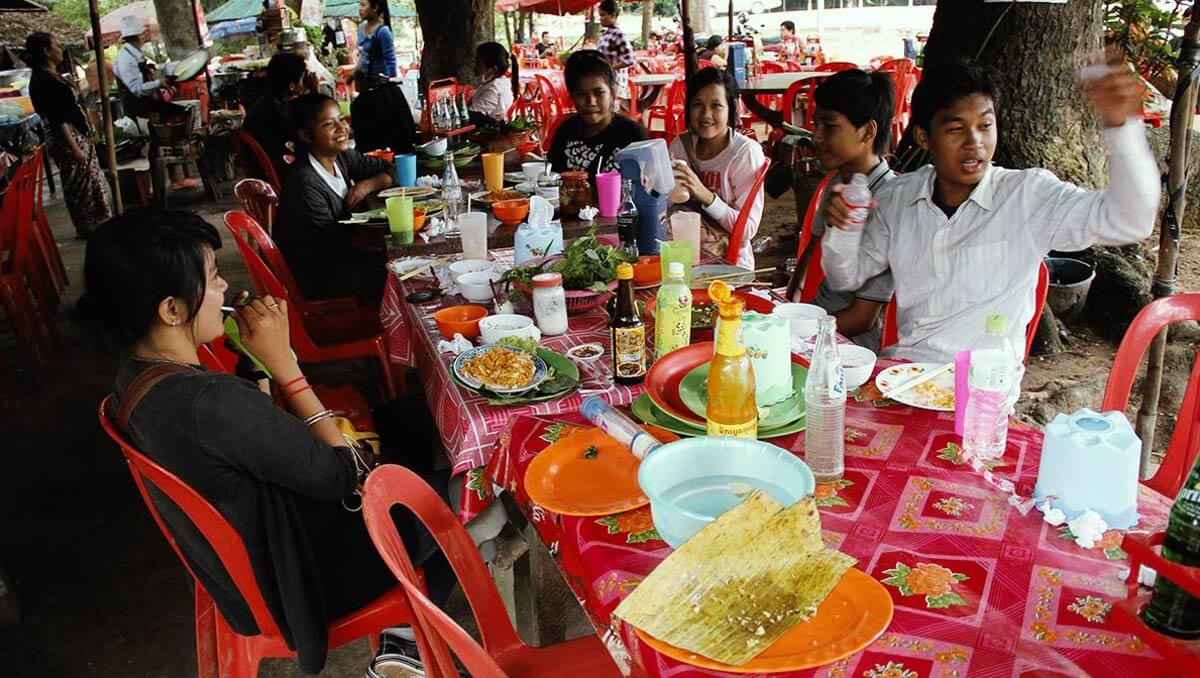 It was actually a very pleasant contrast to the vibrant greens of the surrounding jungle. Speaking of the scenery, it was fantastic as always! Restaurants all over the world would pay a fortune to have the kind of decor that our little restaurant had, with the walls replaced with open air and tall, majestic trees… The beauty of the place is staggering!

Preparation is everything!
Before we could start our delicious looking, and smelling, meal a bowl of water was passed around so that we could clean our fingers. Next came the fresh herbs and salad, with a dipping sauce on the side.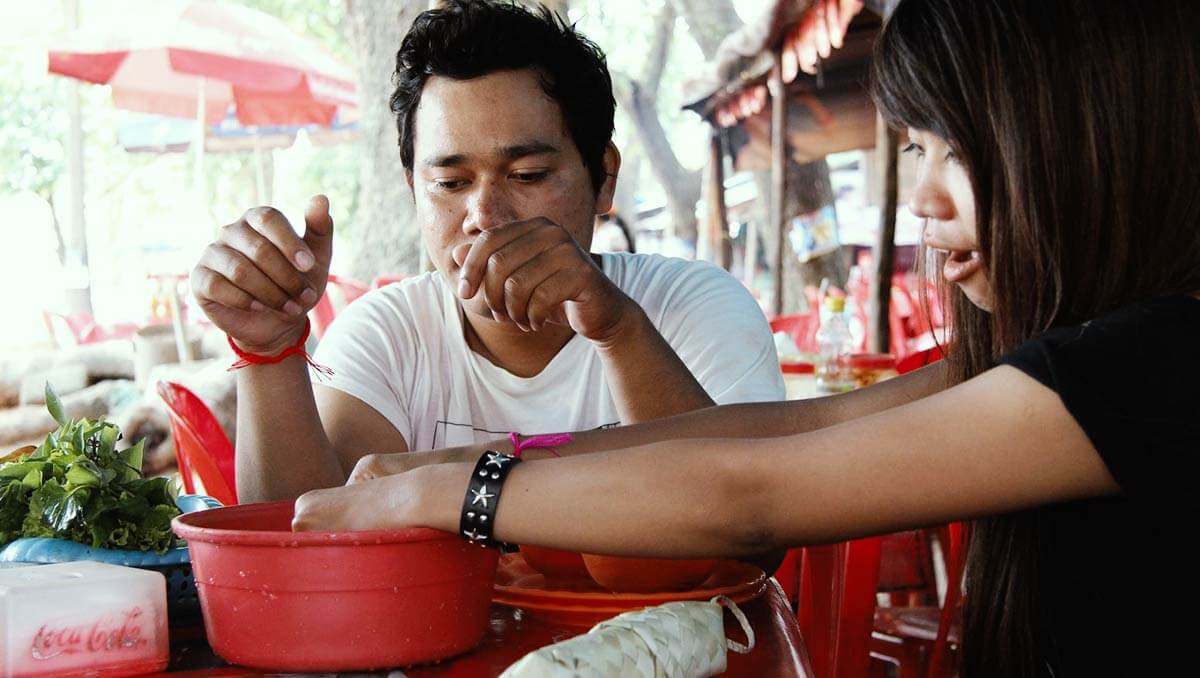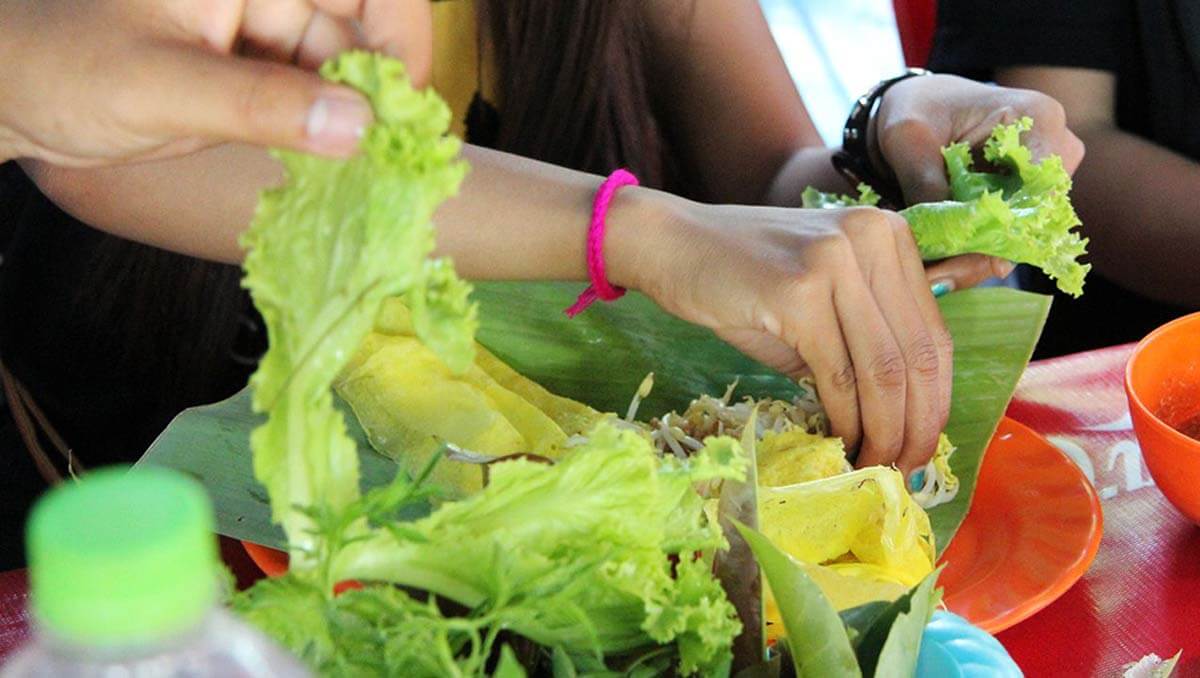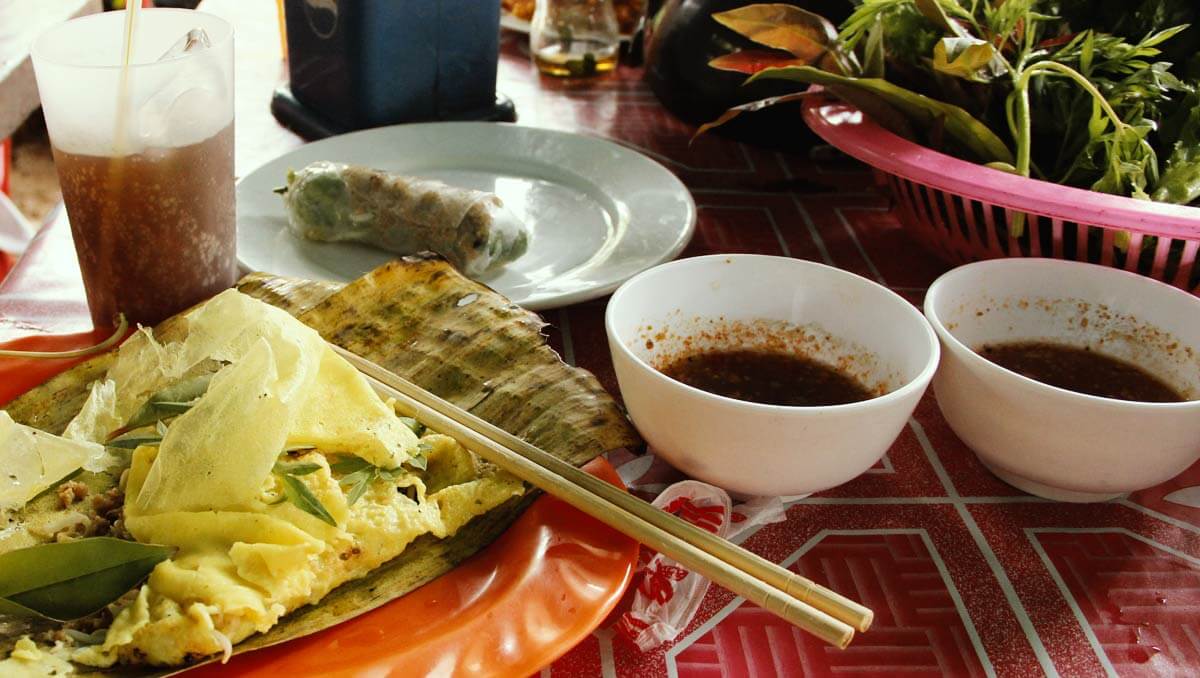 When our pancakes arrived, they were served on banana leaves. The banana leaf has been used a 'plate' for a long time, throughout the history of Cambodia and indeed other countries too. These days it is not unusual to be given plastic plates, although these are often thrown away as casually as the banana leaf – which is a big problem in Cambodia today.
Get stuck in!
By far, the most enjoyable way to eat Cambodian pancakes is by making little parcels…
Choose a salad leaf
Pack in some herbs
Take some pancake and pack them in as well
Fold the leaf over so that it forms a small parcel, with the pancake as the contents
Dip your parcel into the dipping sauce, and enjoy!
Cambodian pancakes are absolutely delicious! If you have never been to the area before, I highly recommend it – and you simply must try the pancakes!
Want the recipe to cook Cambodian pancakes? Will be published soon, here on this blog ;-)

Find your hotel in Cambodia
Maybe you don't have a hotel for your Cambodia trip yet, then you can browse and book directly here at
booking.com*
agoda. com*
there are also great deals.
Links with a * are affiliate links. If you like my blog and you buy, book or subscribe to something via an affiliate link, I get a small commission from the provider. Of course there are no additional costs for you.
Join our Facebook group
International travel group with friendly people who love Cambodia. We speak English, German and a little Khmer.