Baksei Chamkrong ប្រាសាទបក្សីចាំក្រុង is a small Hindu temple, built by the Angkor King Harshavarman I during his reign between 915 to 923.
The temple lies on the left side on the way from Angkor Wat to Angkor Thom. It was dedicated to the Hindu deity Shiva and built in to remember the King´s parents.
Location of Baksei Chamkrong in the Angkor Archaeological Park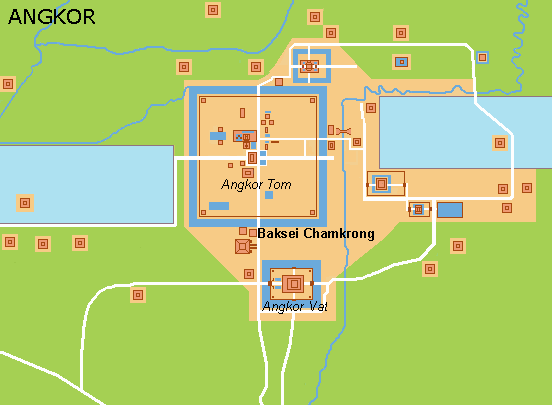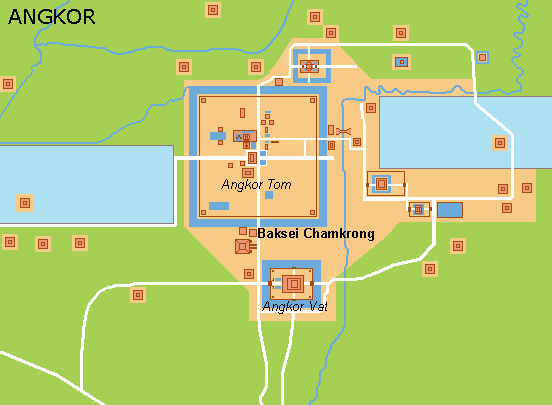 By Baldiri – Own work, CC BY-SA 3.0, Link
Source: Creative Commons Wikipedia
A pyramid with four levels and four steps which come from the four cardinal directions
A Prasat ( a temple tower) with four equal fronts, entry from the East and illusoriness entries on the three other sites.
Meaning of Baksei Chamkrong
The name Baksei Chamkrong means Bird with Protecting Wings – The legend says that when the king had to flee from Angkor because of a siege a huge bird landed on the temple and gave the king shelter under its large wings.

Affiliate*

Links and references with a * are an affiliate link (advertising link). If you like Visit Angkor and buy, book or subscribe to something via an affiliate link, the provider will make a small commission for Visit Angkor. Of course, there are no additional costs for you.
Join our Facebook group
International travel group with friendly people who love Cambodia. We speak English, German and a little Khmer.