Even though the Angkor temples date back to the past, there are always current events surrounding these unique monuments. Since my blog is not a pure "news" website, but there are also readers who travel to Cambodia again and again, there is now a new series with Angkor News and the keyword of the same name. Here are the topics of the first issue:
Tourists yes or no in Cambodia?
On 23. June 2022, an article was published in German Magazine "Der Spiegel" that addresses this question. Is it really good for Angkor and people living in the region if there are again as many tourists in Cambodia as there were before Covid? There is no clear answer. Siem Reap is one of the regions that have put their faith in one card, tourism. Due to the pandemic, many have lost their jobs and the much-needed income that comes with them. For Angkor and nature, on the other hand, the few tourists are a blessing. Perhaps it will be possible to rethink tourism and take all aspects into account.
Already in March of this year, the New York Times wrote about this topic. Cambodians love the fact that it is currently peaceful in the archaeological Angkor Park. But from an economic point of view, it is a rather sad sight for Siem Reap, a city that lives mainly from tourism.
Number of visitors to Angkor
In the period from 01/01/2022 to 06/27/2022, a total of 59,474 Angkor tickets have been sold. This is an average of 334 tickets per day. In May 2022, there were 12,574 tickets. In May 2021, 246 tickets were sold.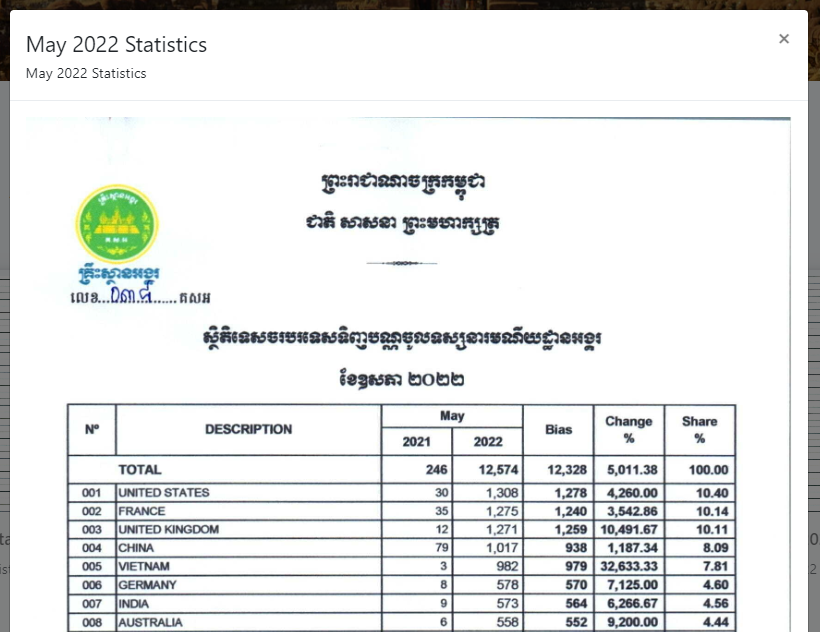 Considering that before the pandemic around 10,000 tickets were sold in one day, the current numbers are still comparatively low. So for a visit to Angkor, it is worth travelling to Cambodia right now.
Bridge improvement of a special kind
North of Ta Som is a beautiful bridge that is privately owned. Only a few people seem to find their way there. The bridge leads to a beautiful cycle path that follows a canal as part of Angkor's clever water management system. Steve Lidgey was amazed on one of his bike rides when he came across the proud owner decorating the bridge in a special way with a large piece of wood.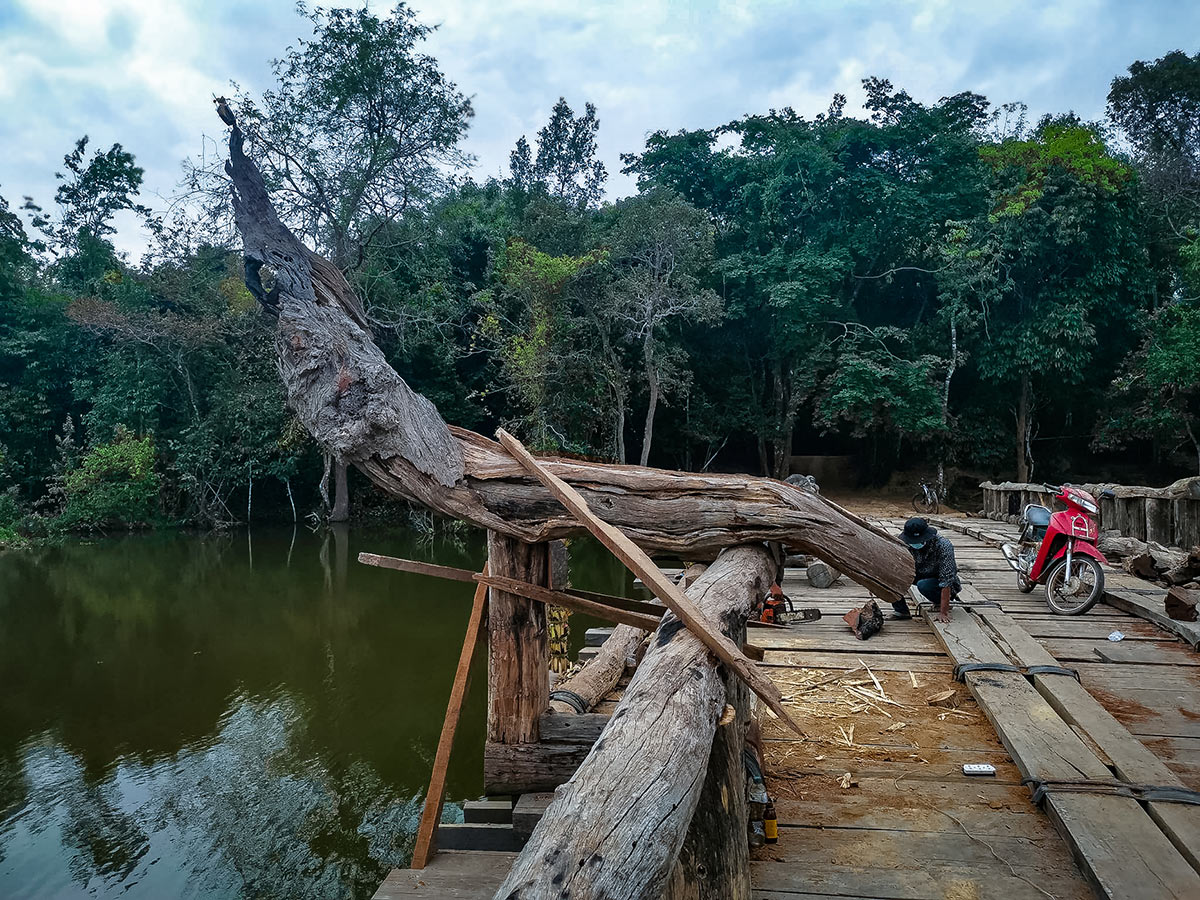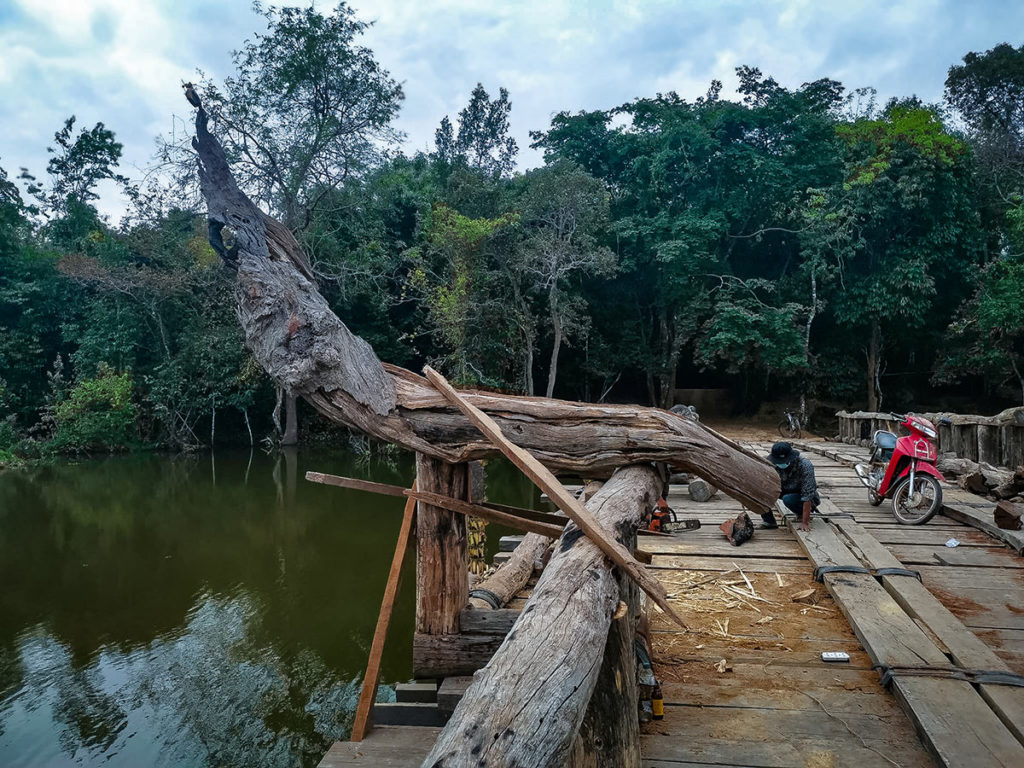 When asked by Steve what he was doing, the answer was: "I'm building a dragon bridge." Whether the work, which resembles a multi-headed naga (snake) rather than a dragon, will ever be finished is currently unknown. But who knows, maybe the dragon bridge will soon be another highlight of Angkor ;-)
Tripods no longer allowed in Angkor Park?
A post on Facebook caused quite a stir. Allegedly, tripods are no longer allowed in Angkor Park. Shortly afterwards, the Phnom Penh Post published an article with a statement. It says the following:
It was and is not forbidden to take photographs with a tripod for personal purposes.
Many World Heritage sites face the issue of image exploitation, where photographers use and sell their photos for commercial purposes.
Only professional photographers have to apply, and the fee they have to pay is small.
It depends on the situation whether permission is required.
The rules apply to everyone, so tourists as well as Cambodians.
In particular, it affects shootings of weddings or prayer ceremonies.
Small to medium producers, e.g. YouTubers with a small channel, are to be exempt from the fees, even if they earn money with it.
Bäume im Ta Prohm
Currently, some of the trees at Ta Prohm are being removed. Unfortunately, this work is necessary to protect everyone. Here are a few photos.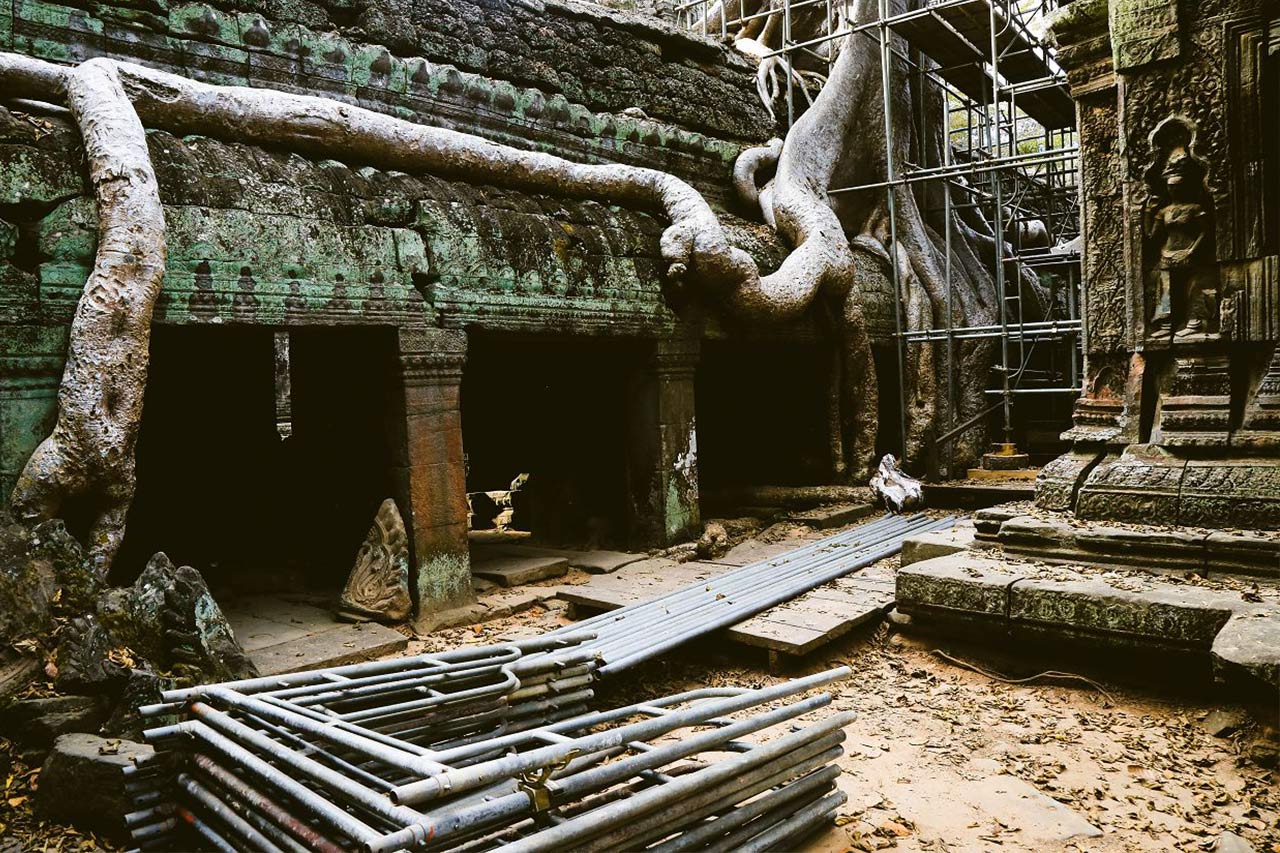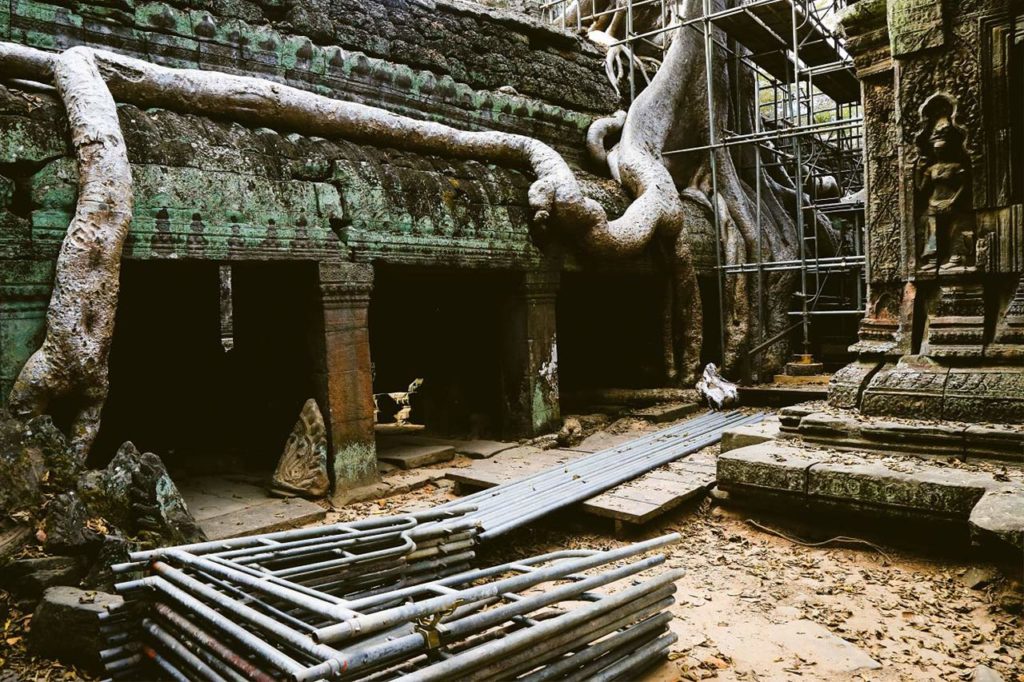 In the public Facebook-Gruppe Cambodia: Wats, Prasats, Temples is an interesting post on the subject.
So I met the person in charge of Ta-Phrom restoration over a cup of tea and asked him why did they chop off the tree. For those of you , just like me were wondering why would someone do something so stupid. Here's the answer:

One of the branches had fallen due to a storm and the centre of gravity of the tree had gotten off. The roots were not supposed to be disturbed as it was giving nutrients to the stones and holding them up. They had made a mistake by chopping off the roots once and the wall collapsed.

The cutting of the tree was not Apsara Authority's decision but rather the forest department team came and managed that part. The tree is more than a 100 years old and it has its own limitations. As per the them, new branches should shoot out naturally and the tree should gain it's centre of gravity just as how the Mother Nature wants.

Rutvij Kothari
Restoration at West Gate of Angkor Thom
Currently, the West Gate of Angkor Thom is being restored. The first two photos show the gate before the restoration. In the course of the restoration work, the devas (gods) and asuras (demons) lining the gate are revealed piece by piece.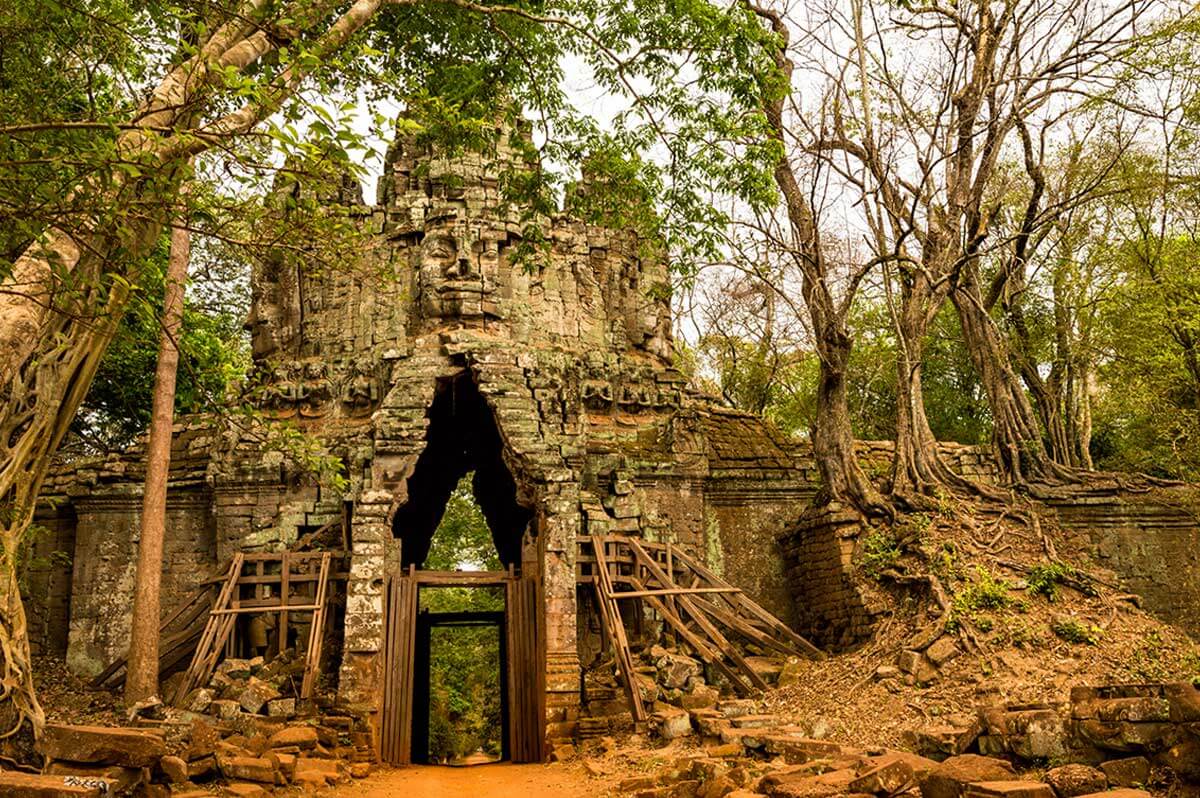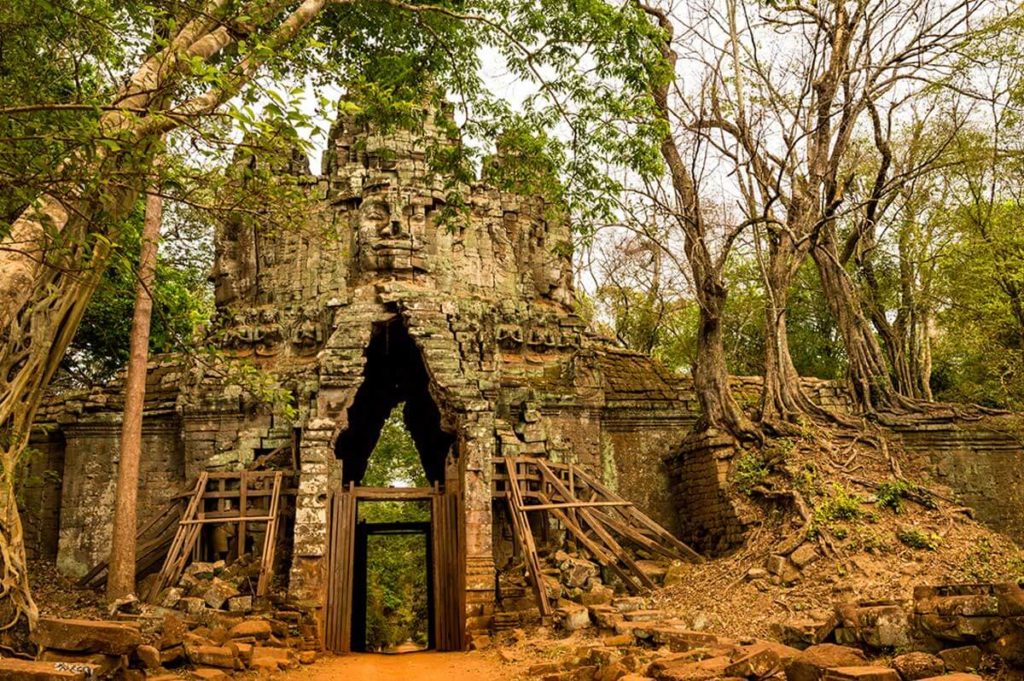 The website Angkor Photography Tours contains an article with information on the current status of various Angkor restoration projects.
Finds from the web about Angkor
Findings from the net that have been online for a while but are still interesting.
Angkor temples in the 60s
An article on the website of the Maison Polanka Hotel in Siem Reap with postcards from the 60s during a visit to the Angkor Temples. At that time there were only the original stone stairs to the third level of Angkor Wat. Also worth seeing are the ladies' handbags, which had to be with them everywhere. Also on the mentioned steps.

Find your hotel in Cambodia
Maybe you don't have a hotel for your Cambodia trip yet, then you can browse and book directly here at
booking.com*
agoda. com*
there are also great deals.
Links with a * are affiliate links. If you like my blog and you buy, book or subscribe to something via an affiliate link, I get a small commission from the provider. Of course there are no additional costs for you.
Join our Facebook group
International travel group with friendly people who love Cambodia. We speak English, German and a little Khmer.