As always it is hot in Cambodia. While Kim and Constance are visiting the Ta Prohm Temple together with Seiyon and Van Soun, I wait with Vutha at the exit of the temple. All spaces that could offer even a tiny bit of shade are occupied, so the only place where his Tuk Tuk can cool down a little is below a very sparse version of a tree. The heat hits the roof and I watch the scenery around me.
After a short moment, I see a boy coming my way. Out of the corner of my eyes I see how his mother sent him over to me. She wants him to sell me something. Quickly the woman turns around so it is not too obvious that she was the one sending him. But our eyes meet. I give her a serious look that tells her she has no chance to make a business with me. So she calls her son back who now runs to his friends where he starts playing with them.
Normality from different worlds
In between his mother sends him – and other kids – again and again to other tourist to talk them into buying something. Afterwards, each time the boy runs back to continue playing with his friends. At some point the woman cuts a melon into pieces and shares it among the children. Another time they all get something to drink. They seem happy, everything seems to happen in a playful way – it seems to be their normality. But then again, what is normality? I should be filled with dismay, but I'm not. Our eyes meet again, this time we both smile. Although we both live in a completely different normality.
I feel my stomach rumbling, reminding me that I haven't had eaten really anything so far and so I start searching for my cracker in my bag. Suddenly the boy appears close to me again. He hasn't noticed the cracker yet. With a questioning face I look over to his mum, asking for permission to offer him the cracker. She nods.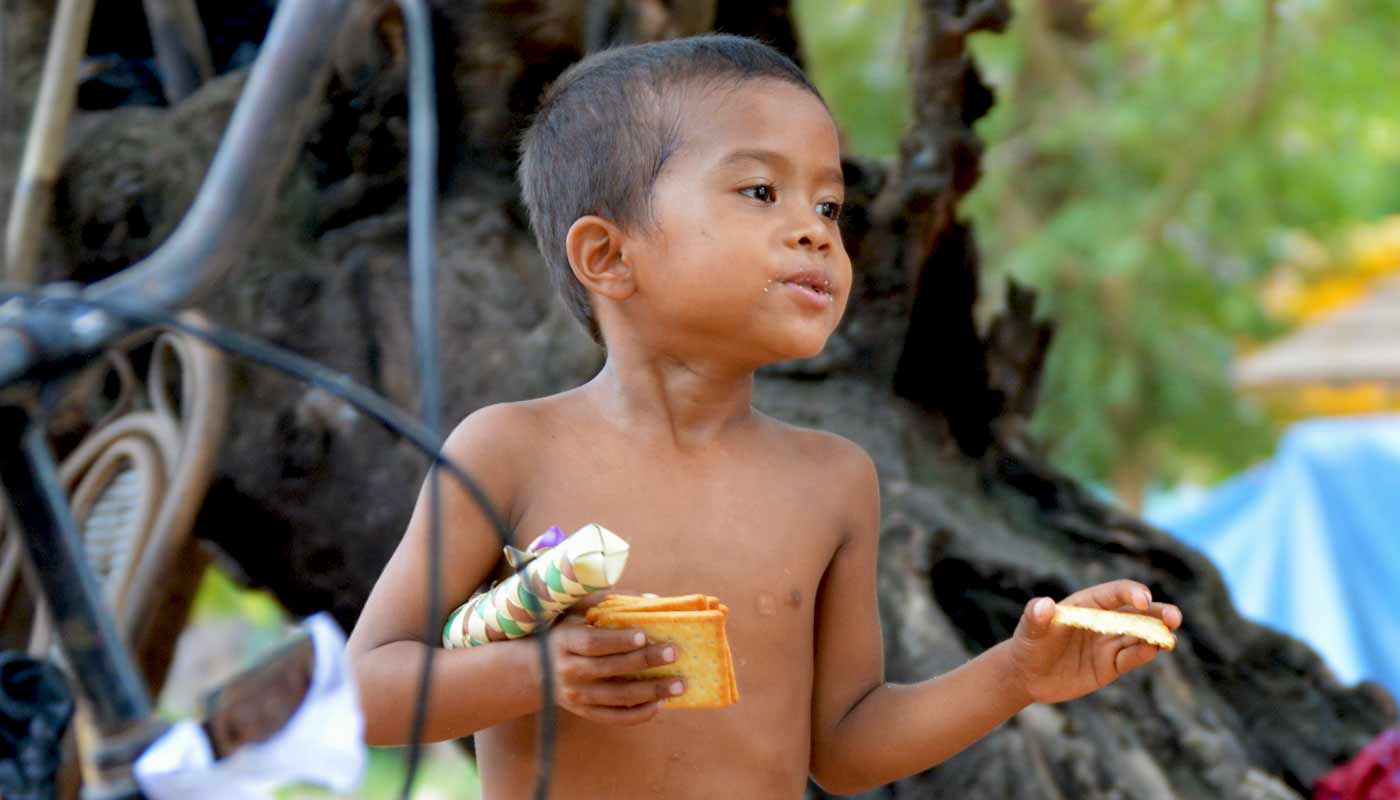 The little one takes some of the cracker and quickly runs back. Happily he shows his mum his prey. He gives his friends two of the cracker, the other ones he eats himself. Again his mother and I share a smile.
Change of scene…
Suddenly a grandmother stands in front of me with a baby in her arm. We also smile at each other. I can't help myself and ask if I can take a picture of her. She smiles and holds the little sweetie proudly in front of my camera. The baby and the camera stare at each other.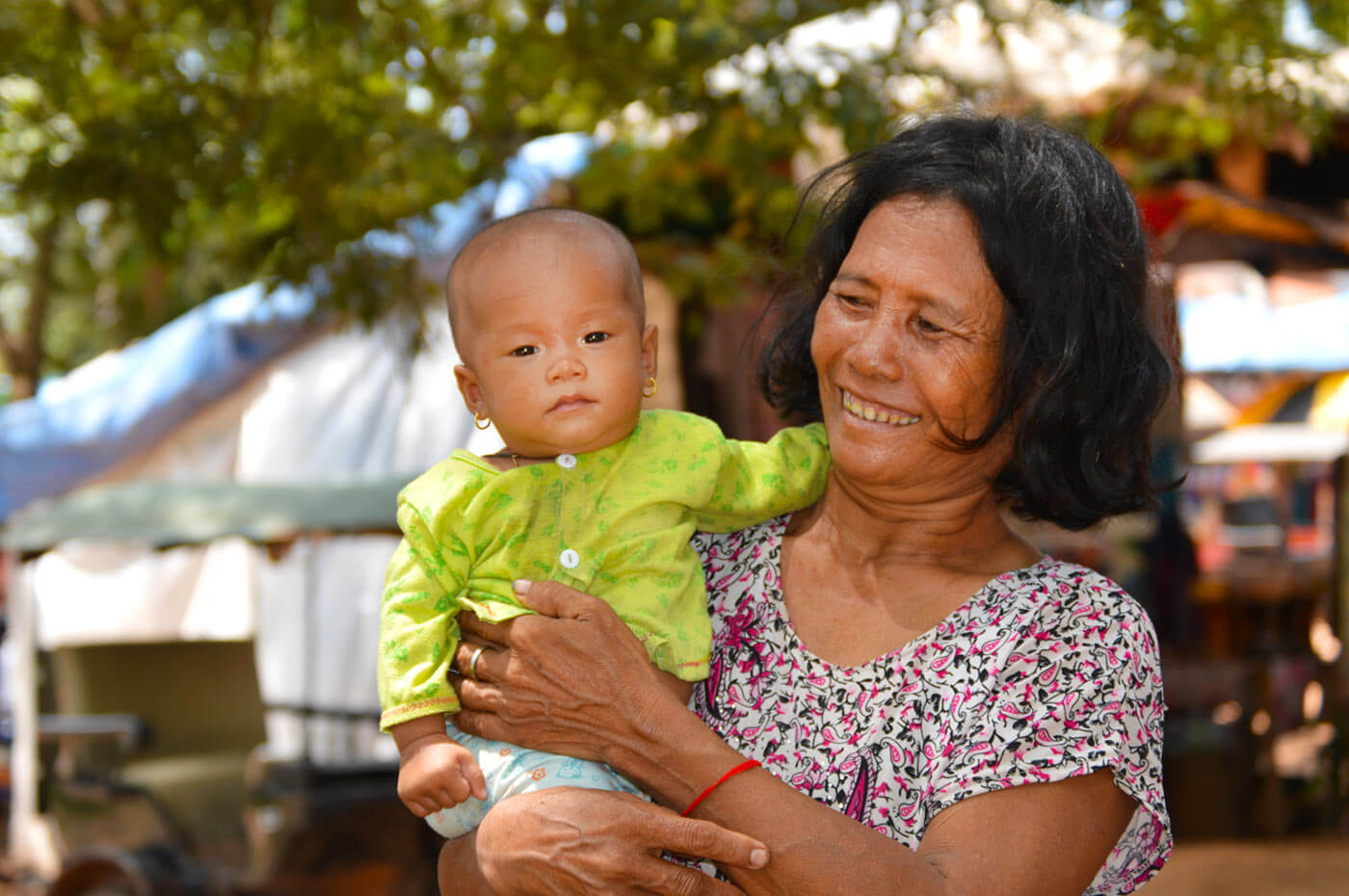 Afterwards she puts the baby gently into a hammock and hangs a Krama Scarf on top to protect it from the aggressive sun. Softly she rocks the hammock back and forth until the baby falls asleep. Time seems to stand still – pure idyll.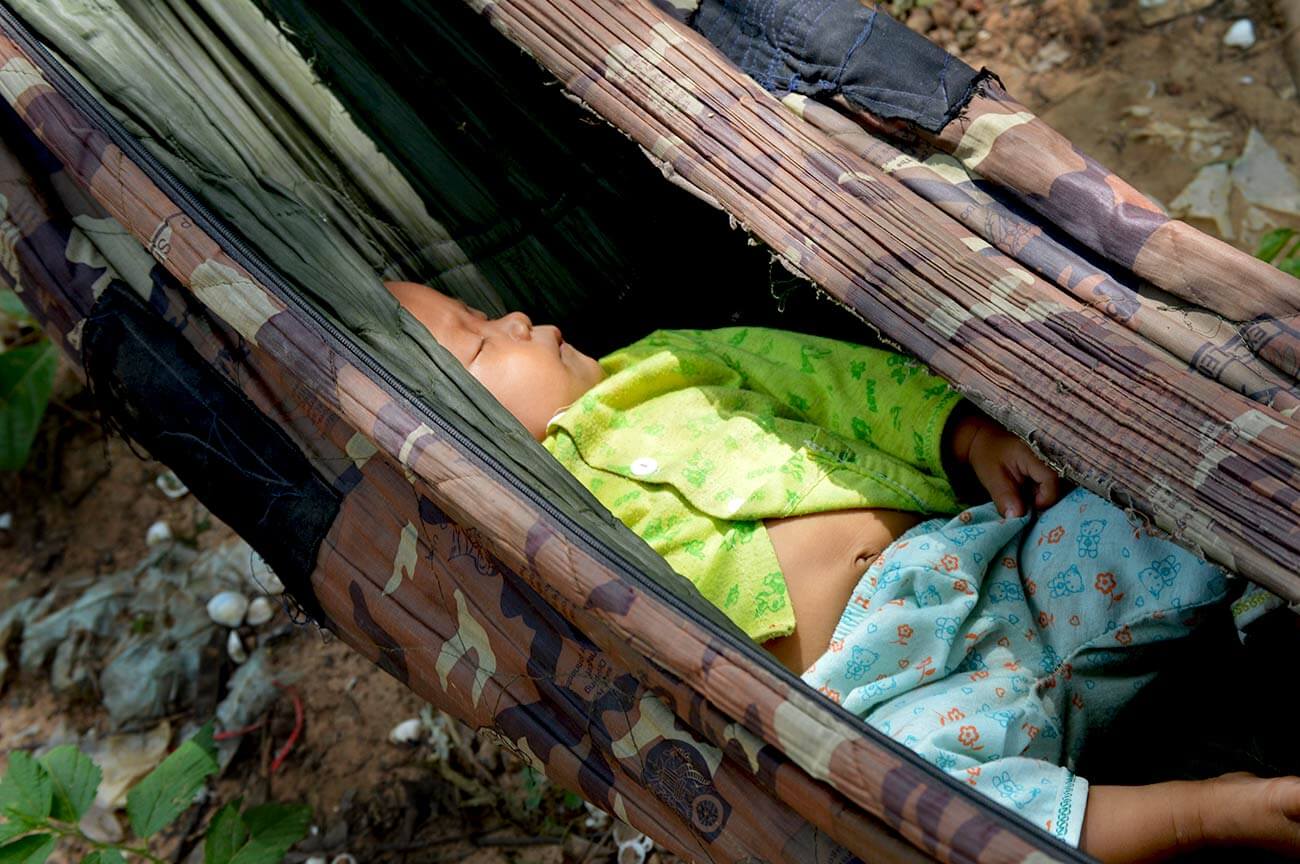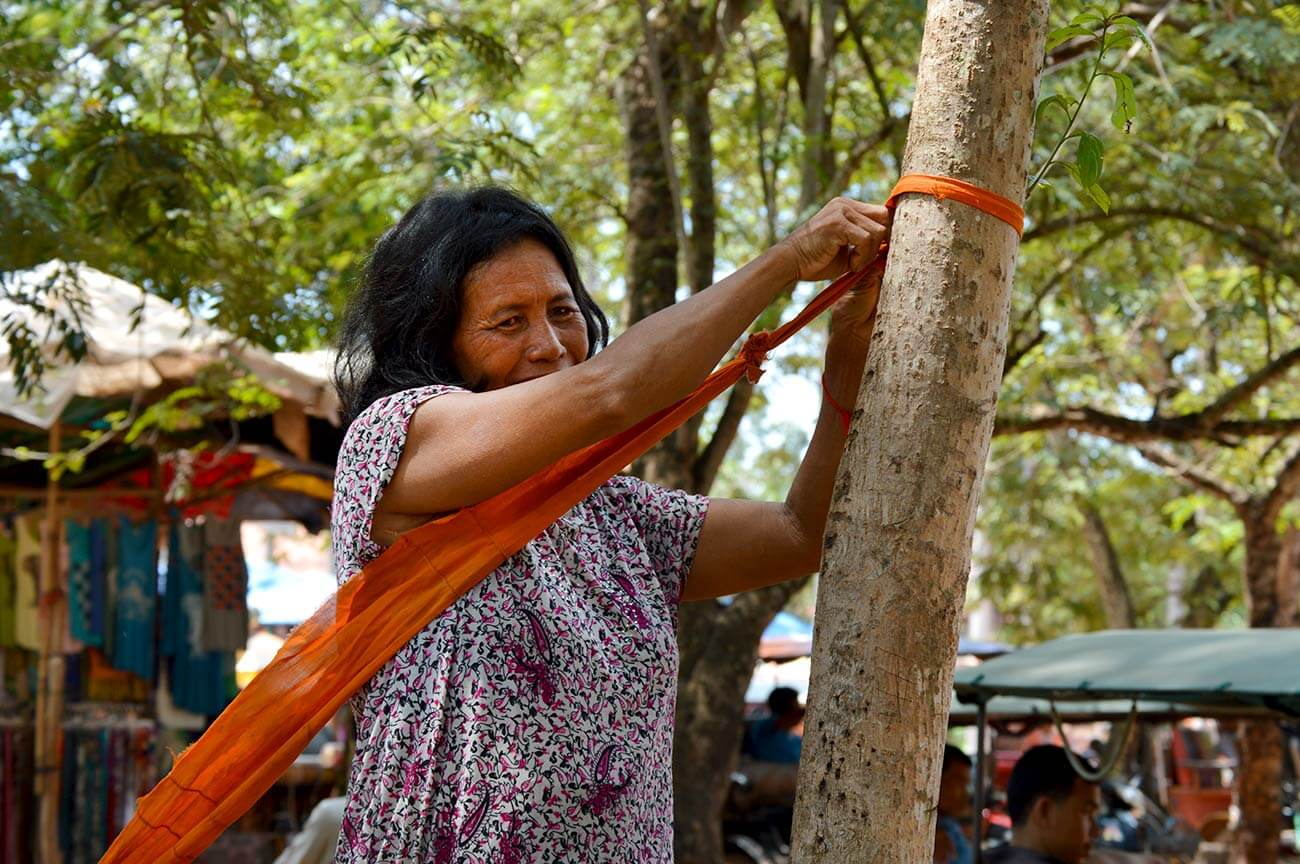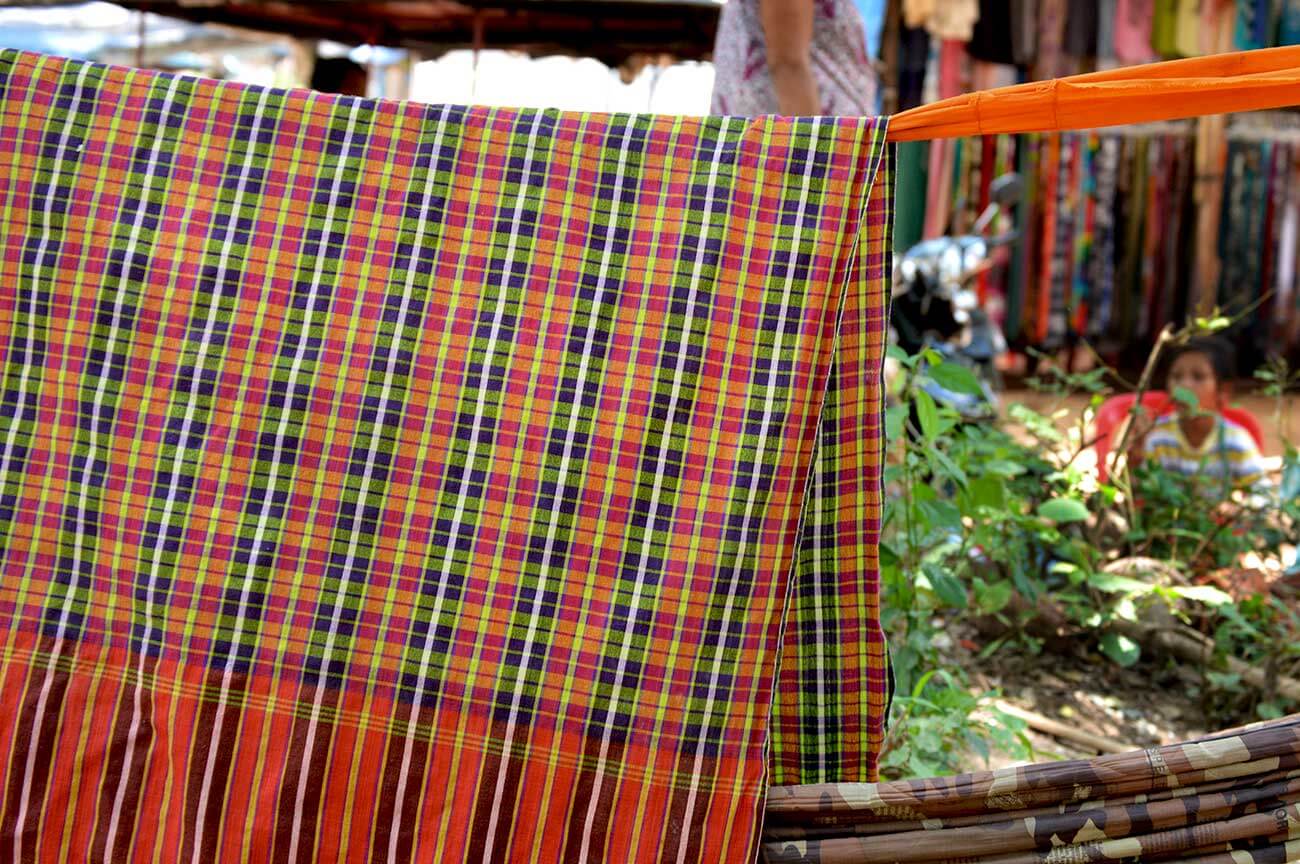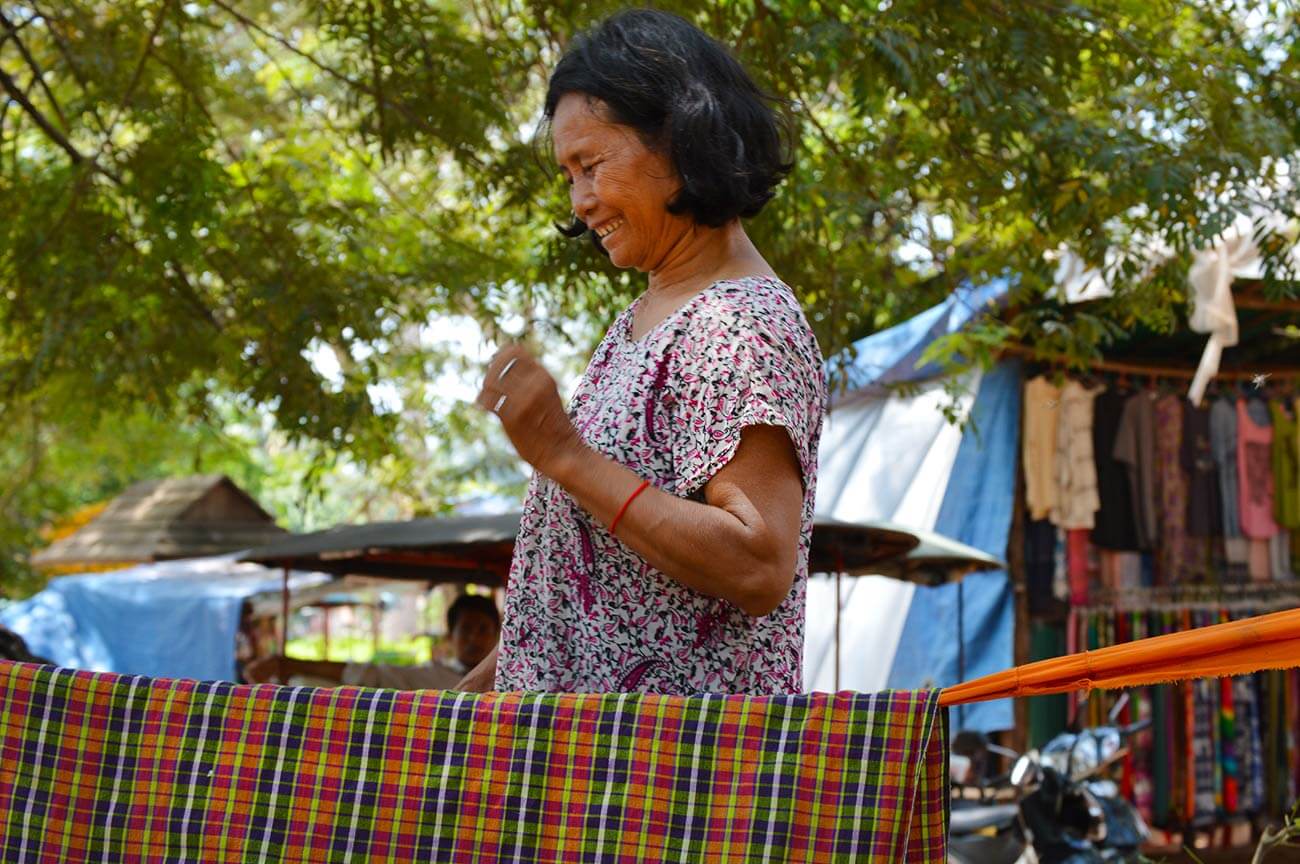 By now, the others are back from the visit of the Ta Prohm Temple and it is time to leave. After I say good bye to the grandmother, she offers me a t-shirt out of her small range of goods. Out of reflex I turn her down. My head shuts down, because I'm not prepared for buying a t-shirt. I guess I want to avoid the situation her showing me all the shirts she has and I don't really like any of it. Than it is much harder to say no. Instead I ask if I can buy a watermelon. But of course! Carefully peeled of and cut into pieces, I get my melon. And on top two napkins. I pay with one dollar, say thanks and goodbyes and go towards the others. We leave. In my ears I hear the sound of the Tuk Tuk and I'm happy about the fresh wind.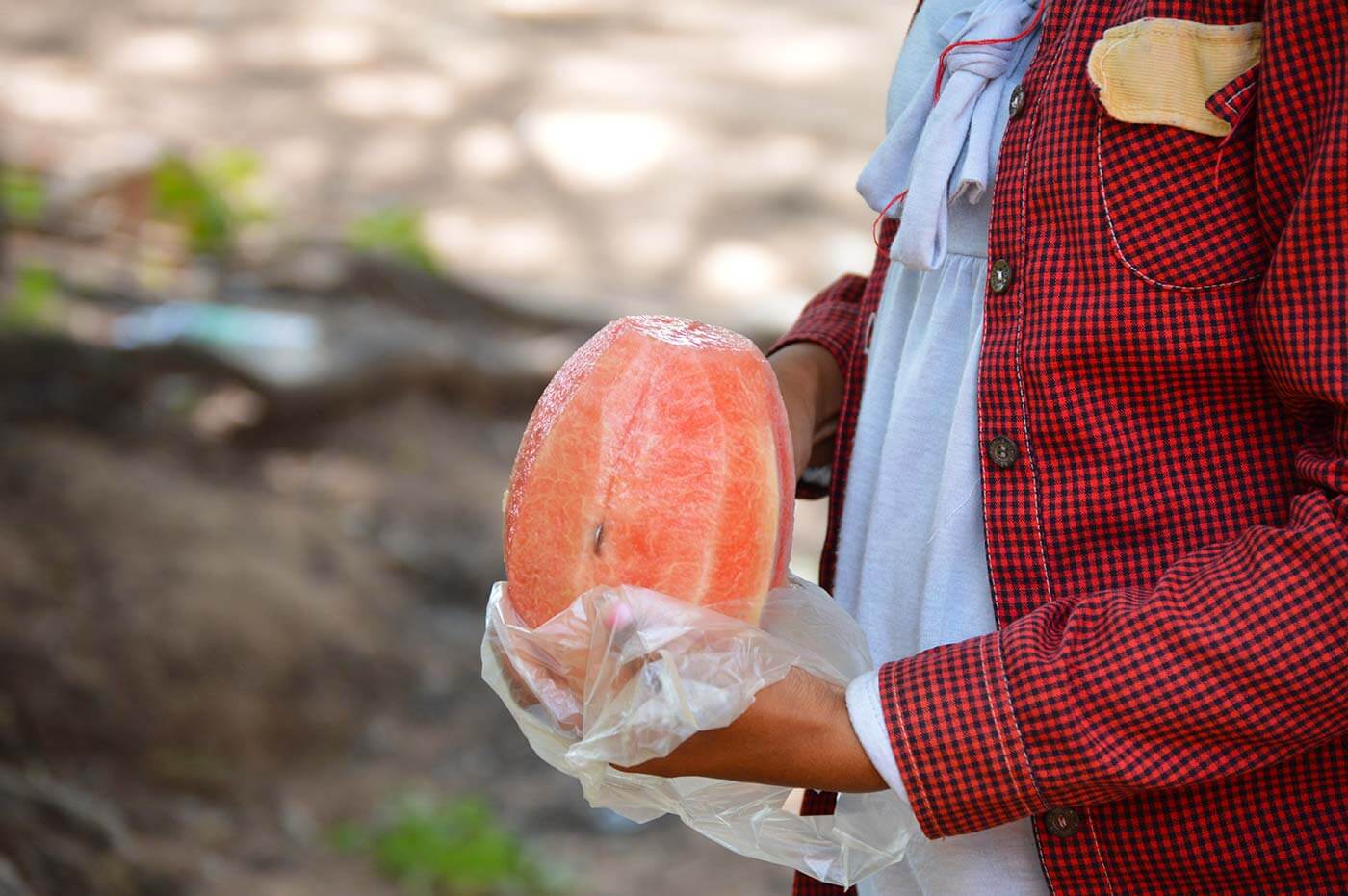 But I'm not really satisfied – the opposite, I'm mad about myself. There are two completely foreign people to me who are happy for me to take pictures of them and I'm not even willing to give something proportionately back for it? Why, for sake, didn't I buy at least one t-shirt? The thought of turning around runs quickly through my head. But the others are excited for their lunch and I don't want to make them wait unnecessarily. So I decide to put it all aside for now. Maybe I do get a good idea later on.
After lunch and two more visits of Angkor-Temples, I'm back at our guesthouse and let the day pass-by in front of my eyes. I look at my pictures, check my mail and Facebook. As usual I go through my newsfeed and suddenly get stuck on a post by JP Klovstad. Yes exactly, JP, the Norwegian photograph, who is travelling much in Cambodia! I know from him that he likes to see the children again he photographed and gives them a selection of pictures he took from them as a present. Probably it's the kids who, if at all, barely have images of themselves. Especially because their parents can't afford a camera or smartphone.
THIS IS IT!
Project "Photo-Giveaway-Tour"
Just in that moment I know what I have to do! I will go back to the place and bring the most beautiful images back as a present. And the most important: I will buy a t-shirt, too!
Recommendation
I'm happy if you read the related article "Why there are Children begging in Siem Reap and what you can do about it", and maybe even share it with your network. Thank you very much :-)
Did you enjoy reading the post? Why not follow Visit Angkor on Facebook, where you'll find more articles about Cambodia? I'd also be happy to hear your reviews and comments– the asterisks are directly under this text. Thank you so much :-)

Find your hotel in Cambodia
Maybe you don't have a hotel for your Cambodia trip yet, then you can browse and book directly here at
booking.com*
agoda. com*
there are also great deals.
Links with a * are affiliate links. If you like my blog and you buy, book or subscribe to something via an affiliate link, I get a small commission from the provider. Of course there are no additional costs for you.
Join our Facebook group
International travel group with friendly people who love Cambodia. We speak English, German and a little Khmer.