Preah Khan – the Temple north of Angkor Thom
Preah Khan ប្រាសាទព្រះខ័ន (sometimes transliterated as Prah Khan) is located at the North-West of the Angkor Thom. People believe before the construction of Angkor Thom, Preh Khan was likely the temporary capital of Jayavarman VII in the 12th century.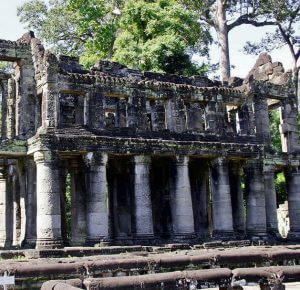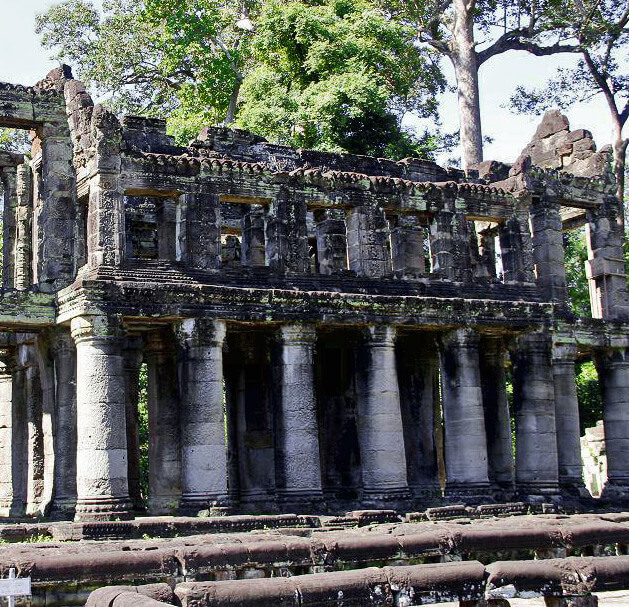 According to historical documents, Preh Khan was the scenario for the most important battle of Khmer against Cham when the king of Cham was killed. Later on, several Buddhist monasteries and the university – with more than a thousand students – were built in there, turning it into a real city of a considerable size.
Preah Khan is rectangular in shape and has the size of 138 acres. For its protection, it was surrounded by a moat and walls decorated with wonderful carved stone garudas. The temple had several types of different entries, towers and places, and a special pavilion – the hall of dancers and the sanctum sanctorum.
World Monuments Fund support
In 1989, the World Monuments Fund begun to preserve the temples in the Angkor area and the first in their list was Preah Khan. Besides preserving the area, they encouraged the training of young Khmer architects, engineers and archaeologists.  Watch this interesting video made by World Monuments Fund with further background information about Preah Khan.
Find your hotel in Cambodia
Maybe you don't have a hotel for your Cambodia trip yet, then you can browse and book directly here at
booking.com*
agoda. com*
there are also great deals.
Links with a * are affiliate links. If you like my blog and you buy, book or subscribe to something via an affiliate link, I get a small commission from the provider. Of course there are no additional costs for you.
Subscribe to Visit Angkor
Like what you read? Why not subscribe to my blog. Just enter your e-mail address and you'll have all new posts sent directly to your mailbox.
Just enter your email address and choose the topics that interest you. As soon as you have clicked the activation link in the automatic confirmation message, your subscription is active.
Join our Facebook group
International travel group with friendly people who love Cambodia. We speak English, German and a little Khmer.