Prasat Kravan ប្រាសាទក្រវាន់ is located in the east of Angkor Wat (southern route of the small circuit). Bas-reliefs of Vishnu and Lakshmi are rendered into the brick, the only example of brick bas-reliefs in the Angkor area. The reliefs in this tower can be best viewed in the morning when the east light enters the door, in the afternoon they are barely visible. Prasat Kravan was built by high court officials in the first half of the tenth century (921) and completed during the reign of Harshavarman I.
The Prasat Kravan is the modern name in Khmer and stands for artabotrys odoratissimus temple. 
Prasat = temple
Kravan = artabotrys odoratissimus  – this is the Latin term for a special type of creeper with fragrant blossoms.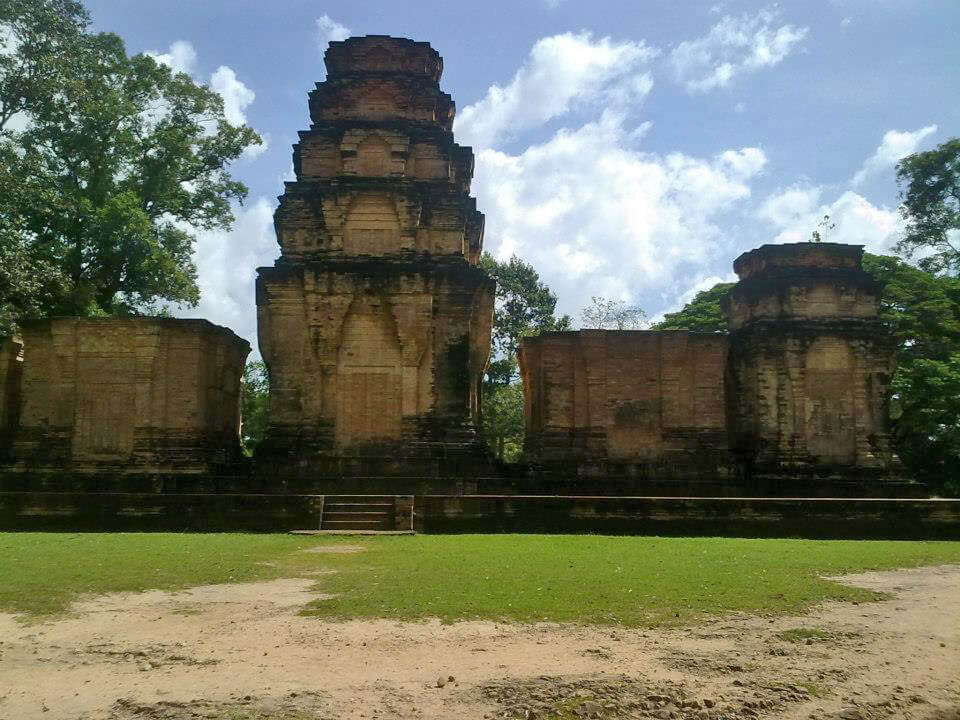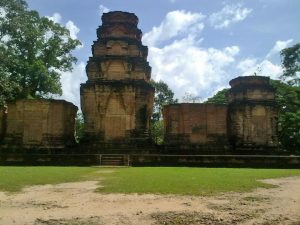 The Hindu temple was restored by the French, giving it a new foundation, interior walls and drains.
Some of the broken bricks were replaced with carefully made replica. All of these are marked with the letters CA, representing the Angkor Conservancy.
Bas-reliefs at Prasat Kravan represent Vishnu
The bas-reliefs on the interior walls of the central tower represent Vishnu in different positions and forms.
Four-armed Vishnu – sits astride on his vehicle Garuda (large bird-like creature) and holds his standard equipment: Globe, discus, conch and baton.
Four-armed Vishnu – also with four arms and the standard equipment, there is another version which illustrates the story of Vishnu in his personification of Vamana. The dwarf took three great steps in order to span the whole universe and to cover the gods who are in control of the world.
Eight-armed Vishnu – stands strictly in a position of a statue, framed by six registers of people and surmounted by a giant lizard. It's likely that the sculpture used to be very colorful.
Video: Prasat Kravan Temple, Angkor Cambodia
See more impressions in this video:

Find your hotel in Cambodia
Maybe you don't have a hotel for your Cambodia trip yet, then you can browse and book directly here at
booking.com*
agoda. com*
there are also great deals.
Links with a * are affiliate links. If you like my blog and you buy, book or subscribe to something via an affiliate link, I get a small commission from the provider. Of course there are no additional costs for you.
Join our Facebook group
International travel group with friendly people who love Cambodia. We speak English, German and a little Khmer.