In the middle of the last Baray (the Preah Khan Baray or Jayatataka) you can find a small island with a temple called Neak Pean ប្រាសាទនាគព័ន្ធ (sometimes transliterated as Prah Khan) which was constructed by the Khmer King Jayavarman VII.
The temple sits in the middle of four lotus pattern pools which are surrounded by eight more pools but not have been restored.
The meaning of Neak Pean
Neak Pean means 'coiled serpents', which encircled the temple. Neak Pean was build in the direction of the statue of the horse, Balaha – the figure that saves drowning sailors. The temple was dedicated to Buddha, but you can find also several Hindu images inside. People say the water in the pond has healing powers. Preah Khan Baray was like a second city in the Angkor empire. Neak Pean is great to take pictures of during the wet season when there is enough water is in the pools.
Neak Pean is built on the ancient Hindu belief of balance. The four connected pools around the temple, represent the elements fire, water, earth and wind. Our ancestors believed that going into these pools would be healthy because it balances the elements of the bather.
Four chapels at each cardinal direction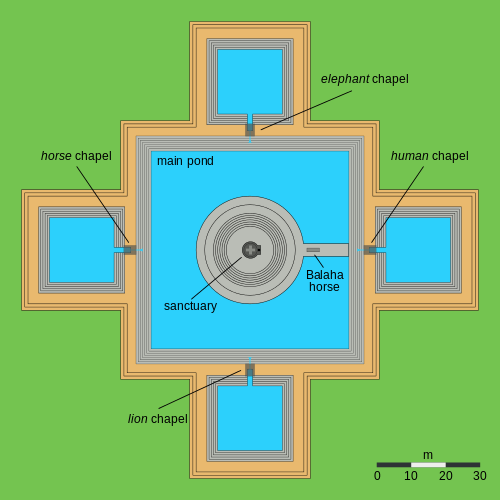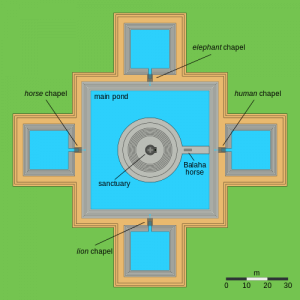 The North chapel the head of the elephant symbolizes the water element.
The West chapel the head of the horse symbolizes the wind element.
The South chapel the head of the lion symbolizes the fire element.
The East chapel the head of the human symbolizes the earth element.
Image Source: Wikipedia http://en.wikipedia.org/wiki/File:Neak_Pean_layout.svg
Some historians believe that this ensemble represents Anavatapta, which is a mythical lake in the Himalayas. The water of Anavatapta is thought to cure diseases.
Video about Neak Pean and Preah Khan
There are a few videos about Neak Pean – we choosed this one here. Enjoy it :)

Affiliate*

Links and references with a * are an affiliate link (advertising link). If you like Visit Angkor and buy, book or subscribe to something via an affiliate link, the provider will make a small commission for Visit Angkor. Of course, there are no additional costs for you.
Join our Facebook group
International travel group with friendly people who love Cambodia. We speak English, German and a little Khmer.