New Year Angel of the goat Year 2559 BE
Angel Reaksa Tevy arrived at 2:02 pm in the afternoon of 14 April – Cambodian time. She is the third daugher of Kabil Moha Prum. People in Cambodia have prepaired and decorated their houses also with special gifts to welcome the New Year Angel.
She carries a trident in her right hand, a bow with her left and wears a hairpin of lotus flowers. Reaksa Tevy drinks blood and her animal is a horse.
What are the offering to welcome the New Year Angel?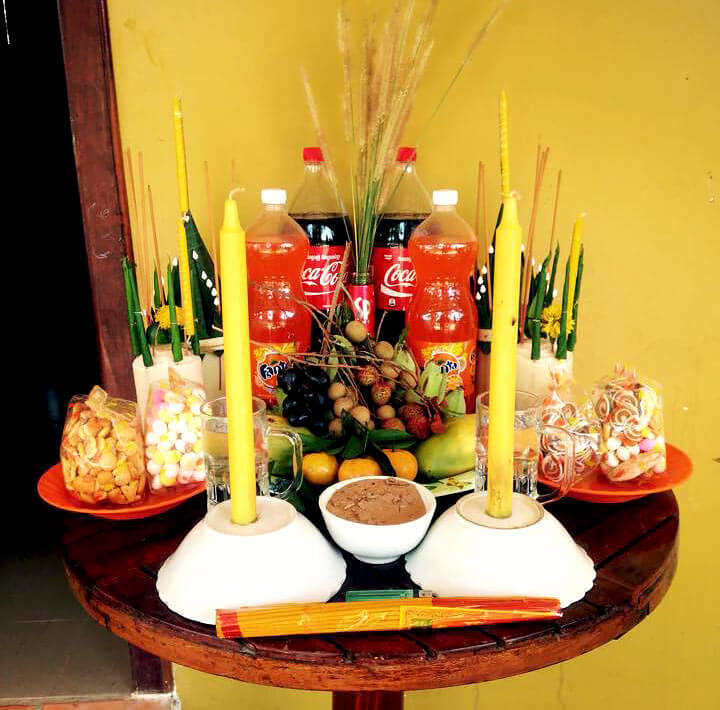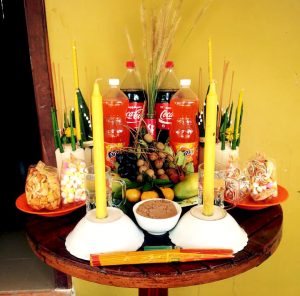 The offerings in command are simple:
1. A statue of Buddha
2. 5 incense sticks, 5 candle (ទៀន៥ធូប៥)
3. A pair of decorated young banana tree (ស្លាធម៍កូនចេក១គូ)
4. 3 kinds of fruits, each kind prepared into 2 trays
5. Small jasmine flower braids to put on every offering
6. And the special offering for Reaksa Tevy
Beside those required offerings, you can prepare as many other offerings as you like such as: candy, cokes, biscuits, milk, etc.
Angkor Sangkran celebration 2015
Also, Cambodian celebrate Angkor Sangkran អង្គរសង្ក្រាន – or Angkor Sangranta – in Siem Reap. It happens during Khmer New Year celebration and will be held for the third time. Locations are: In front of Angkor Wat temple, Terrace of Elephant, Bayon Temple, Angkor Gyeongju 60th road, along the Siem Reap River and also in Siem Reap at Pub Street. Highlights are handmade and commercial goods exhibitions, Khmer tradition dancing and games, Giant Sticky rice and further more. Find out more about Angkor Sangkran in this article by the Cambodian Ly Heng.
Wish all a very Happy Khmer New Year 2015! Enjoy the Khmer New Year celebrations!
Sus'Dei Chnam Thmei – Happy New Year
The Khmer New Year celebration lasts for three days. Find out more about the celebration in our article Khmer New Year: One of the the most important Festival in Cambodia
Read more about "Sus'Dei Chnam Thmei" – the 3-day festival to celebrate the New Year in Cambodia and the legends about Khmer New Year.

Find your hotel in Cambodia
Maybe you don't have a hotel for your Cambodia trip yet, then you can browse and book directly here at
booking.com*
agoda. com*
there are also great deals.
Links with a * are affiliate links. If you like my blog and you buy, book or subscribe to something via an affiliate link, I get a small commission from the provider. Of course there are no additional costs for you.
Join our Facebook group
International travel group with friendly people who love Cambodia. We speak English, German and a little Khmer.