So the Cambodians are glad when tourists try to speak and learn a little Khmer language. Language is used for communication. The spoken word does not only transport meaning, but the coloring, how it is pronounced, is as well important. And just who is abroad, whether as tourists or on business, knows the joy of the locals when you speak their language. It must not be perfect. A few words are already sufficient to put a smile on the faces of local people.
Always there: The Khmer language application
With our Khmer app we created a perfect companion for those who travel to Cambodia or who are just interested in this amazing country. It contains 4 voice files with different speakers for each vocabulary.  This makes it easier to hear how Khmer words and phrases are pronounced. Also much information about temple of Angkor Wat and Siem Reap is included, and other gimmicks. We offer the Khmer language app in different versions.
The different versions of our Khmer Language-App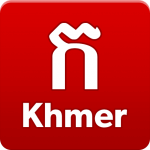 We developed two different Apps. One is named Khmer4You and the second one is named Khmer & More. We also designed a special logo for each version. Both apps contain 4 voice files for each vocabulary.
Khmer4You: This app is actually only available in  Google play has more vocabulary than the app Khmer & More and contains also a language quiz, description of Angkor Temple and tipps for tourists. Further information about this app in our article: Khmer4You the app for you to learn Khmer language!
Khmer & More Language-App  for different devices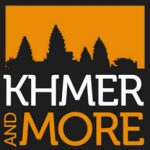 iTunes: The App Khmer & More is available at iTunes.
Amazon: Choose our Khmer & More app for Android at Amazon.
Mozilla: Install our Khmer & More language app on your Mozilla phone from firefox marketplace.
Android: Get Khmer & More for Android in Google play.
Web-App for free for all devices: And last but not least our Khmer & More Web-App for all devices. Find out more in our article:  Our Khmer language application is ready!!
 The development of the Khmer language app
The app was developed collaboratively by young students from Germany and Cambodia in the context of the Intercultural Innovation Camp under the programs of YouCan Trust. The iiCamp is an international event camp for intercultural competence and takes place every year in Siem Reap, Cambodia.
Just a few words as a personal note
On behalf of all involved, we want to thank you for your interest in this app and we hope you will enjoy using it. If you encounter an error or a mistake please send us a message to app@youcan-trust.org so we can fix it! If you like the app, we encourage you to support us by reporting on it. Recommend this app to your friends or write a review. The money made with this app will directly support young Cambodian students.
Want to follow us?
Just subscribe to our newsletter, follow us on our Facebook,  Google +  or Twitter