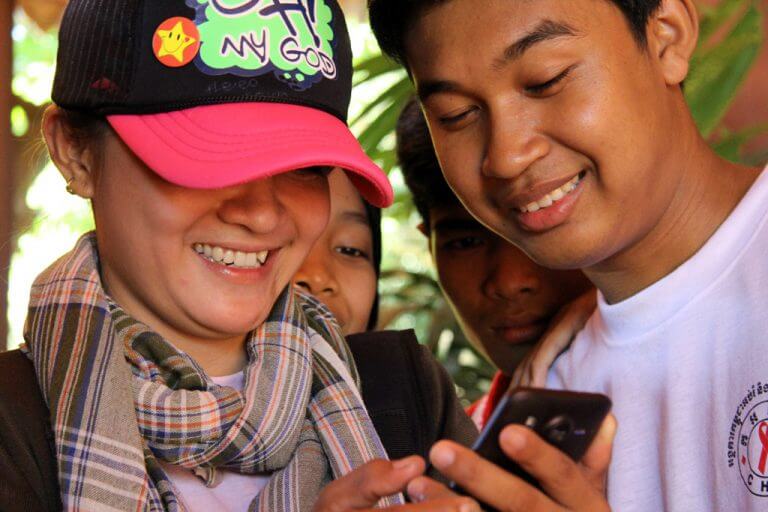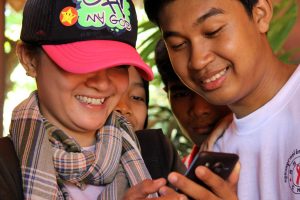 Fantastic: During the meeting today, within 90 minutes the students developed excellent results regarding to the Khmer Smartphone Application.  No long discussions, but content – mainly the categories – were defined within a short time. Also the Team members defined tasks for the next day and named teamleader for several topics by themselves.
Top ideas from all team members
Very interesting, because there are two very different cultures, who did not collaborate in any way before. So the Cambodian had the idea to define the cageory nature and to inform about animals.
Which animals might be a risk for tourists? Is it good to feed the monkeys in the Angkor area? Are beetles risky in Cambodia? If so, which of them?
The Geman team members developed ideas like: Information about sightseeing. Not only Angkor Wat. Because: What if a tourist is actually in Pnomh Penh? Even the translation into other languages. For Japanese for example It would be surely easier for them to use the application in their native language than in english. Also the topic marketing and sales. Because the best product does not have any impact, when nobody knows anything about it.
What is about numbers? In which context are they mostly used by a tourist? Also the topics health, eating and how to greet were defined as the main topics.
Invitation to a Cambodian family
As a highlight, Seiyon invited the team to her family for the rest of the day. So they will visit the rice fields, the little school from Seiyon and they will have dinner together with her Cambodian family. So a lot of new impressions are waiting for us.
[divider]Hotel Finder[/divider]
Find your hotel in Cambodia
Maybe you don't have a hotel for your Cambodia trip yet, then you can browse and book directly here at booking. com*:


Or you can check out agoda. com* there are also great deals.
Links with a * are affiliate links. If you like my blog and you buy, book or subscribe to something via an affiliate link, I get a small commission from the provider. Of course there are no additional costs for you.
Did you enjoy reading the post? Why not follow Visit Angkor on Facebook, where you'll find more articles about Cambodia? I'd also be happy to hear your reviews and comments– the asterisks are directly under this text. Thank you so much :-)
[ratings]