This is Oeng Muyni, soul and spirit of Father's Restaurant – the restaurant in the 9th Street right in the heart of Siem Reap, just next to the Old Market. She is the wife of Lim Kok Meng, the trained chef and eponym of the Father's restaurant. Anyone who thinks that she is looking after the guest room all the time, is wrong. Oeng is staying, where her husband Lim Kok Meng – Father – is, in the kitchen, about 10sqm of the large room where all the goodies from the various Khmer cuisine are prepared.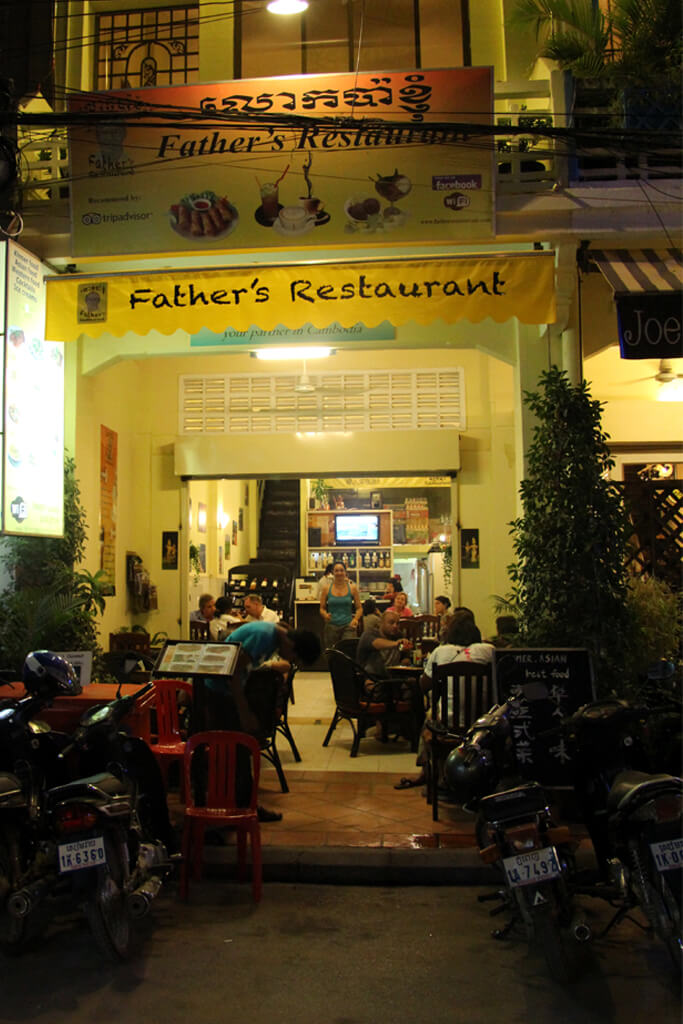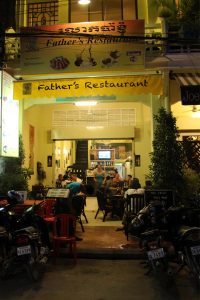 She takes care of the smooth daily operation, flush, whittle and wreak – always with a smile on her face. And in the restaurant itself where the guests are, you will find daughter Langdy, – one of her four children – as a boss of Father's Restaurant.
A very special place for us with soul and good spirits. And of course, because the food really taste delicious, for breakfast, lunch or dinner.
For the unfearful people: Grasshoppers, Spiders and Duck Eggs
Just ask the Father for special treats from the original Khmer cuisine. For example, roasted grasshoppers, spiders, or very popular in Cambodia half-hatched duck eggs. Although not everything is on the card, but can be preordered.
More info on the website of the Father's restaurant and on Facebook. And who wants to know what others say about the Father's who just look at TripAdvisor.
[divider]Hotel Finder[/divider]
Find your hotel in Cambodia
Maybe you don't have a hotel for your Cambodia trip yet, then you can browse and book directly here at booking. com*:


Or you can check out agoda. com* there are also great deals.
Links with a * are affiliate links. If you like my blog and you buy, book or subscribe to something via an affiliate link, I get a small commission from the provider. Of course there are no additional costs for you.
Did you enjoy reading the post? Why not follow Visit Angkor on Facebook, where you'll find more articles about Cambodia? I'd also be happy to hear your reviews and comments– the asterisks are directly under this text. Thank you so much :-)
[ratings]