© Foto: Yoth Seiyon
The visit of Angkor Wat is a highlight for tourists. The largest temple in the world is an important national symbol of the Khmer and attracts up to 6,000 daily visitors under its spell. Once the region was the center of power in Southeast Asia Angkor.
Around the temple were living more than a million people, significantly more than in any European city at the same time.  The majestic stone building was built in the 12th century under the rule Suryvarmans II.
From Hinduism to Buddhism
It took 30 years. Angkor Wat was originally a Hindu temple. The popular belief after the facility symbolizes the Hindu universe. The moat around the temple represents the primordial cosmic ocean, the temple walls represent the mountain ridge of the sacred Mount Meru, while the central tower represents the summit of the mountain. The distances between the different parts of the temple were calculated with the help of Hindu cosmology. The ruler Srindarvarmans, who had studied the Therevada Buddhism in Sri Lanka and brought to Angkor, transformed the building into a Buddhist temple.
Angkor: Small Curcuit and Grand Curcuit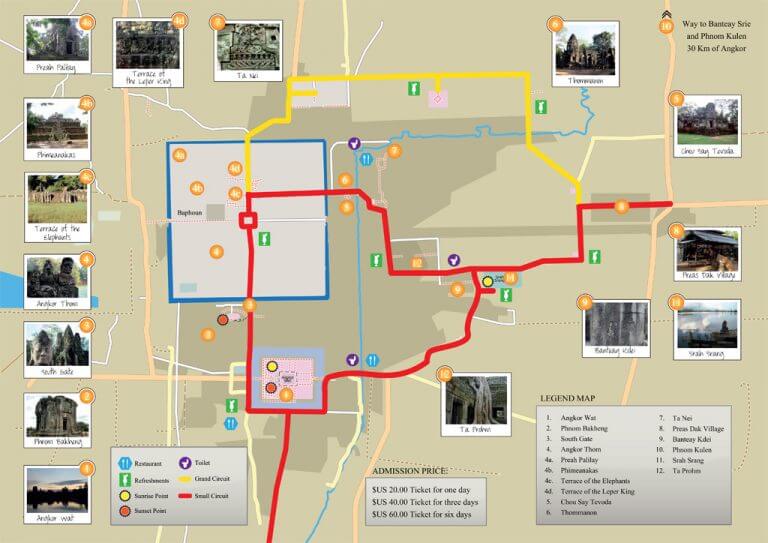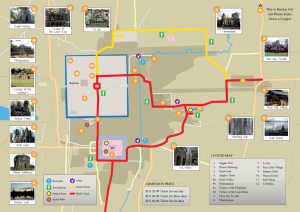 During French colonial rule at the beginning of the 20th century the first tourists began to come to Angkor. Since the roads were not paved at that time, the tourists were led to a Curcuit Petit (Small Tour) and a Curcuit Grande (Grand Tour) around the facility. Visitors who do not bring as much time follow best the Petit Curcuit, 17km via a county road. Starting at Angkor Wat, it goes beyond the royal city of Angkor Thom with the fascinating Bayon temple, past the sandstone pyramid Ta Keo and Ta Prohm the temple of the jungle back to Angkor Wat.
[divider]Hotel Finder[/divider]
Find your hotel in Cambodia
Maybe you don't have a hotel for your Cambodia trip yet, then you can browse and book directly here at booking. com*:


Or you can check out agoda. com* there are also great deals.
Links with a * are affiliate links. If you like my blog and you buy, book or subscribe to something via an affiliate link, I get a small commission from the provider. Of course there are no additional costs for you.
Did you enjoy reading the post? Why not follow Visit Angkor on Facebook, where you'll find more articles about Cambodia? I'd also be happy to hear your reviews and comments– the asterisks are directly under this text. Thank you so much :-)
[ratings]